Estimated read time: 6-7 minutes
This archived news story is available only for your personal, non-commercial use. Information in the story may be outdated or superseded by additional information. Reading or replaying the story in its archived form does not constitute a republication of the story.
Maybe you've heard a less-than-friendly assessment from your partner, your kids or even noticed it yourself: You snore. Loudly.
In the back of your mind, you've thought that maybe you should do something about it — like see a doctor — but a million reasons have prevented you from making that appointment. Perhaps it's embarrassing to admit you have a problem. Or you might be stressed about discovering that you could have a sleep disorder. You're tired of conversation that compares you to a bullhorn. And you're just plain tired because you are a bullhorn —and that can make it tough to get a good night's sleep.
But fear not. According to the National Sleep Foundation, more than 18 million people have sleep apnea, a breathing disorder characterized by brief interruptions of breathing during sleep.

Sleep Medicine at South Jordan Health Center
The sleep medicine center at the University of Utah's South Jordan Health Center offers a variety of services including consults, overnight oximetry, home testing units and assistance in setting up C-PAP. Our experts provide care for patients who suffer from a variety of sleep- related issues, including the following:
1. Sleep apnea
2. Sleep walking/talking (parasomnia)
3. Narcolepsy
4. Restless leg syndrome
Our team approach to treatment includes specialists in neurology, pulmonary medicine and psychiatry/psychology.
For new appointments call:(801) 581-3067
The condition is more likely in patients who are older, overweight, smoke, have a large neck or have a family history of the condition. But sleep apnea isn't only limited to older men. Women also suffer from the disorder, and are less likely to make an appointment with a provider such as University of Utah Health Care's Sleep Wake Center to address their issues.
Bryce Williams, M.D., an oral and maxillofacial surgeon at University of Utah Health Care, sees hundreds of patients for sleep disorders every year. He offers tips for coping with sleep apnea and why seeking treatment is beneficial to your health.
Q: What are the characteristics of sleep apnea?
A: Sleep apnea is characterized by a number of involuntary breathing pauses or "apneic events" during a single night's sleep. Typically, there are at least 5 events per hour. Severe sleep apnea is diagnosed when someone has 30 or more events per hour. These events are almost always accompanied by snoring between apnea episodes (although not everyone who snores has sleep apnea). Sleep apnea may also be characterized by choking sensations. The frequent interruptions of deep, restorative sleep often lead to early morning headaches, slowed thinking and poor attention, and excessive daytime sleepiness.
During the apneic event, the person is unable to breathe in oxygen and to exhale carbon dioxide, resulting in low levels of oxygen and increased levels of carbon dioxide in the blood. The reduction in oxygen and increase in carbon dioxide alert the brain to resume breathing and cause an arousal. With each arousal, a signal is sent from the brain to the upper airway muscles to open the airway; breathing is resumed, often with a loud snort or gasp. Frequent arousals, although necessary for breathing to restart, prevent a person from getting enough restorative, deep sleep.

Sleep Medicine at the University of Utah Sleep Wake Center
The Sleep Wake Center specializes in diagnosing and treating sleep disorders. If you are experiencing extreme daytime sleepiness, difficulty sleeping at night or disturbing your bed partner with your sleep patterns and/or snores, a visit to the Sleep Wake center may be for you.
The center is multidisciplinary, meaning it can explore many different possible solutions with a large number of consultants. It is also an accredited member of the American Academy of Sleep Medicine.
Offering state-of-the-art, on-site sleep facilities, the center is equipped to observe and evaluate your sleep patterns. It offers home- testing equipment, education on sleep disorders and sleep technologists aware of cutting edge treatments and research. The Sleep Wake Center is also proud to be a teaching hospital clinic. You may get to see a fellow, resident or medical student along with your sleep center specialist.
Before scheduling an appointment you will need to pre-register.
To Schedule Your Initial Appointment: Phone: (801) 581- 3067

Q: What are the causes of sleep apnea?A: Certain mechanical and structural problems in the airway cause the interruptions in breathing during sleep. Apnea occurs when the throat muscles and tongue relax during sleep and partially block the opening of the airway; when the muscles of the soft palate at the base of the tongue and the uvula relax and sag, the airway becomes blocked, making breathing labored and noisy and even stopping it altogether. The condition can also occur in obese people when an excess amount of tissue in the airway causes it to be narrowed. With a narrowed airway, the person continues his or her efforts to breathe, but air cannot easily flow into or out of the nose or mouth.
Q: Who is affected by sleep apnea?
A: Women are less likely than men to have sleep apnea. For every three men diagnosed with sleep apnea there is one woman diagnosed with sleep apnea.
Q: How is sleep apnea diagnosed?
A: Diagnosis starting with a visit to your physician. A primary care physician can diagnosis sleep apnea as well as specially trained sleep medicine physicians
Q: What are the treatment options? What are the risks associated with leaving the condition undiagnosed?
A: Treatment starts conservatively. CPAP treatment helps deliver oxygen at a higher pressure to prevent the airway collapsing at night and involves wearing a mask attached to a machine the size of a shoebox that can be placed next to the bed. Up to 40 percent of patients cannot tolerate this machine and they may be candidates for a dental device (similar to a night guard) that is worn at night which helps open the airway. Patients that cannot tolerate these conservative measures may opt for surgery. The surgery may include reshaping of the airway, which involves an overnight stay in the hospital. In more severe cases, or in cases where the lower jaw is small and is contributing to closure of the airway at night, jaw surgery is very effective in treating these patients.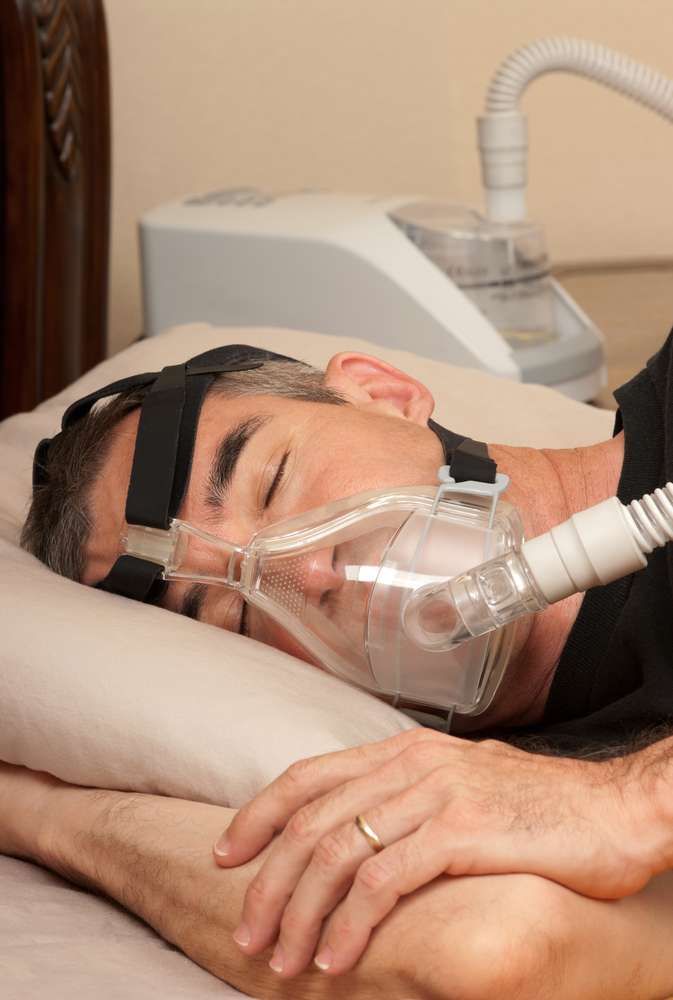 Q: Many people have heard of sleep machines and maybe wary of the idea. Has technology improved?A: These machines are being improved continually and the technology is advancing rapidly. The Sleep Wake Center works very closely with patients to try and tailor the machine to each individual patient. For patients who are frustrated I would say: don't give up yet! Have you visited with someone at the Sleep Wake Center to voice your concerns? They have many tricks up their sleeve to help resolve these issues.
Q: What are the most common mistakes patients make when it comes to sleep apnea? What are your recommendations to patients on how to avoid what you see as mistakes?
A: I think the most common mistake is that a patient may wait too long to be diagnosed. There are several treatment options for sleep apnea, both nonsurgical and surgical, that can be very effective. Sleep apnea is a progressive disease that can lead to other health conditions such as heart disease, stroke, diabetes and can affect normal daily function. It is estimated that one in four car accidents may be related to undiagnosed or untreated sleep apnea.
Q: There are many options for treatment providers when it comes to sleep apnea. How does a patient know where to start?
A: Ear nose and throat (ENT) surgeons, oral and maxillofacial surgeons, dentists, pulmonologists psychologists, psychiatrists and sleep medicine physicians all work to obtain an accurate diagnosis and formulate a treatment with the patient that is effective and comfortable for the patient. Here at the University of Utah, all these specialties work very closely to provide comprehensive care to these patients. I am an oral and maxillofacial Surgeon and work closely with ENT surgeons on providing a surgical cure for sleep apnea. My particular emphasis is moving the jaws to an ideal location that, in turn, increases the opening of the airway and allows the patient to breath better at night. Typically, this surgery also has esthetic and functional benefits to the patient in addition to improving or eliminating their symptoms from sleep apnea.
×
Most recent Utah stories