YELLOW JACKET, Colo. — If you're worried about your family being wiped out in an apocalyptic disaster — and if you have a few million dollars to spare — Jerry McMullin has a deal for you.
McMullin is selling his house that he says was built to survive the worst that Mother Nature or humankind can dish out.
"It was built to withstand a very large pressure wave from a nuclear attack," said McMullin, who has drawn international attention because of his offer to sell the home for $11.5 million. It was quickly dubbed the "Doomsday House."
"I think someone else named it that," he said. "To me, it's just where I hang and where I work."
It might be a good time to buy: McMullin just slashed his asking price to a mere $5.9 million.
His highly secure dream house sits in the Four Corners area halfway between Monticello, Utah, and Cortez, Colo. McMullin said he moved to the rural community of Yellow Jacket because he was worried about natural disasters and terrorism.
"This is out of harm's way," he said, "because we're 300 miles from any major city."
McMullin's residence doesn't look like a house from the outside. It's a concrete, warehouse-style building sitting at the foot of a huge microwave tower. AT&T built the structures in 1964, he said, at a time when Cold War tensions were running high.
McMullin bought it shortly after the Sept. 11, 2001, terrorist attacks and remodeled the interior to create a highly secure luxury home.
As he toured his house with a reporter, McMullin pointed with pride to his theater room.
"We designed it so that if there are disasters or whatever, when the rest of the world is melting, we can watch 'Leave It to Beaver' with our own electricity and our own projection equipment," he said.
Such comments, often delivered with a chuckle, suggest that McMullin doesn't take himself too seriously. But he definitely takes a serious view of world events.
McMullin said he is not particularly worried about nuclear war, but the potential for unrest in the cities is one of his major concerns. Earthquakes and hurricanes, too, are important considerations as McMullin scans the threat horizon.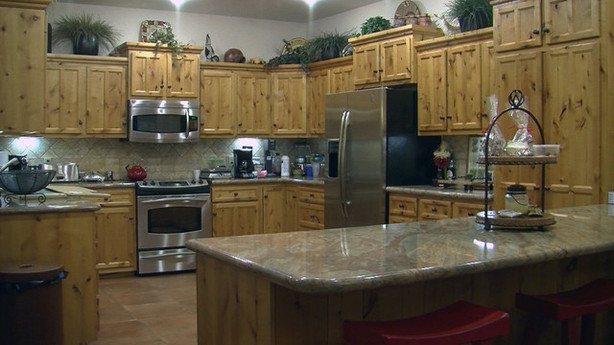 McMullin said he is most concerned about — and best prepared for — terrorist attacks using chemical or biological weapons. He said the house can take such assaults handily. Occupants could survive inside for years, he said, without outside power or supplies.
"All that stuff's been taken care of," McMullin said. "It all goes into emergency lockdown, and (the house would be) sealed with big rubber and steel seals."
The house has filtration systems for its air and water supplies, as well as uninterruptible power largely generated by solar panels, he said.
McMullin apparently comes by his worries professionally: He used to run a firm that advised government agencies, schools and companies on security issues.
His general conversation is packed with ideas that suggest either a deeply paranoid mindset or, as he portrays it, a set of legitimate worries stoked by his company's access to inside information.
"A lot of times we would know things that were getting ready to go down before they went down," McMullin said, "only because we had our finger on the pulse."
He acknowledges a religious component to his analysis of world events.
"I also take a prophetic biblical approach," McMullin said. "And I throw that, along with what I see in intel, and I mix it together. And that's how I make my decisions and have for years."
His home has a professionally equipped audio/video/computer studio where he hosts webcasts using the on-air nickname "Jacked-Up Jerry." On the 4CAST.TV network, McMullin shares his views about world events and promotes building materials for high-security structures.
He calls himself a "prepper" rather than a survivalist. He insists he's not paranoid, though he admits some of his neighbors would disagree.
"They think I'm crazy," McMullin said. "That's why I (call myself) 'Jacked-Up Jerry' on the network."
Although his ideas might strike his neighbors as far too fearful, McMullin said he believes Utah is a good place to seek a buyer for his house.
"We're only five hours away from Salt Lake City," he said while perched on a chair in his possibly impregnable dining room. "Those are the best preppers in the world. The LDS Church is there. This is a perfect LDS bunker."
If the house doesn't sell, McMullin says he prepared for that, too. In fact, he's drawn up plans for a bold new future. He has elaborate architectural drawings showing a proposed remodeling of the "Doomsday House" to include a movie studio, a conference center and — several stories up on the microwave tower — a hibachi restaurant called "Fire in the Sky."
"Then the neighbors are going to really go, 'That guy's jacked up!'" McMullin said, chuckling over that prospect.
By the way, if you don't happen to have $5.9 million lying around, Jacked-Up Jerry says owner financing is available.


×
Photos
Related Stories