Estimated read time: 4-5 minutes
This archived news story is available only for your personal, non-commercial use. Information in the story may be outdated or superseded by additional information. Reading or replaying the story in its archived form does not constitute a republication of the story.
Editor's note: On July 21, 2014, Brown University notified KSL about data corrections by its researchers in a research paper used for this article. The researchers' overall conclusions are unchanged, however. For an update, click here.SALT LAKE CITY — Mainstream Utahns are hardly alone in their struggle to comprehend what would drive a mother to allegedly kill six of her newborn babies.
The killing of offspring by parents "is a tragic and complex event with manifold influences that are only partially understood," according to a newly published analysis of 32 years of homicide arrests nationwide.
The analysis, published in the journal Forensic Science International in March, found that 15 percent of homicides in the United States — about 3,000 a year — are filicides. The numbers include adult victims.
Children are most at risk of being killed by their parents while infants. Ten percent of filicides occur within a child's first week of life, the analysis of more than 94,000 homicides by parents shows. One-third of filicide victims are less than a year old, and nearly 73 percent of such deaths occur among children 1 to 6 years old.
Dr. Timothy Mariano, of the Alpert Medical School's Department of Psychiatry and Human Behavior at Brown University, one of three authors of the study, said the analysis — the first comprehensive review of filicide in the U.S. — bucked conventional thinking about the crime.
For example, the data show men are about as likely as women to kill infants, "which was surprising to us doing the research. It's certainly not something we've seen before," Mariano said in an interview Monday.
Typically, the general public perceives that mothers are more likely to kill their infant children, a stereotype Mariano says has been perpetuated by media reports of high-profile cases that have largely involved female perpetrators such as Andrea Yates or Susan Smith.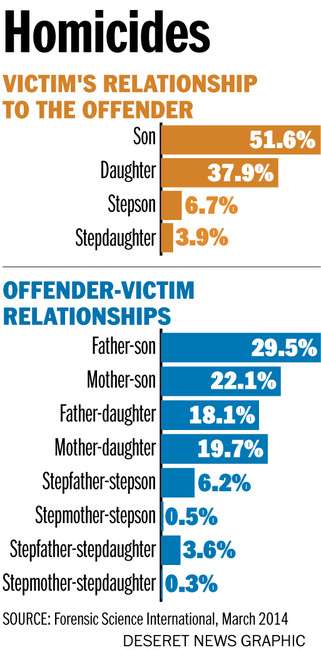 The analysis of 32 years of homicide arrests from 1976 to 2007 does not support that supposition, Mariano said. Nor does it support the commonly held belief that stepchildren are more at risk of filicide than biological children.
"Nearly 90 percent of victims were biological offspring of the murderers," according to the analysis.
It also determined that male offspring are more likely than females to be killed by a parent regardless of whether the perpetrator is the father or the mother.
While researchers categorize reasons why parents might kill their own child, there are often many unanswered questions in these cases, Mariano said.
Megan Huntsman, 39, of West Valley City, told police that "between 1996 and 2006, she gave birth to at least seven babies at (a) Pleasant Grove residence and that all but one were born alive," a probable cause statement filed in 4th District Court states. In each case, "she strangled or suffocated the babies immediately after they were born," according to the statement.
The court documents do not explain Huntsman's motivation.
The analysis notes previous research by psychiatrist Dr. Phillip Resnick of Case Western Reserve University, a national expert in filicide, which breaks down the reasons for committing filicide into five distinct groups:
• Altruistic filicide — The parent believes he or she is relieving real or imagined suffering by killing the child and that dying is in the child's best interest.
• Acutely psychotic — The parent kills a child in response to psychosis and not to a rational motive.
• Unwanted child — The parent kills a child perceived who is to be a hindrance.
• Fatal maltreatment — The unintentional death of a child results from parental abuse or neglect.
• Spousal revenge — The killing of a child by a parent in order to make the other parent suffer.
Huntsman has three daughters, ages 14, 20 and 22, which places the date of birth of the youngest child within the time period of the alleged infant homicides and miscarriage.
Mariano had no explanation for that phenomenon, noting it was "very uncommon to have filicides interspersed with a living child. I'm not aware of many cases where that would appear."
There was nothing in the researchers' analysis of the FBI data that would shed light on serial filicides, he said.
Parents most often use "personal weapons" — hands, fists or feet — to kill their children. Fathers were three times more likely to use a firearm than mothers, the research found.
While the analysis by Mariano, Dr. Wade Myers of Brown University and Dr. Heng Choon Chan of the University of Hong Kong does not definitively explain why filicide occurs, it is the most comprehensive review to date, Mariano said.
Filicides make up 15 percent of the nation's homicides, which suggests the issue deserves more attention and study to help mental health professionals, law enforcement officials and other professionals "to identify people who may be at risk of committing filicide and intervening before another tragedy occurs," Mariano said.
×
Photos
Related links
Related stories
Most recent Utah stories