Estimated read time: 10-11 minutes
This archived news story is available only for your personal, non-commercial use. Information in the story may be outdated or superseded by additional information. Reading or replaying the story in its archived form does not constitute a republication of the story.
PROVO — With spring ball in the books for BYU football, Cougar coaches will not be able to hold practices for the next few months. As such, there will be relatively little chatter going on out of the football department for the next little while in Provo. However, that does not mean that Cougar fans cannot debate and speculate about what the upcoming season holds in store. Here is a rundown of all of the Cougars' games this season and some potential reasons the games will be interesting (or not).
@ UConn Huskies
Background: UConn was downright pitiful for most of last season. It got blown out at home against FCS foe Towson in its first game of the season and went on to lose its next eight games before winning three straight to finish out the season.
Intrigue factor: A bad opponent on the road to start the season and potentially bad weather in the ever-unpredictable East Coast. Sound familiar? This time around, the Cougars will not have the excuse of breaking in a brand new offensive scheme, and I don't think this game will present any competitive problems even if the weather does not cooperate.
@ Texas Longhorns
Background: Texas came into LaVell Edwards Stadium last year with a high ranking and heavy national expectations. BYU had just come off a bizarre loss to Virginia. Almost nobody could predict what happened next: monsoon-like weather in Provo delayed for a time the 40-21 shellacking the Cougars would lay upon the Longhorns. BYU quarterback Taysom Hill exploded for 259 rushing yards and three rushing touchdowns as Texas defensive coordinator Manny Diaz inexplicably did not make any adjustments to stop the read option.
#Poll
Intrigue factor: Diaz was relieved of his duties the day after Hill and Jamaal Williams helped BYU embarrass the Longhorn defense. Texas looked soft all night against the Cougars and would again underachieve throughout the rest of the 2013 campaign. At the conclusion of the season, Texas officials decided that a culture change was in order and fired head coach Mack Brown.
Following Brown's dismissal, Texas hired former Louisville head coach Charlie Strong. Strong has gained a reputation for being a very tough and disciplined coach and his teams have followed his lead. No doubt he has the BYU game circled on his calendar and will use the game as a measuring stick to see how much his players have bought into the new regime.
For the Cougars, it may be a chance to make a statement on the road against one of the most iconic teams in all of college football in their house.
Vs. Houston Cougars
Background: In perhaps BYU's most exciting game last season, the Cougars in blue marched down the field late and took the lead for good on a Hill touchdown pass against the Cougars in red to win a wild 47-46 shootout. A late interception sealed the win for the Y. and left the home crowd stunned. The game was one of BYU fans' first glimpses at Hill's potential as a passer as he threw for 417 yards and four scores.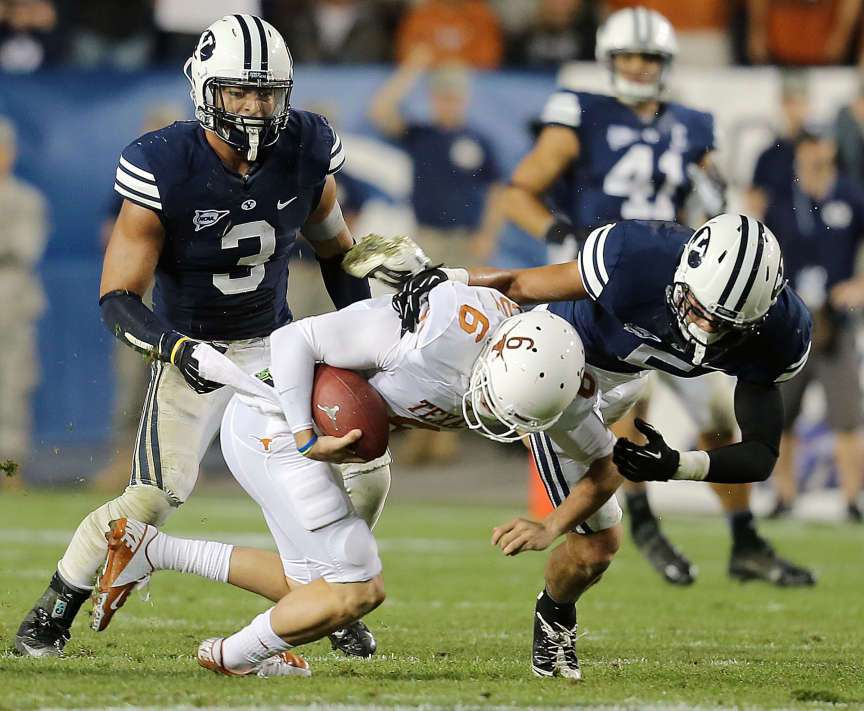 Intrigue factor: Prior to the contest against the Y., Houston was 5-0. It came out swinging against BYU and probably should have won the game. The Cougars in red will be looking to return the favor and grab a victory in Provo. Houston freshman John O'Korn was the first quarterback in an extended period of time to thrash coach Bronco Mendenhall's defense and will be a year stronger and more experienced this time around.
Vs. Virginia Cavaliers
Background: While Robert Anae furiously tried to implement his frantic-paced "Go Fast, Go Hard" scheme in the Cougars' debut in Charlottesville against Virginia, Mother Nature and the Cavaliers' defense had other ideas. BYU's offense was anemic before and after the long weather delay and Virginia took the lead late after an ill-advised Hill throw found its way softly into a Cavalier defender's arms. Adding insult to injury, BYU would be the only FBS team Virginia would beat all season.
Intrigue factor: Virginia will probably be better this season (heck, they can't be much worse). Either way, the Cougars will look to avenge the worst loss in the Mendenhall era and try to bring some closure to the embarrassment from the season before.
Vs. Utah State Aggies
Background: Early in last year's contest in Logan, Utah State's star quarterback Chuckie Keeton tore his ACL when he was hit trying to scramble for extra yards. With their offensive leader and best player out, the Aggies were no match for the Cougars, as BYU would roll to a surprisingly easy 31-14 win.
Intrigue factor: After years of being the perennial doormat in Utah college football, the Aggies have turned in three straight bowl seasons and even finished with 11 wins two seasons ago. While they have still only knocked off the Cougars once since 1993, two of the last three games have been decided by only three points.
Much of the Aggies' turnaround can be attributed to the brilliant play of Keeton. However, despite all of his accolades, the one feather Keeton does not have in his hat is a win against BYU. This will be his last chance to do so in a game that takes on even more significance with a certain team from Salt Lake deciding not to schedule either opponent this upcoming season.
@ Central Florida (UCF) Knights
Background: UCF was one of the nation's biggest surprises last year as it blistered through its regular season with an 11-1 record (only falling to then No. 12 South Carolina by three points) before upending No. 6 Baylor 52-42 in the Tostitos Fiesta Bowl. The win over the Bears propelled the Knights all the way to No. 10 in the final AP poll.
Intrigue factor: Had UCF quarterback Blake Bortles decided to return for his senior year, this game would have immense intrigue factor going into the season. Instead, the potential No. 1 pick's departure leaves a lot of uncertainty. The Knights could still be very good, but it seems doubtful they will achieve the same success they did last year. Still, this game figures to be a solid test for the Cougars.
Vs. Nevada Wolfpack
Background: On paper, the Cougars' final game of the season against Nevada seemed like it would be an easy win. The Wolfpack was 4-7 and had lost five of its last six games. The Cougars were 7-4 and had beaten some quality opponents. Against the Wolfpack, BYU came out absolutely flat and was shut out in the first half. While the team performed better in the second half, the game went down to the wire and ended with an unimpressive 28-23 win for the Cougs.
Intrigue factor: This game should really have no intrigue factor. Unless Nevada has a massive turnaround, the only thing that should be intriguing about this game is whether or not Mendenhall and Anae will find a way to get their squad up and not come out so lethargic again.
@ Boise State Broncos
Background: Before last year's meeting, BYU's prior two contests against the Broncos had ended in heartbreak on the smurf turf in Boise. In 2004, Cougar kicker Matt Payne pushed an easy chip shot field goal to end the game 28-27. In 2012, BYU's defense did not give up a point but the Cougars still managed to lose 7-6 when Hill's pass attempt on a late two-point conversion attempt was tipped. Last year, the Y. cruised in Provo and handedly beat the Broncos 37-20.
Intrigue factor: For the last decade or so, Boise State took the reins from BYU as the beast of the Mountainous West. While the Cougars have had a resurgence under Mendenhall, the Broncos have remained a tier above them with their numerous BCS appearances and wins. Last year was the first time the Broncos have appeared to have a chink in their armor for a long time. Could the departure of coach Chris Peterson and BYU's easy win last year represent a changing of the tide?
@ Middle Tennessee Blue Raiders
Background: The Blue Raiders came into town last year hoping to steal a game from the heavily favored Cougars. They were unable to do so and walked away with a 37-10 loss in a sloppy game in which BYU turned the ball over five times.
Intrigue factor: It will take a writer with more experience and creativity than myself to find a reason why this game should be interesting to anyone. The only thing that I can find interesting about the game is that it will be played in a part of the country where the Cougars rarely travel. Oh, and the nickname Blue Raiders is pretty cool and unique.
Vs. UNLV Rebels
Background: The Cougars and the Rebels were in the same conference for years until BYU announced it would be going independent following the 2010 season. While the teams became fierce basketball rivals, particularly in the Jimmer years, UNLV's football team was perennially one of the worst teams in the conference. Bronco Mendenhall finished 6-0 against the Rebels with almost all of those games being complete blowouts.
Intrigue factor: UNLV actually made a bowl game last season (though it was thoroughly thumped by North Texas), which means it has substantially improved since the last time the two teams faced off. Whether or not last season was an aberration or a sign of things to come is yet to be seen.
Vs. Savannah State Tigers
Background: Who is Savannah State do you ask? I had to look them up myself. The school is located in historic Savannah, Ga., and according to the university's website "is the oldest public historically black college in the state of Georgia." Unfortunately, the football team was terrible last year as it finished 1-11 in FCS play.
Intrigue factor: Similarly to last year, BYU's home schedule ends anticlimactically against a bottom-feeding FCS school. It is very possible (as was the case in 2013) that the game will be played in freezing and snowy temperatures as winter begins to unfold in the Wasatch Mountains. Those fans who brave the elements will get to bid farewell to departing seniors and see possible future stars get some playing time.
@ Cal Golden Bears
Background: As had been a struggle during the Cougars' first two years of independence, this upcoming season's November schedule lacks any real interesting matchups. Cal struggled mightily this past season, limping to a 1-11 record and failing to beat a single FBS opponent.
Intrigue factor: As with a few other teams on BYU's schedule, Cal seemingly has nowhere to go but up. It is very unlikely that it will be playing for anything but pride and to end other teams' dreams when the Cougars roll into Berkeley. Which brings up an interesting point: what will the Cougars be playing for when they face Cal and can the Golden Bears play the spoiler to a special BYU season?
---
Dylan Cannon is a regular contributor to KSL.com and can be reached at DylanCannon86@gmail.com or via his Twitter account @DylanCannon11.
×
Most recent Sports stories