Estimated read time: 4-5 minutes
This archived news story is available only for your personal, non-commercial use. Information in the story may be outdated or superseded by additional information. Reading or replaying the story in its archived form does not constitute a republication of the story.
WEST JORDAN — Chief Warrant Officer Ken Jones has been involved in combat search and rescue before.
Jones, a member of the 1st Battalion 211th Aviation of the Utah National Guard who has been piloting helicopters for 34 years, was flying an Apache in Afghanistan when an American military aircraft with five people went down.
"They were underneath fire, so we had to engage the enemy. And then we needed to figure out who was going to pick them up, and it became apparent the ground forces couldn't get through the mountains to them, so my wingman and I landed. I picked up three guys and strapped them to the outside of the aircraft, and my wingman picked up two guys," he said. "If we weren't able to get to them on the ground, they were probably going to have to spend the night with enemies chasing them."
Even though combat search and rescue missions are rare, Jones said military personnel need to be prepared when called upon. That's why training exercises are so important, he said.
"This unit could find itself deployed in a couple of years again and there may be somebody who goes down, either from mechanical malfunction or enemy fire, and we need to go help that aviator get extracted out of the area," he said.
On Saturday, members of the Utah National Guard's 211th Aviation Group, the 419th Fighter Wing from Hill Air Force Base, and the 151st Air Refueling Wing combined for a combat search and rescue training exercise.
---
It's something we hope to never use. However, we are very proficient and have the ability to execute these missions at any given point.
–Maj. Rick Smith, Battalion Commander
---
The "Lone Survivor" drill was a unique opportunity for several military groups to practice training together, said Utah National Guard spokesman, Lt. Col. Steven Fairbourn.
"This is actually a rather rare opportunity," he said. "This is training to do exactly what we need to do in times of war."
In the training scenario, an F-16 is shot down and the pilot needs rescuing. In the drill, two F-16's deployed from Hill Air Force Base and practiced refueling in air with the 151st while on the way to Utah's west desert. Maj. Gen. Jefferson S. Burton, adjutant general of the Utah National Guard, flew as a passenger in one of the F-16's to observe the exercise first hand.
Two Apache and two Blackhawk helicopters were deployed from the National Guard Base in West Jordan. The Apaches provided firepower assistance to the F-16s. Once they located the missing downed pilot, the Blackhawks were called in to pick him up.
Maj. Rick Smith, Battalion Commander for the 1st Battalion 211th Aviation and one of the Apache pilots, said the training is invaluable.
"This is very important because it has to do with air crew survival. So we train it quite frequently," he said. "It's something we hope to never use. However, we are very proficient and have the ability to execute these missions at any given point."
Smith has been flying helicopters for 16 years and has been deployed twice to Afghanistan and once to Kuwait.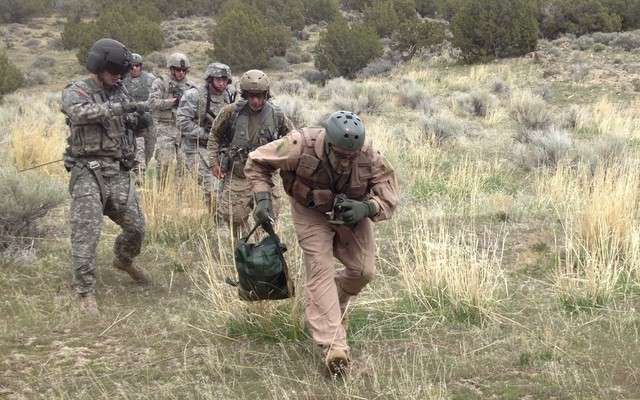 The pilots in Saturday's exercise were given a general idea of where the downed pilot was, but not an exact location. Smith said in real life, it's challenging to not only find a missing person, but then use code words between the rescue crew and pilot to verify that person is really in need of help and not an enemy posing as a downed pilot.
"It is very difficult to get in, find the survivor, authenticate the survivor, and differentiate between the survivor and the impending bad guys that are coming to get them. And not to mention all the other moving pieces, you've got a stack of aircraft above you - F-16s and multiple, multiple reconnaissance platforms - and you're trying to integrate all that into one point in space. So for the coordination piece, it's immensely important to train," he said.
On Saturday, once the pilot was found in a rugged, rocky area of the west desert, soldiers landed to give him armed protection. A Blackhawk helicopter then landed, and after the authentication was made, loaded everyone into the helicopter and quickly took off.
Chief Warrant Officer Rich Johnson, of the 211th Aviation Group who was in one of the Blackhawk helicopters, said training exercises with others such as those at Hill Air Force Base are important to make sure everyone is operating off the same playbook when the situation really calls for it.
"It's vital. I like to know that people are out there training so in the event I go down that I know rescue will be on the way. It gives you a feeling of comfort. It's a big deal when an air crew goes down in combat. All of a sudden everything shifts to rescuing those isolated personnel," he said.
The Utah National Guard consists of more than 7,000 men and women. Currently, more than 260 are deployed overseas in Afghanistan, Kosovo and Kuwait.
Contributing: Keith McCord
×
Photos
Most recent Utah stories