BAKER, Nev. — Suppose you could enjoy the splendors of a national park without being outside, exposed to the elements.
That's possible in one of our lesser-known national parks. It's on the doorstep of Utah, where some interesting science is shedding new light in a very dark place.
On a day when snow blankets much of the glorious scenery at Great Basin National Park, you might appreciate the chance to hike where your feet stay dry and it's always 52 degrees.
"It doesn't matter if it's hot outside or cold outside, the temperature in the cave is always the same," said Gretchen Baker, an ecologist with the National Park Service.
We hiked through Lehman Caves with Baker and paleontologist Gorden Bell, who stopped to admire natural draperies made of calcite crystals.
In the basement of Nevada's Great Basin National Park, just 10 miles from Utah's border, nature has been working for a long time to create amazing features. The National Park Service is conducting studies to figure out how water moves through the caves and how old everything is.
"We've learned very recently that some of the formations in the cave are over one million years old," Baker said.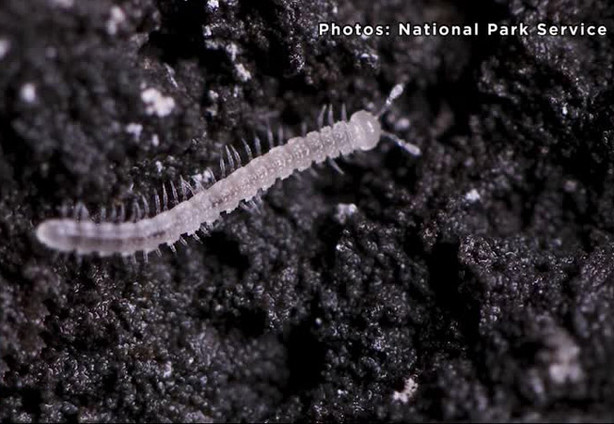 Which is why it seems like a shame to Baker what people did in the old days, using an old wooden stairway.
"This is how visitors entered the cave over 100 years ago. They would pay a $1 entry fee," she said.
That was before the features were protected by the Park Service.
"In the early days, visitors would take a stalactite with them as a souvenir in the cave," Baker said.
Some of the broken-off crystals are growing back now, at the relentlessly slow pace of dripping water. Commercial guides used to put on a show by knocking on features in the so-called music room.
"The tour guides would play a song on the different fluted formations in here," Baker said. "Not recommended these days. You have to sing your own song in here."
Related:
A visitor to Lehman Caves doesn't see too much in the way of wildlife: a spider web here and there, a bug or two, crawling on a wall. But seldom-seen living things are fascinating to scientists because they evolved to live in total darkness.
"They often have lost their eyes," Baker said. They're white because they don't have any pigment because they don't need any protection from the sun."
By studying things they find inside these caves, scientists are able to learn a lot about life outside the caves and how our climate has changed over thousands of years.
"Probably drier for sure. Not necessarily hotter. But definitely drier," Bell said.
Bones and vegetation are typically dragged into the cave by pack rats and placed into a midden.
"Probably over hundreds of years they've brought in debris from the outside and made their nest in here. And they cement it together with their urine," Baker said.
Cave tours
Great Basin National Park is about 90 miles west of Delta, Utah, just across the Nevada border near Baker.

The visitors center is open 8 a.m. to 4:30 p.m. Cave tours are offered seven days a week.
Poking through the debris, scientists find evidence of vanished species — rabbits, antelope, plants — that once thrived and then vanished after the last Ice Age.
"There again is another indication of climate change, how the ecosystem is not capable of sustaining that great a diversity of animals," Baker said.
Lehman Caves is protected as a time capsule now, a record of a million years of nature etched in stone and bone.
×
Photos
Related Stories