SALT LAKE CITY — If you had a chance to cook for The Governor's Utah Economic Summit, what would you prepare? Some Utah high school students just helped with quite a complex menu, assisting the executive chef at the Grand America Hotel, and their choices in the kitchen are helping Utah's economy.
When 900 of the governor's guests gather for the Thursday afternoon reception, all of the food at 14 different stations will be Utah's Own — grown or produced by Utah farms and companies.
That's a good economics lesson for chefs-in-training, like Lance Nebeker, who plans to run his own restaurant someday.
"Ever since I was young, I found a passion for cooking," Nebeker said.
As we talked in the massive kitchen that serves the ballrooms at the Grand America, the Murray High School senior prepared a Utah cheese platter for the governor's summit. These cheeses, of course, are all from Utah: one from Gold Creek Farms in Woodland, and another from Beehive Cheese in Uintah.
"It's just an awesome opportunity to learn what you're good at and what you're not," the young chef-in-training said.
He's among nearly a dozen Utah students helping executive chef Fernando Soberanis prepare the Utah's Own reception. They're students in a part of a program call ProStart, a program run by the National Restaurant Association that gets student chefs a head start in professional kitchens.
"You get to see that it's not all just fun and games. You get to feel the pressure," said Maribel Figueroa, a junior at West High School in Salt Lake City.
They're trying to pick up the tricks of the trade by watching experienced chefs; and the professionals like the chance to share what they know.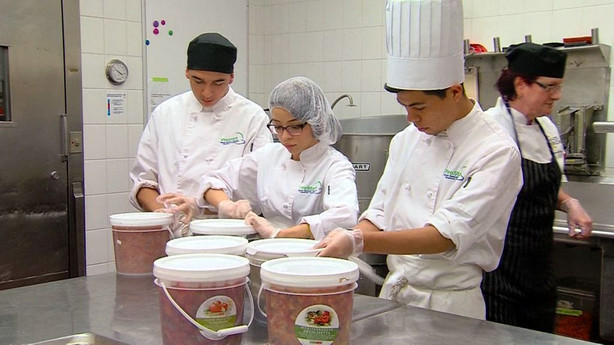 "It's refreshing because it's teaching what we have learned over the last 20 years," Soberanis said.
He likes teaching the value of serving local products: meats, cheeses and organic produce.
"You name it, you have so many options now, where 15 years ago it wasn't the case," Soberanis said.
Utah's Own, managed by the Utah Department of Agriculture and Food, urges all of us to buy Utah's agricultural products to benefit local farms and companies.
If Utahns shifted just 1 percent of their food dollars to buy Utah products, state research shows the collective effort would generate $63 million for our state's economy annually. Utah's Own companies also collectively created about 200 jobs per year over the last four years.
In Soberanis' kitchen, quality is the finishing touch.
"They already do an awesome job with their product," he said of the Utah offerings. "We like to explore something even farther."
Soberanis said he's always looking for more Utah products to serve. He likes taking what Utah farms and companies offer and taking it to another level in the kitchen.
×
Photos
Related Links