Estimated read time: 6-7 minutes
This archived news story is available only for your personal, non-commercial use. Information in the story may be outdated or superseded by additional information. Reading or replaying the story in its archived form does not constitute a republication of the story.
Amy Steinbrech initially shrugged off an odd feeling while visiting her family in Lander, Wyo. The 40-year-old public relations professional woke up confused in the middle of the night and fumbled around to find a light switch. Disoriented, she went back to sleep, chalking up the experience to exhaustion from the New Year's holiday.
But the next day Steinbrech realized why she'd inexplicably lost her motor skills to complete the basic task of locating a light switch: She'd suffered a stroke, which left her unable to talk or move.
"I drifted in and out of consciousness, coming to the realization that the entire right side of my body was paralyzed," recalled Steinbrech, of Salt Lake City, who describes her experience on a blog titled "Persistence, Perseverance, and the Power of a Positive Attitude: The Story of My Stroke Journey."
"My sisters came to check on me around 8 a.m., thinking I must have been extra tired from celebrating New Year's Eve the night before. What my sisters found when they opened the door scared them. I was barely conscious and a mere shadow of the outgoing sister they loved. I was laying there totally helpless and unable to utter a single word."

The diagnosis was a shock to those who knew Steinbrech, an adventurer always ready for a new challenge, whether it was a trek up into the mountains or surfing lessons. Statistics show, however that a stroke can happen to anyone.—even perfectly healthy people like Steinbrech —although those who smoke, have high blood pressure, diabetes or heart disease are at a more elevated risk.
Stroke is a leading cause of death in the United States, killing nearly 130,000 Americans each year—or one of every 19 deaths, according to the Centers for Disease Control and Prevention. More than 795,000 people have in the U.S. have a stroke every year, and a shocking 34 percent of people hospitalized for a stroke in the CDC's most recent statistics were younger than 65.
The condition is also one in which immediate care is critical —one reason University of Utah Health Care launched an innovative service called Telestroke, which connects rural health care providers with University of Utah physicians during the crucial time period when a patient is being evaluated for a possible stroke.
The University of Utah Clinical Neurosciences Center's Telestroke program allows community hospitals throughout the intermountain west to provide comprehensive stroke care to their patients even if they do not have a board- certified stroke neurologist on staff.
Using real-time videoconferencing and teleradiology capabilities, community hospitals enrolled in the Telestroke program can link their patients to a 24-7 on-call neurologist at University Hospital. Once the connection is established, the neurologist conducts a one-on-one evaluation with the stroke patient and reviews the patient's CT scans. Following the evaluation, the neurologist consults with the community hospital to determine the best treatment plan.
"Since its inception, our Telestroke program has providing invaluable insight for patients who arrive at one of our partner hospitals," said Jennifer Majersik, M.D., director of the University of Utah Stroke Center. "Approximately 80 percent of strokes are ischemic (non-hemorrhagic) and the only FDA-approved treatment for acute ischemic stroke is thrombolysis with intravenous tPA. This treatment must be given within 3 to 4.5 hours of stroke onset, which is why our Telestroke program —which allows participating hospitals to offer an immediate evaluation —is truly life-saving in some cases."
In Steinbrech's case, the need to take her to a hospital for treatment was immediate and she skipped a Telestroke evaluation. After her sisters discovered her the morning of her stroke, a helicopter transported Steinbrech from Wyoming to University Hospital in Salt Lake City. She spent a week in the intensive care unit as specialists assessed the damage caused by the stroke.
Her first week was followed by three days in acute care and four weeks in the rehabilitation department, where a team of health professionals began working with Steinbrech to recover skills lost from the initial trauma of the stroke.
Her niece and nephew created a memory board to help her practice recognizing family names and faces. That small step led to more advances in her rehabilitation. Before long, she spent seven hours a day in therapy for six days a week, powering through with a strong work ethic and positive attitude.
"I remember not being able to raise my right arm one day and literally the next morning I was able to lift my arm up six inches," Steinbrech recalled.
"When I was released from the hospital I was able to raise my arm above my head. I experienced that same type of rapid progression in physical therapy, where I progressed from being in a wheelchair to going on 8-mile hikes. The same is true for speech therapy. I struggled to utter my nieces name "Nomi" in the ICU and now I am able to share my story."
Steinbrech is now a passionate advocate for women's health issues, including the importance of knowing the warning signs of a stroke. She's pleased programs like Telestroke are gaining momentum in rural communities, where patients with stories similar to her own can access treatment efficiently.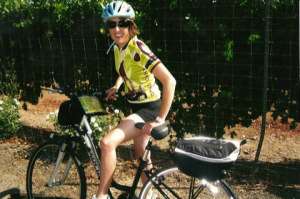 More than a year after Steinbrech's discharge from University Hospital on Feb. 8, 2013, she is once again enjoying activities like biking, swimming and traveling. She is looking at her next career move after health challenges temporarily sidelined her and is optimistic about what the future holds. She doesn't like to refer to herself as a survivor. The word is too simple to capture all she's been through and the remarkable progress she has made.
"I'm a stroke "thriver," she stated. "Thanks to my amazing team of doctors at the University of Utah who took such good care of me, and my pure spirit of determination, I am now busy preparing to reenter the work force and treasuring each and every day."
For more information, or to schedule a meeting with a University of Utah Telestroke physician, contact the Stroke Center at:
(801) 587-9935
StrokeCenter@hsc.utah.edu
Stroke.UofUHealth.org
To see other article sponsored by University of Utah Health Care click here.
×
Most recent Utah stories