OREM — The last thing Jerry T. Smith remembers is telling a girl walking to school to wait on the corner until he could get out into the road and stop traffic.
But the 80-year-old crossing guard doesn't recall much else about being hit by a car a few moments later.
"I remember looking down the street," he said Thursday, shortly after he was released from the hospital. "The car was a long way down the road, I can remember that. So I walked out in the street and got ready for this gal to come over. And the next thing I remember is getting hit, and that's it. I don't remember hitting his windshield. ... Next thing I remember is getting in the ambulance with paramedics."
Smith was at his usual post Wednesday, helping students cross the street to get to Orchard Elementary School, 1035 N. 800 East, when he was hit about 7:20 a.m.
"He's just a tough old bird," his son DJ Smith said. "People were saying he stood up and said, 'I gotta get the kids across the road.' He doesn't remember any of that."
The elder Smith suffered a concussion, broken bones in his neck and hip, and on Thursday found out he also had a broken femur. He will have to wear a neck brace for a couple of months.
"He's really banged up. You know, he's 80. He went right into the windshield. I guess he's got a tough head or something. He's doing well," DJ Smith said.
Despite all of those injuries, Smith went home from the hospital Thursday, just a day after the accident. His son said the doctors were impressed.
"Typically an 80-year-old falls and he breaks bones, and he smashed into a car, and they were stunned his head hit the windshield," he said. "It's a miracle. He's 80, he gets hit blindside, he's got three cracks. He should have bones broken everywhere. That's why he believes, and we believe, he was being watched over — and more importantly the kids.
---
He's really banged up. You know, he's 80. He went right into the windshield. I guess he's got a tough head or something. He's doing well.
–DJ Smith
---
"He really believes that he and the little girl were being watched over by, whatever you want to say. We're LDS, so we would say watched over by our Heavenly Father," Smith said.
Smith described his dad as a tough guy who "literally would have stood up and said, 'I'm fine, I'm fine. I'm finishing my job,'" after being hit.
Which is practically what he did.
One of the first calls the elder Smith made from the hospital was to the school to make sure his shift was being covered. His family said it's just a reflection of how much he cares for the children he assists every day.
"I enjoy being up there. Its's a great school — great kids. I don't know of a bad child up there. The neighbors are super. So I really enjoy it," Jerry Smith said.
The principal and vice principal from Orchard Elementary were among those who welcomed Smith home. They presented him with hundreds of get-well cards from the students.
"I'm very humbled by it — making me cry, really," Smith told Principal Aaron Stevenson. "I miss ya. I'm going to try and get back there as quick as I can."
Smith said he would go back to his post at Orchard Elementary tomorrow if his body would allow it. "I tried getting up a little bit, and I'm having a little bit of trouble. So it may take awhile," he conceded.
Jerry T, as his friends and family call him, moved with his wife, Dixie, from Utah to Colorado when he was younger and found success in running a food brokerage business. At age 50, he sold the business, retired and moved back to Orem where his wife is originally from.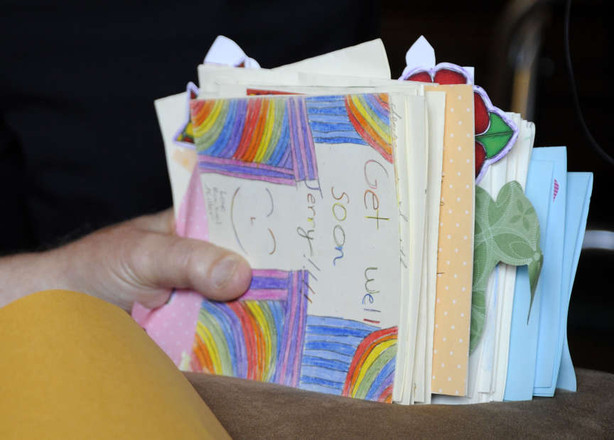 For the past five years, he has been a crossing guard. He took the job partly to keep busy and because he likes to help others. His son said he is a man with a soft heart under a tough-guy facade.
"He doesn't just want to sit around the house. He likes giving back and he loves serving the community," DJ Smith said. "He really likes young people and making sure they make right choices."
Three of Smith's six children became teachers and three members of his extended family also became teachers. Becoming a crossing guard just seemed like a natural fit, his son said, adding that his father also loves to make sure the students are smiling when they go to school and that they're having a good day.
"That's the difference between somebody who is (being) a crossing guard because they want the money versus somebody who is doing it because they love their community and love the kids and want to make sure they're safe and get to school," he said. "And that's how he taught his kids to be. It doesn't matter what kind of job you do, you do it the best you can and you do it better than anyone else.
"He literally gets to his job an hour and a half early to make sure if there's anyone who needs to cross the busy road, he's there. And then he leaves like an hour late."
Smith was wearing a reflective vest, holding a stop sign, and the crossing lights were flashing when he was hit by a van. The driver, Bruce Taylor, 48, of Orem, was cited for investigation of driving with no insurance and failing to yield to pedestrians.
Smith's message to drivers on Thursday was to pay attention in school zones.
"People need to slow down at those crosswalks. And 90 percent of the people who run the crosswalk … are on their cellphones and they're not paying attention and they roll right on through the crosswalk and they endanger the life of those kids.
"And it's really serious."
Contributing: Peter Samore

×
Photos
Related Stories