This story is sponsored by askachef@harmonsgrocery.com.

This week's question comes from Janelle:

"I'm tired of the same old boring salads made of lettuce and bottled dressing. How can I add more flavor and pizazz to my next salad?"

There is one ingredient that can make just about anything better…bacon! You've probably noticed that bacon is all the rage right now, and Harmons thick-cut bacon is perfect for just about any recipe.

One of my favorite meals is a crisp salad with fresh seasonal greens and fruits, topped with the delicious crunch of perfectly cooked bacon. Here are a few of my favorite quick and easy salad recipes that feature bacon as the star: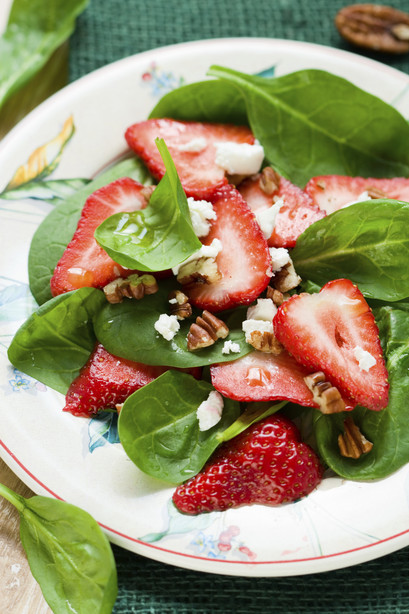 Spinach, Bacon and Strawberry Salad
Salad Ingredients:
4-6 strips of bacon, cooked and crumbled
8 oz. baby spinach leaves
1 small red onion, thinly sliced
3/4- 1 lb strawberries, stemmed and quartered
1/2 cup candied pecans
3 oz feta or goat cheese crumbles
Strawberry Vinaigrette Ingredients:
2 strawberries
1 tablespoon shallots
1 tablespoon honey
1 tablespoon whole grain mustard
1/4 cup white balsamic vinegar
1/4 cup honey wine vinegar, or other flavored vinegar
1 cup grape seed oil
Directions:
1. Combine all dressing ingredients except oil in a blender. Pulse for 1 minute until smooth.
2. Turn blender to low and stream in oil until dressing comes together. Season with salt and pepper.
3. Build salad in small salad bowl. Start with spinach, layer red onion then strawberries.
4. Sprinkle with pecans and cheese. Drizzle with dressing.
Bacon, Apple & Fennel Salad


What culinary questions do you have? Let us know! Email our Harmons chefs at askachef@harmonsgrocery.com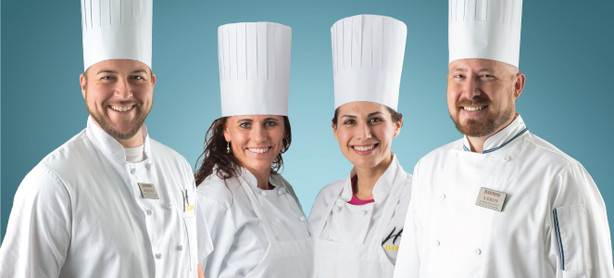 Salad Ingredients:
4-6 slices candied bacon
1 apple thinly sliced
1 small fennel bulb, thinly sliced
1 cup blueberries
2 blood oranges, segmented and juice reserved
Mixed greens
Vinaigrette Ingredients:
1 tablespoon blood orange juice (may substitute with traditional orange juice)
1 tablespoon pomegranate vinegar
1 tablespoon apple wine vinegar
1 clove roasted garlic
1 tablespoon dijon mustard
1 tablespoon honey
1/3 cup olive oil
Directions:
1. Layer bacon strips out on baking sheet. Sprinkle with brown sugar. Bake at 400 degrees until bacon is crisp and brown sugar has caramelized on bacon. Remove and allow to cool. Cut into large pieces. For a spicy version sprinkle with cayenne pepper before baking.
2. Prepare salad ingredients and place in separate bowls.
For Vinaigrette:
Combined all ingredients except oil in small bowl. Using immersion blender puree ingredients. Slowly drizzle in oil just until dressing comes together. Season with salt and pepper to taste.
Bacon, Egg and Watercress Salad
Ingredients:
4 slices of bacon, finely chopped
2 shallots, minced
3 tablespoons sherry vinegar
2 tablespoons brown sugar
1 1/2 tablespoons whole grain mustard
1/4 cup extra-virgin olive oil
4 large eggs
5 oz. watercress
5 oz. mixed greens with herbs
1 oz. chives, minced
Directions:
1. Heat a medium sauté pan on medium high heat. Add bacon pieces, sauté , until most of the fat is rendered and bacon is crisp. Remove bacon pieces and drain on paper towel.
2. Leave about 1 tablespoon of bacon oil in sauté pan.
3. Add the shallots and cook, stirring, until soft but not brown. Add in the sherry vinegar, sugar and mustard, deglazing the pan. Cook until vinegar small dissipates and becomes slightly sweet. Return bacon to pan.
4. Remove from the heat and whisk in the olive oil. Keep warm over very low heat.
5. Heat small non-stick egg pan on medium heat. Prepare eggs sunny side up. or until yolks are to your liking.
6. In a large mixing bowl, toss the watercress and herb blend greens. Add the warm dressing and toss to coat. Transfer the salad to bowls and top with the eggs. Garnish with the chopped herbs and serve right away. You can also add grilled salmon or favorite steak cut for a complete meal.
For more fun spring recipe ideas, visit our blog or join us for an upcoming cooking class. From beginner to advanced, Harmons cooking school offers something for everyone.
Check out other Ask a Harmons Chef articles here.
×