Estimated read time: 7-8 minutes
This archived news story is available only for your personal, non-commercial use. Information in the story may be outdated or superseded by additional information. Reading or replaying the story in its archived form does not constitute a republication of the story.
SALT LAKE CITY — House and Senate committees discussed and passed several bills on Wednesday, including a bill to exclude students with high GPAs from truancy citations and a bill to set standards for commercial breathalyzers.
Lawmakers also approved a deal that would end the Count My Vote initiative.
Advocates also rallied at the Capitol in support for the anti-discrimination bill and the Clean Air bill.
Bill advances to give after-school tutoring to kids from intergenerational poverty
Students from low-income households often struggle to compete academically with their peers.
They become frustrated, drop out of school and go on to face difficulties related to criminal activity, drugs, health care and employment. In time, they become the parents of a new generation of students from low-income households.
That is the scenario painted by Sen. Stuart Reid, R-Ogden, whose latest strategy to break the cycle of intergenerational poverty involves providing grants to schools to offer educational opportunities outside of the regular school day for at-risk children.
Reid's bill, SB43, was unanimously recommended by members of the House Education Committee on Tuesday. The bill has already passed the Senate and now faces a final vote on the House floor prior to final passage. To date, it has received just one vote in opposition from both the committee and chamber levels of the Utah Legislature.
Clean air advocates call for passage of bill proposing transit tax
Proponents of a legislative measure say it opens the door to an array of options aimed at cleaning Utah's air during winter temperature inversions and summer's sweltering smog.
"This truly is the only way to really clean the air — if we can take some of the cars off the road," Draper Mayor Troy Walker said. "On behalf of all the mayors in the county, we support this."
Walker spoke at a news conference Wednesday to rally political momentum for HB388, sponsored by Rep. Johnny Anderson, R-Taylorsville, in partnership with Rep. Joel Briscoe, D-Salt Lake City. The measure passed in a legislative committee last week but has yet to have a full hearing before either the House or the Senate.
Committee passes bill to exclude students with high GPA from truancy citation
Under Utah law, parents can be charged with a class B misdemeanor if their child is deemed habitually truant through pervasive absences.
But a bill that received legislative committee approval Wednesday would exclude students ages 16 and older from receiving a truancy citation as long as they maintain at least a 3.5 grade-point average.
"They're mastering the content," bill sponsor Rep. Francis Gibson, R-Mapleton, said of high-achieving students. "They know what is going on."
HB399 received a favorable recommendation from the House Education Committee after an 11-2 vote and will now be considered by the full House.
Lawmakers discuss issues surrounding daylight saving time
Utah lawmakers are talking about daylight saving time again but not with an eye toward getting rid of the twice-yearly time switch.
"This is not a bill to change daylight savings time. This is a bill to talk about the issues surrounding daylight savings time," said bill sponsor Rep. Ronda Menlove, R-Garland.
HB197 calls for the Governor's Office of Economic Development to hold a meeting with those interested and report on the outcome to legislative interim committees for possible study.
House passes bill to protect kids when parent is primary murder suspect
A bill that seeks to protect children in cases where one parent is the primary suspect in the death of the other unanimously passed the Utah House on Wednesday and now heads to the governor for his signature.
SB173 would allow those involved in such situations to make their case to a juvenile district court judge to have children temporarily removed from the home of a parent who is the primary suspect for murdering another parent of the children.
Committee OKs bill preventing cities from banning specific dog breeds
A Senate committee voted unanimously Wednesday to recommend a bill that would prohibit cities and towns from banning specific dog breeds.
HB97 sponsor Rep. Brian King, D-Salt Lake City, said South Jordan is one of 10 Utah municipalities with active ordinances banning specific dog breeds.
Lawmakers approve deal made to end Count My Vote initiative
Despite concerns the deal reached to stop the Count My Vote initiative is a "death warrant" for the state's caucus and convention system for nominating candidates, it won both House and Senate approval Wednesday.
SB54, sponsored by Sen. Curt Bramble, R-Provo, now preserves the system that gives party delegates elected at caucus meetings the power to choose nominees while allowing candidates another way to get on a primary election ballot.
Committee passes bill that sets standards for commercial breathalyzers
A bill that sets standards for breathalyzers provided to patrons in bars and clubs is on its way to the House floor.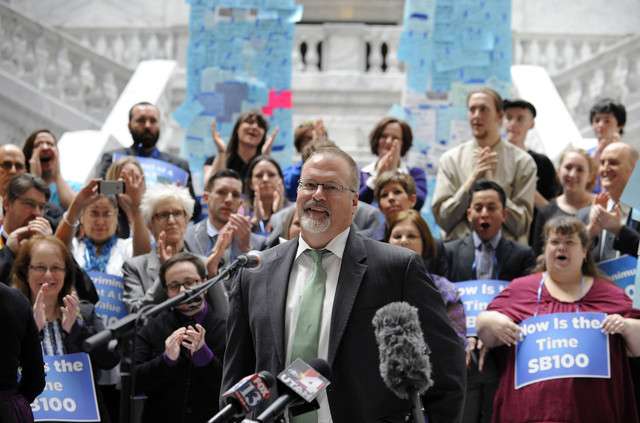 Spelling out standards for commercial breathalyzers limits the guesswork for patrons who want to use them and businesses where they are available, said HB190 sponsor Rep. Gregory Hughes, R-Draper.
Supporters rally at Capitol to promote anti-discrimination bill
Shouts of "SB100, now is the time" filled the Capitol rotunda Wednesday as advocates gathered to promote anti-discrimination in employment and housing for lesbian, gay, bisexual and transgender people.
The Legislature decided not to address bills related to anti-discrimination or religious liberties during this year's session out of concern that it might affect a pending appeal concerning Utah's ban on same-sex marriage.
While advocates and SB100 bill sponsor Sen. Steve Urquhart, R-St. George, acknowledge the legislation won't move forward this year, they rallied to show they're not giving up and are already looking to 2015.
House debates bill making cockfighting a felony
Staging cockfights and raising birds for what is often described as a blood sport could become a felony in Utah.
"Cockfighting is nothing but people who receive gratification from seeing animals suffer," Utah Humane Society executive director Gene Baierschmidt told lawmakers Wednesday. "Don't let anyone tell you it's a family activity. It's a gruesome, bloody sport."
SB12 would make cockfighting a class A misdemeanor on the first offense and a third-degree felony on the second offense.
Senate shows support for bill making changes to school grading
Lawmakers in the Utah Senate showed early support Wednesday for a bill that would change the way the state's controversial school grades are calculated.
SB209, sponsored by Sen. Stuart Adams, R-Layton, would exclude alternative high schools, new schools and students with an individualized learning program from the calculation of school grades. The bill would also penalize schools with a low testing participation with a single letter grade deduction, rather than the current F grade those schools automatically receive.
House passes bill to make State School Board elections direct, nonpartisan
A widely disliked and frequently criticized aspect of State School Board elections may be facing its final days.
The Utah House, with effectively no debate, voted 57-15 Wednesday to eliminate a candidate review and selection committee and instead set up direct, nonpartisan elections for board members.
HB223, which has been sponsored in various forms over the years but has gained little traction in the Legislature, generated lively debate in a House committee meeting on the pros and cons of a partisan or nonpartisan school board election.
Dems introduce bill that would accept full federal Medicaid expansion
A Democratic plan to take the full Medicaid expansion available under the Affordable Care Act surfaced Wednesday as the Legislature's GOP majority remained split over competing proposals from their ranks and Gov. Gary Herbert.
SB272, sponsored by Senate Minority Leader Gene Davis, D-Salt Lake City, calls for the state to accept all of the federal money offered to provide health care coverage for Utahns who earn up to 138 percent of the federal poverty level.
Contributing: Madeleine Brown, Amy Joi O'Donoghue, Lisa Riley Roche, Dennis Romboy, McKenzie Romero, Benjamin Wood
×
Related stories
Most recent Utah stories