Estimated read time: 4-5 minutes
This archived news story is available only for your personal, non-commercial use. Information in the story may be outdated or superseded by additional information. Reading or replaying the story in its archived form does not constitute a republication of the story.
PROVO — Most people who give to a panhandler believe their money will help keep them from going hungry and get them out of the cold. But thanks to a sting operation conducted by Provo police, there is strong evidence to prove a panhandler by day can become a drug user by night.
Darrel Lundell used to beg for money on the side of the road in Provo. His sign claimed he was homeless and hungry.
One day, two undercover officers posed as Utah Valley University students and told Lundell they were making a documentary on panhandlers. They gave Lundell money, which he used to buy meth. Then he gave them permission to record video of him getting high.
That video shows Lundell in the comfort of a hotel room, smoking and injecting meth, even giving a chilling account of what he is feeling as he gets high.
""It is coming up my arm," Lundell shows the undercover officers. "It is going to the heart. It's going in the back of the throat. It's hitting the brain — get a close-up of the eyes, get the eyes. Here they go. See 'em? Whoohooo! Now I am getting the head rush from hell. Whoa, it's getting hotter. Oh my (expletive). Now I'm high!"
Police say everyone in the room signed a release form, acknowledging they were being recorded on video. At the end of the night, all of them were arrested.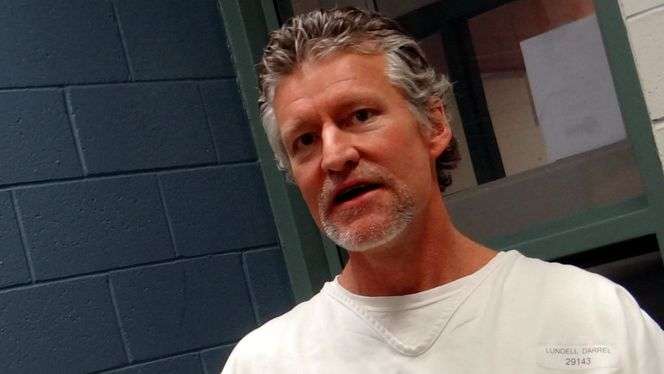 Lundell recently met with KSL inside the prison in Gunnison, where video cameras are prohibited.
"You seen in the video, what I did," he said, "and I'm pretty embarrassed about it. I apologize to anybody and everybody I offended or disturbed by watching this. I am now paying for it in prison.
"Meth is a dead-end road. It can get ahold of your life," Lundell said. "And it just doesn't get panhandlers; it gets all walks of life. It gets the rich. It gets the poor. I have seen it hit all walks of life, and if you get involved in it when you stick a needle in your arm with that, that is the beginning of the end right there. You will end up in prison if you don't end up dead."
Even veteran officers are disturbed by the video but not surprised addicts are using panhandling as a method to get drugs.
"When you are giving your money on the street to a panhandler, there is a chance you are feeding the drug element, and the drug users in Provo City, and enabling this problem," said Provo Police Lt. Matt Siufanua.
To combat panhandling, Provo enacted an ordinance that makes it illegal to accept a handout through the window of a car.
Provo police officer Mike Luthy said the usual panhandlers he encounters are not homeless, and now operate with lookouts to avoid being cited by police.
"Unfortunately, for most of them this is just their life and they are happy with it, and they don't have any interest or aspirations to get out of it," Luthy said.
Related:
It is also illegal in Provo to give to panhandlers while you are in a car.
"We have been very light on enforcement and tried to go heavy on education," said Provo Mayor John Curtis. "We don't want to bust that nice young mother who gave out a few bucks in front of her kids."
Instead of giving directly to panhandlers, Curtis encourages community members to give to charitable organizations that help the poor.
"There are so many good places to give in Provo, with people behind that donation that will work hard to make sure it is given to the right people to be used the right way and to help people move to a better situation, rather than just maintain their situation," Curtis said.
From behind prison walls, Lundell admits panhandling is about much more than finding food and shelter.
"I will admit that about half of them, yes, they do go get a motel room, but they do use the money for alcohol and drugs," he said.
A bill that was approved Wednesday in the state Legislature would enact similar restrictions statewide on panhandling that are already in effect in Provo, making it illegal to give to panhandlers while in a car. HB101's sponsor and Provo's mayor both insist their legislation is about traffic safety, but clearly in Provo it is making it more difficult to panhandle.
×
Photos
Related stories
Most recent Utah stories