Estimated read time: 2-3 minutes
This archived news story is available only for your personal, non-commercial use. Information in the story may be outdated or superseded by additional information. Reading or replaying the story in its archived form does not constitute a republication of the story.
Por cuarto año consecutivo, se realiza en Utah, el festival de películas para jóvenes y niños. Este año, el festival de Tumbleweeds, esta conformado por películas del cine independiente, documentales y películas en idiomas extranjeros.
Zipi y Zape, y el club de la canica, es una de las preferidas y participó en la competencia del conocido festival de cine de Sundance. Está hablada completamente en español, con subtítulos en ingles. Además de las películas en ingles y en español, habrá una en francés. Los organizadores del festival decidieron incorporar películas extranjeras para ayudar a desarrollar en los mas pequeños, la apreciación por otros idiomas.
Todas las películas tienen subtítulos en ingles y cuentan con la ayuda del uso de auriculares con la traducción para los que los necesiten.
Este imperdible festival de cine especialmente diseñado para el público pequeño, tomará lugar en teatros de la ciudad de Salt Lake City y Park City, los días 14, 15 y 16 de Marzo.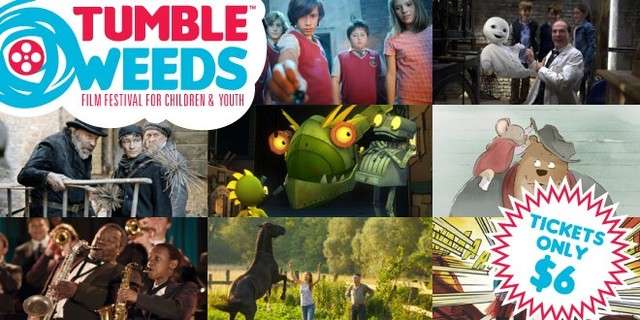 Las películas se estarán mostrando los tres días consecutivos en diferentes horarios. Si desea participar de esta experiencia única e inolvidable junto a su familia, puede visitar esta página www.utahfilmcenter.org/tumbleweeds, en donde encontrará toda la información que necesita con los horarios, localidades y breves descripciones del contenido de cada una de las películas.
Los boletos tienen un valor de 6 dólares por persona. KSLespanol, estará regalando entradas este sábado 8 de Marzo en el programa de radio "LO QUE MAS IMPORTA Radio Show", conducido por Pablo Tellechea y transmitido por la estación de radio La Jefa 1490 AM y 1550 AM o en línea en www.lajefautah.com.
El programa está en el aire los sábados entre las 8 y las 11 de la noche. Para participar, este sábado 8 de Marzo, solo tienes que escuchar la pregunta durante el programa de radio, será algo sencillo acerca de las noticias locales de Utah, y si contestas correctamente, te podrás ganar hasta 4 entradas para disfrutar con tu familia.Mariel Reimann is the Media Manager at KSLespanol. She's studied law at the National University of Cordoba, currently resides in Salt Lake City, Utah. Email: mreimann@ksl.com
×
Photos
Most recent News stories