SALT LAKE CITY — Elizabeth Smart and Deondra Brown looked on as the votes rolled in on a bill that would allow elementary schools to teach child sexual abuse prevention to students, parents and teachers.
The screen filled up with 73 green names, and the two survivors of abuse hugged and joined in the applause as the House passed HB286 unanimously Thursday morning. The bill now goes to the Senate for consideration.
Bill sponsor Rep. Angela Romero, D-Salt Lake City, said the bill would "empower" children, their parents and educators to confront sexual abuse. It would require some sort of training or information be given to all school personnel for kindergarten through 12th grade, as well as parents.
The bill would not, however, require schools to provide a training program for students. HB286 states that elementary schools may provide prevention education but must notify parents and give them an option to opt out.
"Nobody wants to think about any harm coming to their children, let alone abuse," Romero said. "But the reality is that child abuse happens every six minutes in the United States."
Romero said the training would facilitate tough conversations between parents and children, while arming both with necessary tools for child sexual abuse prevention. She said the bill would also help teachers be first responders, training them to spot the signs of abuse.
"For a child to be able to stand up and say 'no,' and have those skills to escape, have the ability to fight back, to go to find someone that they trust, that will save them. That will make a difference," said Elizabeth Smart, who was kidnapped in 2002 at the age of 14.
Smart and her father, Ed Smart, sat in the balcony of the House chambers with Brown, one of five siblings who make up the classical piano ensemble The 5 Browns.
Brown and her two sisters were sexually abused many times by their father, Keith Brown, between 1990 and 1998. Keith Brown is serving a 10-years-to-life sentence in the Utah State Prison after pleading guilty in February 2011 to sodomy on a child, a first-degree felony, and two counts of sex abuse of a child, a second-degree felony.
Deondra Brown later said she told Elizabeth Smart when they hugged, "It's a victory for children."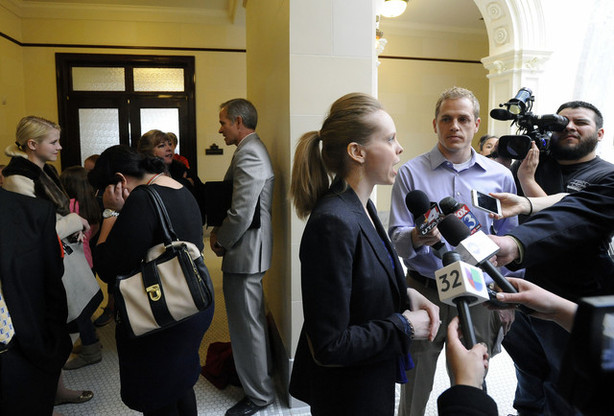 The bill was amended to allow parents to attend instruction of their children. However, two efforts to change the opt-out option to an opt-in option failed during discussion on the House floor.
House Minority Leader Jen Seelig, D-Salt Lake City, noted that about three-fourths of reported cases of child sexual abuse are committed by family members or others in a child's circle of trust.
"If we make this amendment, we're asking members of the majority group of people who commit these atrocious acts to give permission to children to learn how to defend themselves. That just doesn't make sense at all," Seelig said, shaking her head.
The idea of an opt-in process concerned Brown, who said her parents wouldn't have opted her in and that she wouldn't have been able to receive the training.
"I can guarantee you that if I had heard a program like this in school, that I would have known what to say, known to say 'no,' known what was normal, what was not normal," Brown said. "And I think it would have brought me forward a lot sooner and made me stand up for myself in that situation."
Brown added that she hopes her 3-year-old daughter will be able to benefit from the bill when she reaches elementary school.
Romero said abuse prevention education would help children know how to "stand up and speak out," adding that only 1 in 10 abused children tells somebody.
Silence is an enabler of abuse, agreed Rep. Merrill Nelson, R-Grantsville, who said he deals with abuse cases almost daily as an attorney.
"Victims of abuse feel like they have no one to talk to," Nelson said. "This will hopefully open up the dialog and help victims of abuse learn even when they are molested by someone they trust … they can be encouraged that this is something they can talk about and should talk about."
---
If those parents aren't reinforcing, we hope that all children get to the point that they understand that nobody has the right to hurt them. That is one of the most important things that we can help our children understand.
–Ed Smart
---
Romero addressed concerns of confusing children about "proper affection." She said instructional materials would be appropriate, and schools could follow the lead of others already providing programs in Utah, Tooele and Grand counties.
"The harsh reality is 1 in 4 girls and 1 in 6 boys are (sexually) abused by the time they turn 18. Sadly, this is more common than we care to admit," Romero said. "We should be less concerned about exposing children to this information and much more concerned about the children who need this information."
Elizabeth Smart said she wishes all adults had children's best interests at heart — but they don't, and children need to know that.
"They also need to realize when an adult is taking advantage of them, when they are crossing that line, and that's not OK," she said.
Ed Smart said it's vital that children be able to talk to their parents and that parents reinforce abuse prevention.
"If those parents aren't reinforcing, we hope that all children get to the point that they understand that nobody has the right to hurt them," he said. "That is one of the most important things that we can help our children understand."
×
Photos
Related Stories