This archived news story is available only for your personal, non-commercial use. Information in the story may be outdated or superseded by additional information. Reading or replaying the story in its archived form does not constitute a republication of the story.
SALT LAKE CITY — A husband and wife duo have expanded their cupcake business from delivery in Salt Lake to a brick-and-mortar shop in India.
Cori and Erik Larsen, owners of Heaven Cupcake, a cupcake bakery and delivery service in Salt Lake City, just returned to America following a six-month excursion to Mumbai, India, where they established Boston Cupcakery and jumped completely in, with Cori Larsen quitting her job at the University of Utah and bringing their daughter along for the experience.
Since 2010, the couple has been turning out cupcakes and learning what it takes to build a successful business. Erik Larsen was attending the U. of U. and joined the Lassonde Entrepreneur Institute's Foundry program when his wife suggested that since he love to bake, he try opening a cupcake shop.
"The cupcake thing it just kinda happened," Erik Larsen said. "And now it's just kinda taken over our whole identity."
With help from the U., the Larsens introduced their cupcakes to Salt Lake late in 2010. The couple baked 400 cupcakes, made up some hot chocolate and parked their food truck in front of the Beehive House on the first day of the Christmas lights at Temple Square that season.
They sold mostly hot chocolate and only a couple dozen cupcakes, but Cori Larsen said they learned a lot about marketing and advertising from the experience.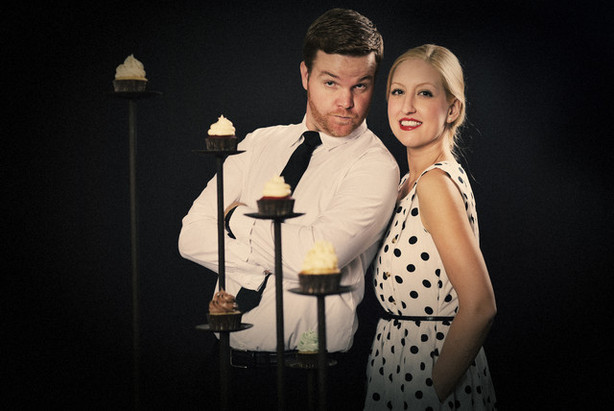 "We refused for it to be a failure, and we really paid attention to what worked and what didn't," Cori Larsen said.
Eventually, they abandoned the truck, switching to their current online shop. They take custom orders and bake only as many cupcakes as they have sold.
After appearing on an episode of "Cupcake Wars," the Larsens got an email from a potential investor in India.
"At first I read it, I thought, 'I'm going to delete this email because it's spam. They're asking us to do a franchise in India and there's no way this is a real email' After I deleted it, I thought, 'What would it hurt if I responded with some hardball questions and they answered them? If they do answer them, then maybe it's worth investigating.' "
Since the email, the Larsens have been busy figuring out the logistics of running an international business with silent investors. They traveled with their young daughter to Mumbai in September for what they thought would be a short trip to open the shop. Instead they ran into a host of issues that kept them in India until last week.
From teaching people the basics of using an oven to getting proper baking pans and ingredients, the Larsens spent the last six months troubleshooting the kinks and educating their employees.
Related:
"I was teaching the employees, 'This is a spatula, this is how it's used. This is a whisk,' " Erik Larsen said.
The Boston Cupcakery infuses the American treat with Indian flavors like curry or coriander — an homage to the partnership.
"They knew we were Americans and that was our niche that we were the American cupcake. (People) knew we were going to take Indian flavors to America, and that helped them get on board," Erik Larsen said.
But as much as this is a business venture, it may be a family venture, as well. The couple has taken their 2-year-old along with them and adjusted to family life wherever their business takes them.
"She loves going new places. There's been some times when it was a struggle," Cori Larsen said. "We went into it knowing that as long as we were going as a family, that would be the best part."
The Larsens returned to America last week, landing in New York, where they hope to start their next business venture. They will continue to operate Heaven Cupcake remotely, handing it off to local employee Ellie Madsen as they have the Boston Cupcakery.
"It's hard in some ways because I'm a perfectionist and I like to make sure everything is just a certain way, so it's been a learning experience for me to let go and trust that they know what they're doing and maintain a certain standard for our business," Cori Larsen said.
×
Photos