KNOXVILLE, Tenn. — Crocodiles don't just spend their time lurking in the water waiting for prey, they also climb trees, according to study released Monday.
Some species of crocodiles climb trees and then bask in the sun, according to a new study from the University of Tennessee, Knoxville. Researchers traveled the world to observe the crocodiles and found them resting as far as four meters (13 feet) up in trees.
"The ability to climb vertically is a measure of crocodiles' spectacular agility on land," the researchers wrote.
How far crocodiles can climb up trees depends on their size, researchers found. Smaller crocodiles can climb higher and further out on a branch.
Researchers believe the crocodiles climb trees to regulate their temperature and watch their surroundings. The crocodiles appeared to be skittish and would jump into the water when researchers approached them.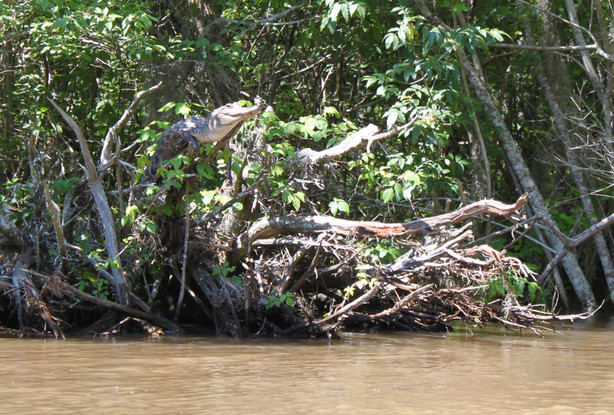 "The most frequent observations of tree-basking were in areas where there were few places to bask on the ground, implying that the individuals needed alternatives for regulating their body temperature," the authors wrote. "Likewise, their wary nature suggests that climbing leads to improved site surveillance of potential threats and prey."
Even though crocodiles don't look like they should be able to climb and don't have any morphological adaptations for scaling trees, researchers wrote that some species might spend a considerable amount of time above ground.
Climbing tree branches is mechanically similar to climbing a hill, they said. How difficult a tree is to climb depends on the angle of the tree and width of the branches. Young crocodiles can grip thin branches on both sides and cross multiple branches like a ladder to lift their bodies.
The crocodiles basked in the trees during both daytime and nighttime. Researchers observed crocodiles in Australia, Africa and North America.
"These results should be taken into account by paleontologists who look at changes in fossils to shed light on behavior," said lead researcher Vladimir Dinets. "This is especially true for those studying extinct crocodiles or other Archosaurian taxa."
The study was published in the journal Herpetology Notes.
×
Photos
Related Links