This archived news story is available only for your personal, non-commercial use. Information in the story may be outdated or superseded by additional information. Reading or replaying the story in its archived form does not constitute a republication of the story.
SALT LAKE CITY — Many well-known Olympians have come through Utah in some capacity or another since the Winter Games began in 1924.
Apart from hosting the games in 2002, Utah has deep-running connections with some of the biggest names in Olympic history. With its sleekly groomed powder and miles and miles of cross-country snowy terrain, Utah can't help but draw the eyes of serious winter athletes. Here's a look at some of the biggest names with connections to the Greatest Snow on Earth.
Jozef Sabovčík
Sabovčík began figure skating at the age of 6 in his home country of what was then Czechoslovakia. He competed in the 1984 Olympic Games with Scott Hamilton, the U.S. darling of men's skating, and took home a bronze medal.
After his Olympic debut, Sabovčík went on to claim the winning title at two European skating championships and placed sixth at the 1985-86 World Championship. He's earned the nickname "Jumping Joe" for his ability to perform amazing jumps and backflips on the ice, which led him through a successful professional career.
Sabovčík has long called Utah his home. He moved to Bountiful in the late 1990s and taught and performed at the city's rec center. He currently lives in Ogden with his wife and son and has performed numerous times throughout the state.
Picabo Street
Picabo Street took home gold medals in the 1998 Nagano Winter Games for her races in the super G and downhill competitions. She had previously won World Cup skiing downhill championships in 1995 and 1996, becoming the first American woman to do so.
Street was born in Triumph, Idaho, and spent most of her youth growing up on a small farm just outside of town. Contrary to popular legend, Street did not give herself her famously unique moniker. Her parents refused to name their baby, planning on letting her choose her own name when she was old enough. When Street was 3, however, her family was traveling out of the country and she needed a passport. Her parents chose the name of Picabo, after the name of a small town near their house.
Street attended Rowland Hall-St. Mark's School in Salt Lake City for a year and was a member of the school's ski academy, Rowmark. The ski academy has seen many of its alumni go on to compete on the U.S Ski Team and in various Olympic Games.
Apolo Ohno
Ohno rose to instant fame when he took home a gold medal in the 2002 Salt Lake City Winter Games in men's speedskating. Controversy surrounded his win after judges disqualified the initial victor, Kim Dong-Sung from South Korea, after he was accused of blocking Ohno during the race.
Ohno won the U.S. national championship in 1997 at the age of 14 and became the youngest competitor ever to take home first place. He went on to win 12 consecutive U.S. speedskating championships, competing from 2001-09.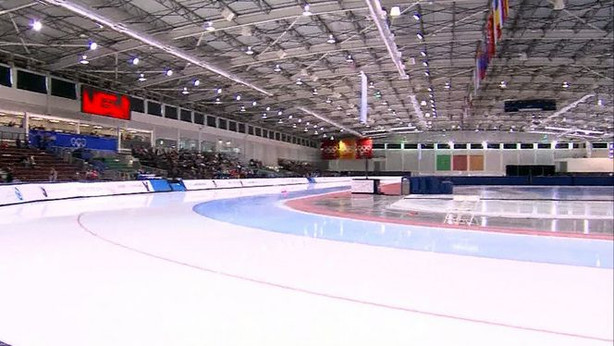 In 2007, Ohno announced that he would once again return to Utah to train for the 2010 Olympic Winter Games. He had previously lived and trained in Colorado Springs, Colo.
On Christmas Eve of 2007, Ohno competed for yet another U.S. national championship on the ice at the Utah Olympic Oval in Kearns. He once again took home a first-place win, this being his ninth win overall.
Shaun White
A 9-year-old White was spotted by skateboarding legend Tony Hawk while he was hanging out at a San Diego skate park in 1995. Hawk mentored White and helped him rise in the ranks of skateboarding notoriety. White turned pro skateboarder at the age of 17 and attributes much of his early success to Hawk's coaching.
While learning the ropes of skating, White also picked up snowboarding and found himself with his first sponsor at the age of 7. Snowboarding has since dominated his life, and White is known around the world for the innovation he's brought to the sport.
White took home gold medals in the half-pipe competition at the 2006 and 2010 Olympic Winter Games. He has also won numerous titles in the Winter X Games.
White has numerous ties to Utah, most notably his love of the slopes in and around Park City. He has produced a series of wildly popular YouTube videos, the majority of which have been filmed at the Park City Mountain Resort. Many Utah locals report to have seen White's long, curly red hair racing down the slopes at the resort. White has also hosted several snowboarding clinics at Park City, events that draw hordes of spectators and participants alike.
Do you know any other famous Olympians with connections to Utah? Comment below or send an email to rgarfield@ksl.com.
×
Photos
Related Stories