Estimated read time: 4-5 minutes
This archived news story is available only for your personal, non-commercial use. Information in the story may be outdated or superseded by additional information. Reading or replaying the story in its archived form does not constitute a republication of the story.
SALT LAKE CITY — Both sides of the battle over marriage in Utah brought their messages to the State Capitol on Tuesday night, colliding briefly as a few glitter-throwing protesters interrupted Attorney General Sean Reyes' remarks about defending Amendment 3.
About a dozen young protesters, two hours after participating in a rally in support of same-sex marriage, sat in the aisle in front of the stage and took up a chant of "equality now" moments after Reyes reaffirmed his commitment to fight a federal judge's ruling that overturned Utah's voter-approved definition of marriage all the way to U.S. Supreme Court.
The crowd near the protesters shot to their feet, booing and outshouting the youth, and the well-planned event in support of traditional marriage dissolved momentarily until Reyes asked the crowd not to respond. One of the protesters was overpowered by several Utah Highway Patrol troopers and was removed from the building in handcuffs, still shouting.
The man, whose name was not released, was not arrested and left peacefully once troopers had escorted him out, UHP Sgt. Todd Royce said.
It was a visible display of the emotion present at the two rallies at the Capitol, held hours apart Tuesday evening, which featured impassioned support for traditional families in the Capitol Rotunda, as well as support for same sex marriage outside.
That group of approximately 400 people rallied on the Capitol steps in support of legalizing same-sex marriage in Utah, while a group of 700 in the rotunda filled the chairs lined up by Capitol staff and the balconies in support of Reyes and other speakers.
The traditional marriage event called on Utahns to stand for marriage between a man and a woman in the interest of protecting children. Waiting for them were signs declaring "Biology is not bigotry," and "For marriage, not against anyone." Supporters also wore pink or blue shirts to demonstrate "gender complementarity."
Another sign provided to traditional marriage supporters read, "We are the 66 percent," a reference to Utah's constitutional definition of marriage that was passed by 66 percent of voters in 2004. The amendment was ruled unconstitutional by U.S. 10th District Judge Robert Shelby last month, allowing same-sex marriage in Utah for 17 days before the U.S. Supreme Court issued a stay pending further review.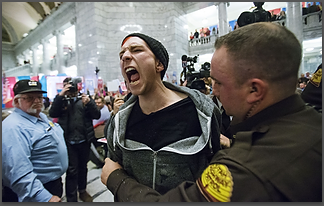 The crowd cheered as they applauded Sen. Stuart Reid, R-Ogden, who shared his stance that Utah's elected leaders should defend traditional marriage.
"I join you here tonight to show my unequivocal support for traditional marriage, marriage solely between one man and one woman, the only marriage that should be allowed in Utah," Reid said. "Though I have been advised not to, I profess, unabashedly, that it is the moral imperative that government officials support traditional marriage as the only acceptable form of marriage."
In the crowd, American Fork residents Nate and Buffy Snell sat with their five children, nodding and applauding during a video message from Robert Oscar Lopez, a conservative author known nationally for sharing his experience being raised by same-sex parents. Lopez argues that children need both mothers and fathers, something that pained him throughout his life as he never knew his biological father.
"I hope (my children) stand up for what's right, and that they learn courage," said Snell, who hopes messages like Lopez's will resonate with same-sex marriage supporters. "I thought (Lopez) spoke really well to the issue, because I think a lot of the opposition doesn't understand our side of it, they think we're just being bigoted.
Outside, Manuel Maravi carried his 7-year-old son Erik on his shoulders as he stood with his partner, Ted Clayton. The couple came from their home in Park City, where they said they have found a refuge for their same-sex family among sympathetic neighbors and employers, support that they hope spreads throughout Utah.
"I think many people don't know about our families and what we go through, and we need to educate people about what we're going through, and how difficult it can be raising a family like ours in a state like Utah," Maravi said. "We are not asking for something different or special, just what everyone is getting."
The supporters of same-sex marriage braved cold temperatures to cheer on impassioned speeches demanding rights and recognition for same-sex couples and urging supporters to take their message to Utah's legislators, carrying homemade signs proclaiming messages like "Marriage rights are human rights" and "Keep calm and marry on."
Marcy Taylor of Ogden declared herself "battle ready" as she rallied the cheering crowd.
"We are past the point of needing or wanting you to understand, it is clear that the tears, heartache and devastation do not speak to your hearts," she said, addressing opponents of same-sex marriage. "We are past the point of civility, as calling us unnatural, asking us to stifle our love and promoting only one type of family as traditional is beyond being civil."
Matt Spencer, communications director for the Restore Our Humanity group, offered a more tempered message. He asked the group to lend a loving hand to those who may be hiding their support for same-sex marriage "in a closet."
"Please encourage your friends, your family, those on the fence about being vocal to come out, come out of the closet and speak to the people who make the decisions that regard our lives," he said.
×
Photos
Related stories
Most recent Utah stories