Estimated read time: 4-5 minutes
This archived news story is available only for your personal, non-commercial use. Information in the story may be outdated or superseded by additional information. Reading or replaying the story in its archived form does not constitute a republication of the story.
SOUTH JORDAN — Parents in one neighborhood feel they're being left out of the process when it comes to changing school boundaries that affect their kids.
Two weeks ago, the Jordan School District proposed four options for changing school boundaries and asked parents to give their input through an online survey.
But people living in the neighborhood — between 9000 South and 9435 South, and 3200 West and Old Bingham Highway — say they've been left out of the decision making process, as all four new options for dealing with overcrowding has their children moving from Elk Meadows Elementary School to Terra Linda Elementary School.
"At first you go from being angry to just frustrated, wondering if our voice is going to be heard, or what we can do to make a difference," said Jamie Larsen, whose children attend Elk Meadows.
"They said everyone was going to get a choice, and they could fill out the survey; but all four options don't give us a choice," she said.
To help solve the problem, Larson and some of her neighbors organized a community meeting at the South Jordan Community Center.
Roughly 100 people, including members of the Jordan School Board, attended Monday's community meeting, which included a presentation on the four boundary options and an opportunity for residents to voice their concerns.
Several neighborhoods and schools were represented, and parents took issue with the potential for elementary schools to be split between middle schools, neighborhoods to be split between elementary schools, and the burden of new growth being placed on previously landlocked portions of the district.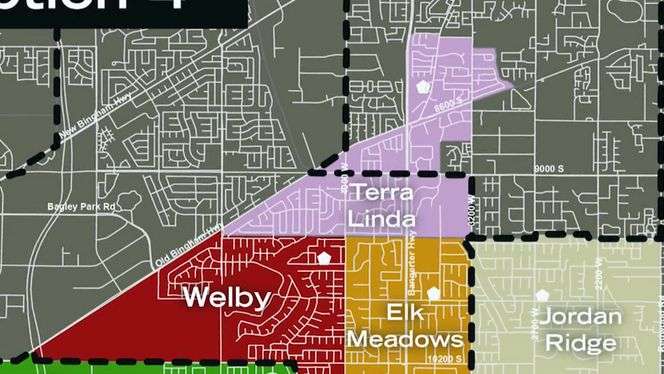 Jolynne Alger, a member of the Eastlake Elementary School Community Council, objected to the claim that boundary changes are being proposed to make west-side schools "more comfortable."
Alger said her children's school, located in the Daybreak area of South Jordan, has a dozen portable classrooms surrounding the school and utilizes the teacher's lounge as classroom space.
"The room that we have to move kids is in the northeast part of our district. That is a hard fact," she said. "As I look around the whole district, the options are severe. No one in this district is going to be comfortable at this moment."
Leesa Leonard, whose children are among the roughly 1,400 students at Eastlake Elementary, described the options proposed by the district as challenging but necessary. She said many parents on the district's east side don't recognize the overcrowding faced by the high-growth areas.
"We can't wait to make a choice," she said. "My children need to go somewhere next year."
Larsen said the goal of the community meeting was to receive feedback and ultimately create alternate boundary proposals to present to the district.
Instead of the district's current proposals, which divide Elk Meadows Elementary and Terra Linda Elementary along city lines, Larsen said she'd prefer a boundary that runs along a major road, such as nearby 9000 South.
---
Even if the bond had passed, we would have proposed some boundary changes and likely would have had to move forward with some boundary changes. Now we're just having to consider more than we would have if the bond had passed.
–Sandy Riesgraf, Jordan School District
---
"They shouldn't cut through people's backyards and separate houses that are right next to each other into different schools," she said. "(The district is) asking our kids to cross over 90th South and a TRAX line and go to a school that's in an industrial area when we're within walking distance to the school that we've been going to."
Larsen said organizers are also interested in asking the district to put off boundary changes for one year to allow for more discussion with community groups.
"Our first focus is our neighborhood," she said. "We'd like to have time to work together and come up with a solution that will help with this growing problem in Jordan School District."
Jordan District spokeswoman Sandy Riesgraf said any decision on boundary changes, including whether to postpone them for a year, would be up to the Jordan School Board. But she added that many of the district's schools are currently dealing with overcrowding.
"There are schools that really do need some relief, and that's why you propose boundary changes," she said. "Even if the bond had passed, we would have proposed some boundary changes and likely would have had to move forward with some boundary changes. Now we're just having to consider more than we would have if the bond had passed."
Riesgraf reiterated that residents are encouraged to review the boundary proposals on the district's website and participate in the online survey. She also said the district will host a series of open house meetings to receive feedback from community members beginning the week of Jan. 6.
The next Jordan School Board meeting is scheduled for Jan. 28.
×
Photos
Related links
Related stories
Most recent Utah stories