Estimated read time: 1-2 minutes
This archived news story is available only for your personal, non-commercial use. Information in the story may be outdated or superseded by additional information. Reading or replaying the story in its archived form does not constitute a republication of the story.
SALT LAKE CITY — Crews worked to clear an accident that shut a freeway ramp and backed traffic on northbound I-15 Monday morning. UHP said mental health issues may have contributed to the wreck.
Just as the commute was getting underway Monday morning, a truck rolled over on I-15 near 1400 South, blocking the right two lanes of the interstate. The wreck also closed the ramps from westbound I-80 and eastbound state Route 201 to northbound I-15, according to UDOT.
Utah Highway Patrol said the truck's driver called dispatch saying he was hearing voices that told him to let go of the wheel of the truck.
"He chose to let go of the wheel or intentionally crash the vehicle," said UHP Sgt. Chad Hecker.
The truck crashed into the north bound barrier at 1400 South and flipped, skidding about 20 feet on its side. When troopers arrived on the scene, the driver was still inside the cab.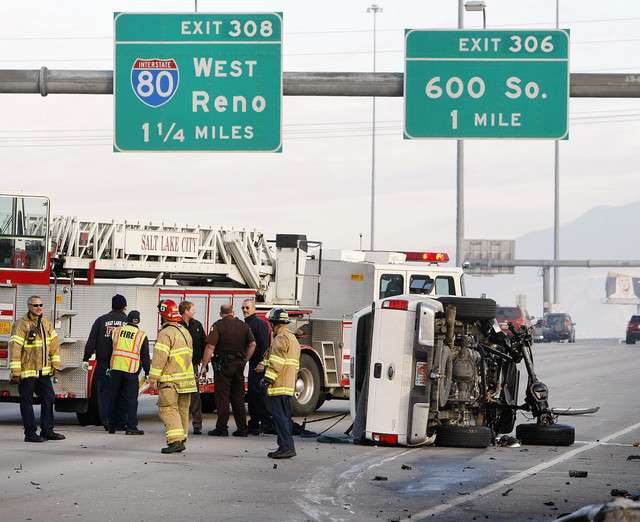 "He was seat belted in and quickly became combative and would not cooperate with either us or fire personnel," Hecker said.
For 90 minutes, traffic inched by as crews collected debris from the road. Around 9:45 a.m., the truck was loaded onto a tow truck.
No passing motorists were hurt. The driver was taken to a hospital with minor injuries. Physically, the man seemed OK, troopers said. They were more worried about his mental condition.
"Yes, very. For this time of day it was very lucky it was only a single vehicle accident," he said.
×
Photos
Most recent Utah stories