Estimated read time: 7-8 minutes
This archived news story is available only for your personal, non-commercial use. Information in the story may be outdated or superseded by additional information. Reading or replaying the story in its archived form does not constitute a republication of the story.
MURRAY — Dan Snarr, Murray's outgoing four-term mayor, starts talking before he even sits down for a scheduled interview — and keeps talking for the next 2½ hours without coming up for air. He apologizes for this several times, blaming it on "ADHD," but then picks up where he left off.
Snarr, who will turn 64 on Jan. 1, got into politics 16 years ago, but he's no politician. He doesn't look like one, doesn't dress like one, doesn't talk like one, doesn't work like one. He says what's on his mind, and doesn't worry about political expediency.
"I'm different, and I know I am," he said.
Different? Name another mayor who sports a handlebar mustache that is 22 inches from tip to tip and moves up and down like wings when he talks. Name another mayor who punctuates his conversation with quotes from Socrates, O.C. Tanner, Aristotle, Martin Luther King and Joseph Smith. Name another politician who drives a rusty old car and gets up at 4 a.m. to plow snow and keeps a sprayer in his back seat so he can kill weeds around town just to experience that warm feeling of progress that he craves.
The *#*$# mayor
Snarr once asked an unsuspecting Murray citizen what he thought about all the development in Murray. Snarr said he was fishing for a compliment; instead, he got an earful. "We're lucky anything happens with that d--- mayor in charge," he began. Snarr listened and when the man was finished he explained why things were done the way they were in Murray, issue by issue. "How do you know so much about this?" the man asked. Snarr replied, "Because I'm the d--- mayor."
Snarr has not endeared himself to everyone during his four terms in office because he has brought change and development. He led the way to tear down the famed old smelter site with its familiar twin brick smokestacks and, after months of intense negotiations and threats of litigation, convinced the 17 owners of the property to sell to Intermountain Medical Center, which was built on the site.
He played a role in bringing three large hotels to the city, as well as the University of Utah medical campus, a large apartment complex and expansion of Fashion Place Mall. Dilapidated and sometimes boarded buildings were replaced by revenue-producing commercial projects. He laid the groundwork by sinking $42 million into improved electrical power and other infrastructure, which attracted the businesses.
---
Murray suffered for so long without change. We had to ask, 'What do we need to do to make people believe Murray is a good place to do business?'
–Mayor Dan Snarr
---
"Murray suffered for so long without change," said Snarr. "We had to ask, 'What do we need to do to make people believe Murray is a good place to do business?'"
The complainers
Snarr revels in progress. He drives around the city simply to look for problems to fix. What he saw for years were weeds. City employees cut them down only to see them grow back.
He sprayed the weeds instead and did it himself — and he's still spraying. He carries a backpack sprayer in the back seat of his car, and when he sees weeds while driving around town he pulls over and poisons them.
"He does that all the time," said his wife, April. "People complain, but I see him do things no one else would do. No job is beneath him."
Snarr, whose great-grandfather was an early settler in Murray in 1860, wants others to share in his sense of pride in the community and act. He believes in appearances, which is why he had the shrubs ripped out on State Street and replaced with flowers.
People ask Snarr why he is so aggressive in his job, and he said, "Because I like to get up and see progress in the making."
The entrepreneur
Snarr's father, Alma, was diagnosed with multiple sclerosis when Dan was a boy, and died when Snarr was 19.
"He was a great man, very kind," recalls Snarr.
The Snarrs never had much money even before Alma's illness, but Alma told Dan something he still remembers to this day: "You can have anything if you're willing to work for it." Dan began working at 12 and has never stopped.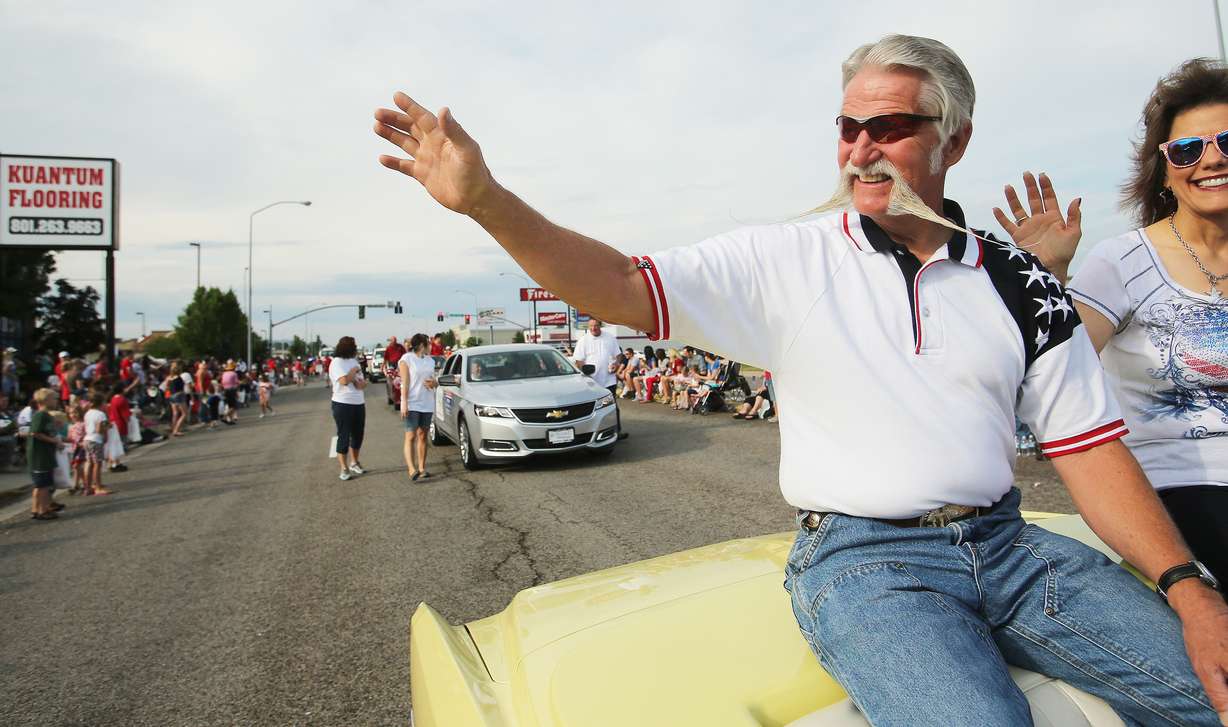 In college, he delivered groceries to various stores with a tractor-trailer. Afterward, the stores filled the empty trailer with damaged products to take the dump. Eventually, it occurred to him to sell the damaged goods to a salvage business, adding to his profit. He was making $2,000 a month as a college student in the mid-1970s, which enabled him to buy a house while still going to school.
At 19, he joined the National Guard, and for the next 11 years he was a demolitions expert and paratrooper with the 19th Special Forces Group. At 21, he took leave to serve a mission for The Church of Jesus Christ of Latter-day Saints in Scotland.
He graduated with honors from the University of Utah with a degree in communications and a minor in finance and marketing. For the next 15 years he worked for three Fortune 500 companies in sales — U.S. Steel, Burroughs Corp. (now Unisys) and Compugraphic.
At night and on weekends, he and cousin Ron, who had formed Snarr Brothers Landscaping, mowed lawns and landscaped yards. They hired employees to work for them during the day. At 38, he devoted himself full time to the landscaping business and grew it to $2 million in annual revenue.
He still gets up at 4 a.m. and plows his own properties.
The rust buckets
Snarr is known and recognized around Murray for two things: The vehicle he drives and the mustache. He drives a rusting 1991 Honda Civic he bought for $300. His other vehicle is a similarly rusted 1991 Chevy pickup, which neighbors borrow so frequently that he gave spare keys to four of them. Both vehicles have about 220,000 miles on them. And yet Snarr could easily afford any car.
"It's just ridiculous," said April. "He has this thing about driving ugly cars. It's driving me crazy."
Looking back, Snarr said: "I came from a poor family. I didn't want to see my kids go through what I went through, but in some way it's a disservice. It makes you stronger to have adversity. It makes you a better person if you can find a way to overcome it."
Related Story
Dan and April, who have been married for 40 years, have faced adversity while raising their family of five children — Heather, Tucker, Trevor (who is a familiar name because of his movie-acting career), Denver and Samantha. Denver became addicted to pain medication while recovering from a series of injuries and died of an overdose a few years ago. Samantha, like her grandfather, has M.S.
"Just don't ever give up," said Snarr. "Do what in your heart you know is best for everyone, not just you."
The mustache
With the possible exception of Santa Claus and Abraham Lincoln, no one has gotten more mileage out of facial hair. It's been a curiosity for hundreds of passers-by who want their pictures taken with him. During all the fuss over Murray's "American Idol" star, David Archuleta, his mustache drew mention from host Ryan Seacrest.
In 2008, shortly before he was going to begin a campaign for re-election, he was urged to shave the mustache for charity. He begged off by suggesting that voters decide the matter. Citizens voted to shave it off. So the mustache fell, and $2,200 was raised for the Children's Miracle Network. The American Mustache posted a eulogy for the mayor's mustache on its website.
He grew it again, and two years ago he was asked to shave for charity again. Once again, he put the decision in the hands of Murray citizens, who were told to give him the thumbs-up or thumbs-down signal during the city's annual Fourth of July Parade. His city employees gave him a reprieve by bringing up the rear en masse and giving him the thumbs up. The event was written about in newspapers as far away as Iraq and Scotland.
The 'stache is thriving again and is currently unthreatened, all 22 inches. He plans to enter it as the longest handlebar mustache in history. He washes it each night and the next morning he requires 10 minutes to get it ready for the day. He sprays it with hairspray and then coats it with styling gel so that both wings point straight to his shoulders.
"I'm a showboat, but I'm an honest one," he said.
(Copyright 2013 The Associated Press. All rights reserved. This material may not be published, broadcast, rewritten or redistributed.)
×
Photos
Related stories
Most recent Utah stories