Estimated read time: 2-3 minutes
This archived news story is available only for your personal, non-commercial use. Information in the story may be outdated or superseded by additional information. Reading or replaying the story in its archived form does not constitute a republication of the story.
BOUNTIFUL — A Bountiful shop owner was given a license to sell e-cigarettes, but later received a notice from city officials that he had to close the shop by 2014.
Brad Parsons owns Vapor Loc, a smoke shop in Bountiful that sells electronic cigarettes. He and three other store owners received letters from city officials informing them that they had to close.
"I believe in this product wholeheartedly," Parsons said. "100 percent. We have $130,000 into this shop. We invested $130,000. That's a lot of money for six months in business."
Parsons said in June, he got a business license from Bountiful, paid the fees and had his shop checked by inspectors. However, Parsons said now the city officials are telling him that because he is within 600 feet of an apartment complex, his business is breaking state laws and his license won't be renewed. Parsons was allegedly told he had to close his store by Jan. 1.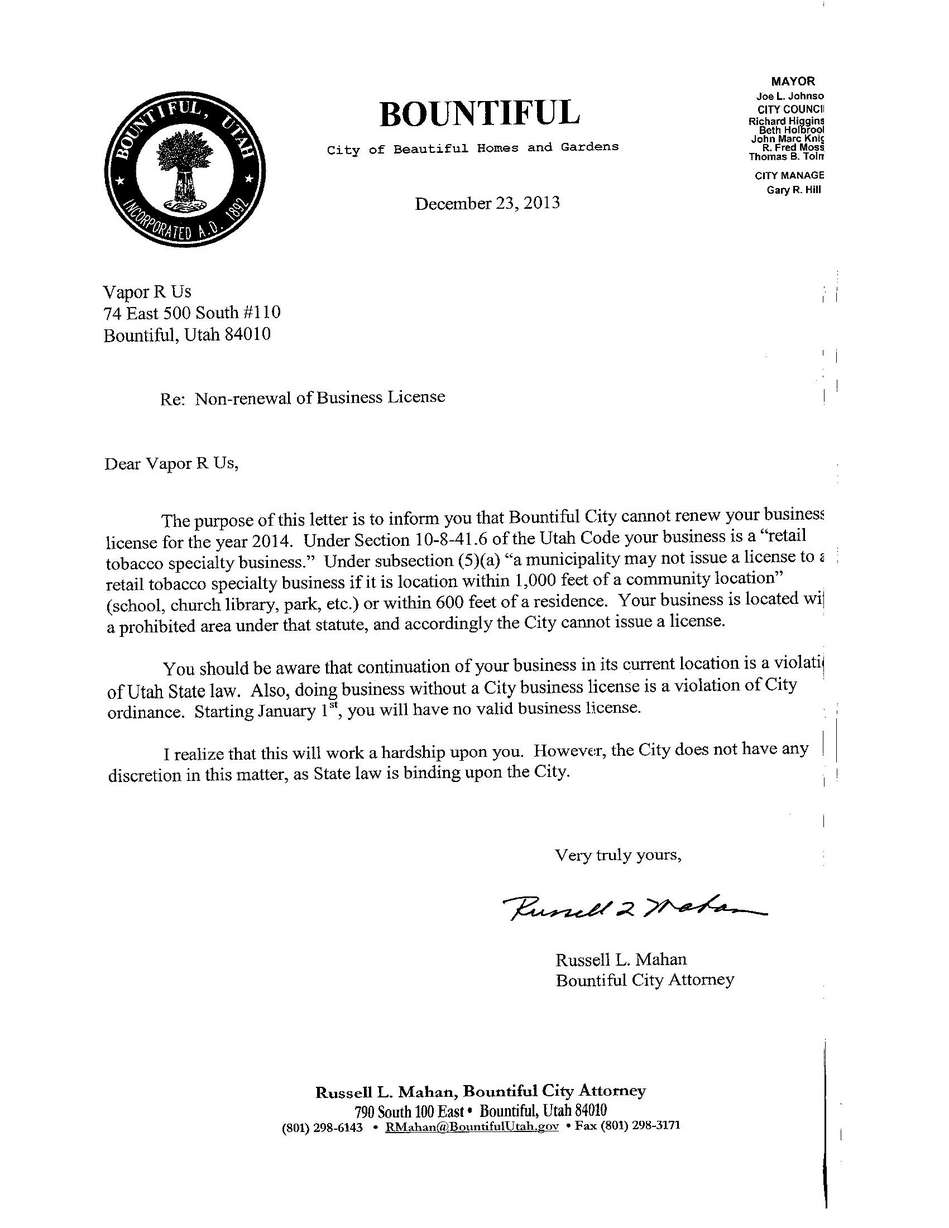 "And in my opinion, they should have known that before they gave me a license," Parsons said.
In a statement, Bountiful's city manager said, "Before becoming aware of these state restrictions, the city did issue ordinary business licenses to these businesses. Under the law, however, we cannot renew them. We realize this situation will be a hardship for the affected entities."
Representative Paul Ray is the legislator who drafted e-cigarette zoning laws that treat the product like tobacco because of the nicotine in both products. However, Ray said he even admits that less than a week's notice is too fast.
"I can see the confusion maybe on the city's part when they got an application that said it was a vapor shop," Ray said. "And I agree, they need to move. But, I would give them time to relocate."
However, Parsons said the situation is not fair.
"I'm very upset," he said.
The shop owners have spoken to an attorney who will represent them against the city. They said they wish the city would have known about this state law before selling them business licenses.
Calls to Bountiful City representatives were not returned Friday because the offices were closed.
×
Photos
Most recent Utah stories