Estimated read time: 3-4 minutes
This archived news story is available only for your personal, non-commercial use. Information in the story may be outdated or superseded by additional information. Reading or replaying the story in its archived form does not constitute a republication of the story.
SALT LAKE CITY — Americans don't have to avoid the scale this holiday season. Contrary to popular belief that one gains five to ten pounds between Thanksgiving and New Year's Day, the average weight gain is only 1 pound, according to a study published in The New England Journal of Medicine.
If that 1 pound is still too much, here are five tips from Intermountain Healthcare Dietitian Kathleen Nielson to avoid any kind of scale shock this season.
Focus on people, not food. Move the conversation away from the food table and focus your attention on family and friends. Try creating a Christmas tradition that doesn't involve food — such as playing a game together or walking around the neighborhood to look at Christmas lights.
Eat regular meals the day of the event. Skipping meals will set you up to be so hungry that you overeat at the party or dinner.
Keep a food journal. Simply write down everything you eat or drink. This helps you be more aware of how much you are eating and assists in making better choices.
Eat smart and eat slow. Check out all the food and drink options and choose the treats you really like. Eat moderate portions of the foods you will most enjoy and/or share portions with someone else. Take your time with your plate. Research shows if you chew your food 40 times per bite instead of the regular 15 you will eat 12 percent less calories. Also, don't panic if you overindulge. Some people think they have blown it because they ate poorly one day so they give up and continue overeating the rest of the holidays. They should get back on track the next day and not worry about it. Know your triggers for overeating and be deliberate about being in control of those situations. If you don't think you can eat just one chocolate, plan a time to eat just one (only have one available) and savor it.
Minimize drinking your calories. Specialty drinks, like eggnog lattes, are really a dessert. Don't drink them very often, have small portions and ask for them to be made with skim milk.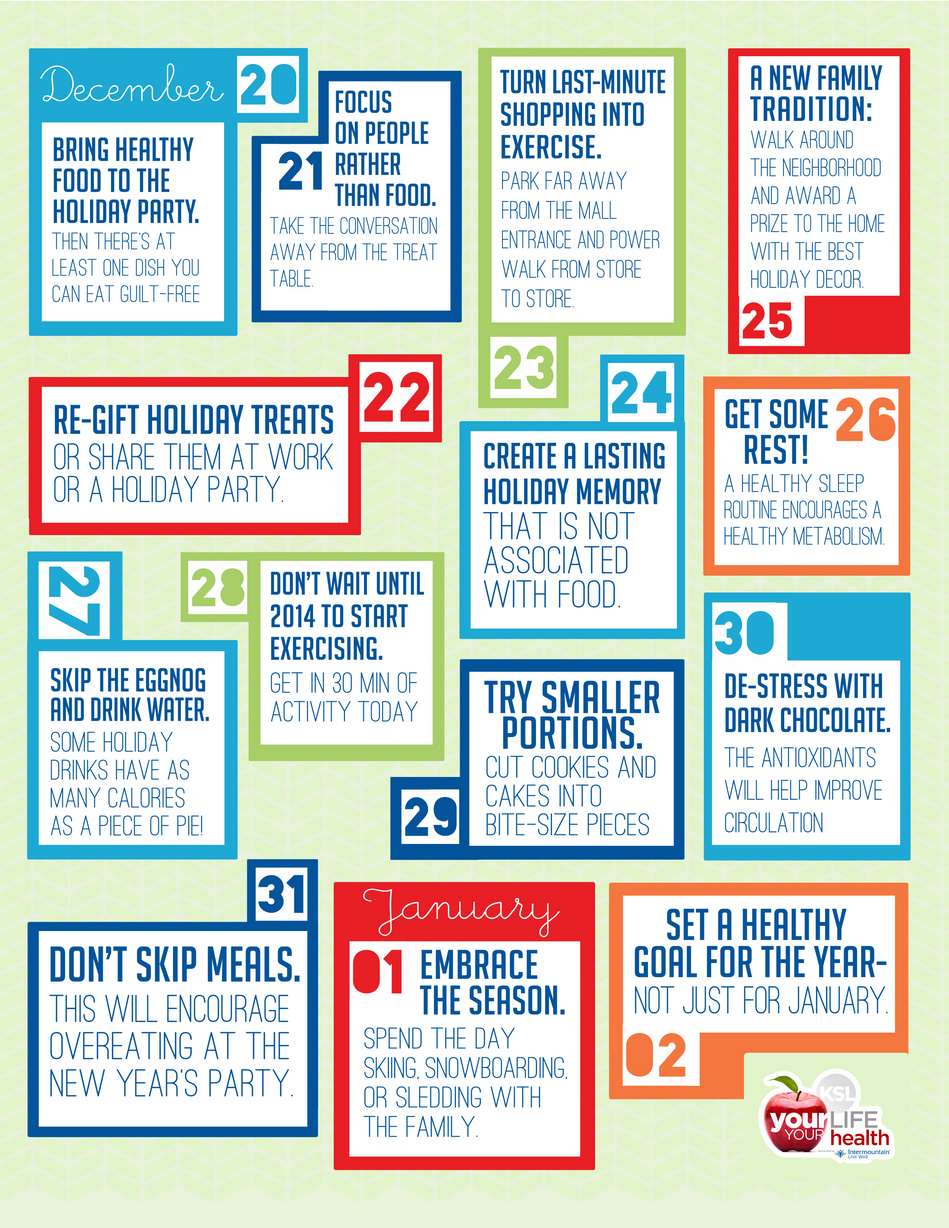 NEW YEAR'S RESOLUTIONS
2014 is less than two weeks away, and many Americans are already making the resolution to lose weight. To ensure success, they'll need more than a gym membership. According to Rina Lister, a registered nurse at the Intermountain Salt Lake Clinic, there are four cornerstones to healthier habits for the new year.
Exercise."Exercising daily. Not two days a week like the infomercials proclaim," Lister said. This means 30 minutes of cardio each day for adults, 60 minutes for children or adults trying to lose weight. Strength training is recommended twice a week.
Nutrition.The fastest way to fail your weight-loss resolution is to ignore what's on your plate, but this doesn't mean one has to make drastic meal changes.
"Eating fruits and vegetables, adding whole grains to your carbohydrates, making sure that there's fiber in them and eating the peeling on the baked potato and not just the baked potato," Lister said.
Sleep and Stress Management.Sleep and stress management are also crucial to weight maintenance.
"If we are up at night, the hormones that we produce that keep our bodies and our metabolisms in check are not running fine tune," Lister said. "So we need the rest and adequate sleep to promote that better health, just to help maintain weight."
If sleep, exercise, or nutrition is off balance, stress can spiral out of control.
"The four cornerstones are linked, there's no doubt, and if one of them gets out of check, then it's likely that our health will suffer the consequence. So it's better to look at all of those cornerstones every day," Lister said.
×
Photos
Related links
Most recent Utah stories