Estimated read time: 2-3 minutes
This archived news story is available only for your personal, non-commercial use. Information in the story may be outdated or superseded by additional information. Reading or replaying the story in its archived form does not constitute a republication of the story.
PROVO — In this season of giving, a community has rallied around a Utah County woman who's dealing with immense loss. Her husband suddenly died Friday night, just one day after the birth of their first child.
Josh Robison, 24, was a student at BYU and taught at Lone Peak High School's LDS Seminary. His mother said he was enjoying married life and anticipating the birth of his son.
"He was looking forward to it, but he was really nervous," Jodi Robison, told KSL News Saturday.
Josh spent Thanksgiving with his family in Fillmore. That weekend, he came down with flu-like symptoms.
"Saturday afternoon, he got a headache and started throwing up and was just sick," Jodi said.
On Dec. 6, Josh went to the emergency room, where doctors discovered he had a treatable staph infection.
"It took a few days until they traced that to a valve in his heart," Jodi said.
Doctors performed surgery on her son on Dec. 9 to replace the infected valve, and Josh's recovery seemed promising.
"He was improving, and they were quite pleased," Jodi said.
Josh was even strong enough to be with his wife when their son, Logan, was born at the same hospital on Thursday.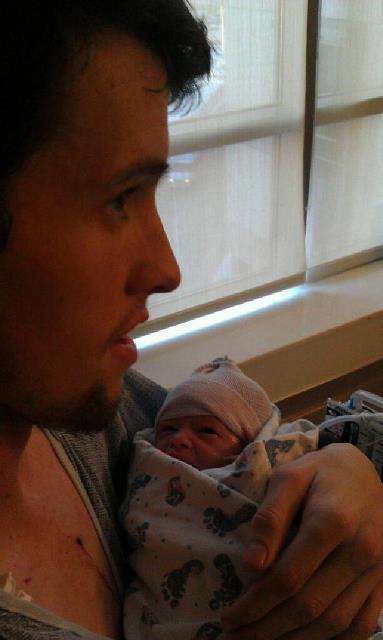 But the joys of parenthood were short-lived. A few hours after Logan's birth, Josh got a headache; doctors soon discovered bleeding in his brain.
"When they took him down to the CAT scan, that's when he lost consciousness," Jodi said.
Josh was rushed into surgery but never regained consciousness. He was taken off life support Friday night.
"The prayers and faith, the strength and love of all these people helped us," Jodi said.
While her son was in the hospital, friends started a donation page to raise money for the young family — and donations poured in.
"It's not so overwhelming as it is awe-inspiring and inspirational," Jodi said.
She's also grateful her son was able to hold his son, for the first time — which also ended up being his last.
"It was a miracle," she said.
Doctors don't know how Josh Robison got a staph infection or why he had bleeding in his brain after surgery. His wife, Erica, released a statement Saturday saying she's grateful for the outpouring of support.
If you'd like to help the Robison family financially, you can donate online on a Giveforward page set up for Josh and Erica.
---
*ksl.com has not verified the accuracy of the information provided with respect to the account nor does ksl.com assure that the monies deposited to the account will be applied for the benefit of the persons named as beneficiaries. If you are considering a deposit to the account you should consult your own advisors and otherwise proceed at your own risk.
×
Photos
Related links
Most recent Utah stories