Estimated read time: 8-9 minutes
This archived news story is available only for your personal, non-commercial use. Information in the story may be outdated or superseded by additional information. Reading or replaying the story in its archived form does not constitute a republication of the story.
PROVO — Matthew Edwards has deep ties to BYU. His grandfather, LaVell, was the head coach for BYU for 29 seasons. Following his LDS mission to Baltimore, Matthew tried out for Bronco Mendenhall as a walk-on and was granted a spot on the team. He played for three years on the team before he had his first and only career catch in his last home game as a Cougar—a touchdown.
Now Edwards has been added to Mendenhall's staff as an offensive graduate assistant. His deep ties in various capacities to the past and present of BYU football, gives him unique insights into the program. I had the opportunity to speak to Matthew about a variety of topics involving BYU football and here is what he had to say.
Dylan Cannon: You have a connection to both of the most successful BYU coaches of all time (playing for and coaching with Bronco Mendenhall/being LaVell Edwards' grandson). What stands out to you about Coach Edwards? What stands out to you about Coach Mendenhall?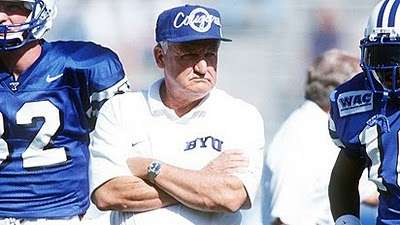 Matthew Edwards: The thing that always shocks me about my grandpa is that he has such a good memory of players that played for him. Not just the all-stars or starters, but walk-ons, as well. I just met somebody else (at the Notre Dame game) who played two years and recently ran into my grandpa and was shocked that my grandpa remembered him because they hadn't even kept in contact or anything.
One thing that makes Coach Mendenhall successful is his willingness to learn. He is always reading management books, and trying to find the best practices for how to run the program. He also isn't afraid to change things when he thinks there is a better way. He is constantly searching for ways to make this program the best it can be.
DC: Is Bronco always so serious and contemplative? What is he like when he's just around players or coaches?
ME: That's a good word for him: contemplative. He's not always serious or contemplative, though. He likes to have fun and enjoy life like anybody else. If people were able to spend time with he and his family they would be able to see him in a less stressful, serious environment.
DC: What have you learned from both of these head coaches that you want to incorporate into your coaching philosophy and style?
ME: I think the best things I have learned from them is what I said about what makes them great coaches. If I could have both those attributes, I would be in really good shape.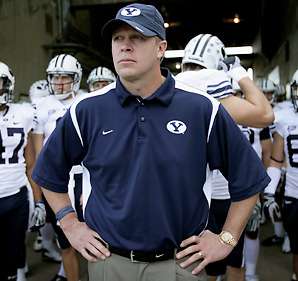 DC: Recently, Sports Center did a piece on the demands of being a head football coach in the NFL. A former executive for the Indianapolis Colts said his head coach averaged 100 hours a week of work during the season. How many hours a week do you think this coaching staff works? What sorts of things do your fellow coaches do to manage the rigors of the job?
ME: If you don't count game days, and I don't think they did in the story, probably 70ish? And we don't work on Sundays either so it leads to some pretty busy days the rest of the week. One thing I hear all the time is the importance of working out to keep your body healthy. Getting enough sleep is key because it is a lot of hours and a lot of work. It's hard on your body. Another thing is to find a hobby or something that isn't football related to keep you sane.
DC: Also mentioned in the Sports Center story was how much pressure major coaches face. Robert Anae and Bronco Mendenhall have both endured their share of criticism from fans and media. How do they manage the pressure and criticism? Do they openly talk about it?
ME: They really try their hardest not to get too caught up in everything that is said. They have an ability to just stay the course no matter what is said in the media or online or anything like that. I haven't heard them talk openly about specific criticisms, but they mention that it is easiest just to try and ignore what is said outside the program good or bad. You don't want to get too high when things are going well or too low when things are going bad.
DC: Do you think the offensive scheme Anae is trying to implement can be successful at BYU? How much has he tweaked the offense and made adjustments since the beginning of the season?
ME: I definitely think the offensive scheme can be successful at the Y. You take a look at some of the games we had this season with 550 rushing yards against Texas and all the points we put up against Houston. We have the right scheme and the players to run it.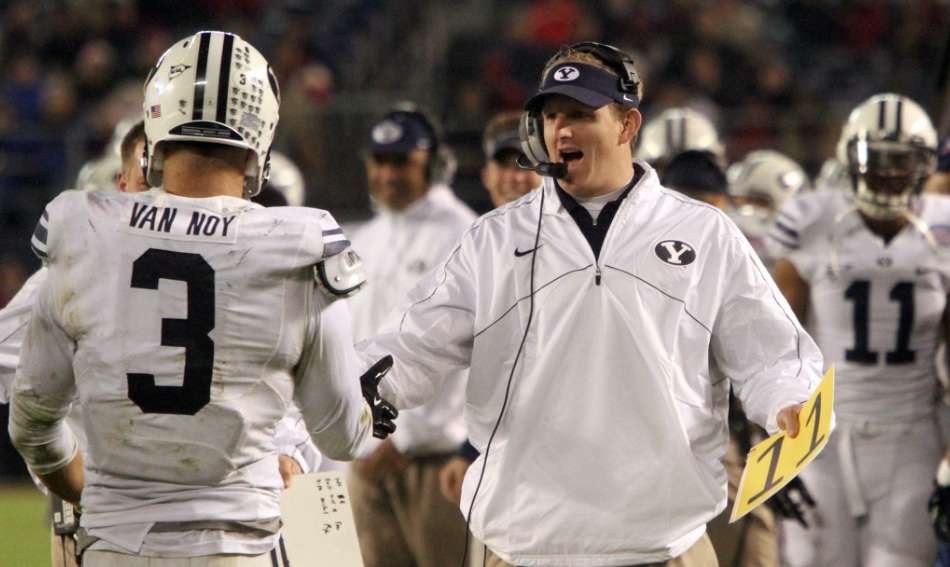 We just need to be a little more consistent.
We are always making adjustments to the game plans and trying to tweak what we do just a little bit, but we're not going to change who we are and what we do. We are always going to go fast and go hard.
DC: How would you characterize the 2013 season? How would the rest of the staff and players characterize it? How would a bowl win or loss affect this perception?
ME: The 2013 season has been a good season. If we could have won a few more of our games against ranked opponents, it could have been a great season. I think most people around the program would characterize it that way. We have a goal to be in the top 25 every season, and we fell short there, but put ourselves in position to be close. Our bowl opponent will be a Washington, so if we were to win, it would be a big boost to our program and would help put a good ending to the season.
DC: What is the best part about being Independent? Greatest challenge?
ME: My personal feeling is that the best thing about being independent is that we get to go to so many amazing places to play football, and have some awesome opponents come into LaVell Edwards Stadium. Only really at Notre Dame can they say they played games in all time zones, and have played teams from all over the nation. It's really cool.
The biggest challenge that I hear people say all the time is there is no conference tie-ins, so you lose some rivalry games, you lose the chance to play for conference titles, and if you don't go undefeated you don't have anything to play for. I agree these are all setbacks, but I don't think they are as negative as others make them sound.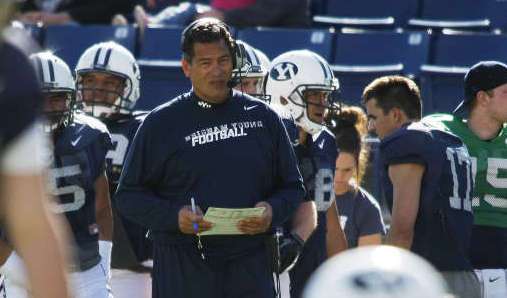 DC: You remained on the team while seeing limited playing time throughout your career. What motivated you to keep playing?
ME: I just love football. I grew up going to all the BYU games and watching as much as I could on TV. It is a great game. So that was the easiest thing.
For me, it seemed like I was always making small gains on the team from trying out, to making the team that reports for fall camp, to the travel group, to earning some playing time. I am just thankful for the chance that I've had to play at BYU, and to the coaches for giving me opportunities to succeed and grow as a person.
DC: Can you describe the feelings you had when you scored a TD in your last home game? What went through your mind?
ME: It was a dream come true. I couldn't believe it when the play was called and then the pass was in the air to me. It was surreal. I haven't scored many touchdowns on any level of football, so to be able to score one at the college level, in the stadium named for my grandpa, and on Senior night it was just amazing.
I can give you the exact thought process (before and during the play). As I saw the play from the sideline I thought, "I'm in during a pass, that's awesome. I might get the ball."
As I blocked down, I saw the linebacker run past me and thought, "that's the guy that is supposed to be guarding me; I should get the ball thrown to me because I will be open."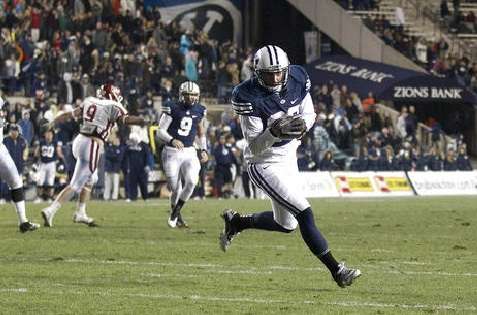 I turned and saw Jake Heaps rear back to throw me the ball and I just caught it. I figured someone was going to tackle me as I turned around, but as I did I didn't see anyone between me and the end zone and thought I might score. As I crossed the end zone I didn't know what to do so just sort of spiked the ball and jumped around like a little kid. Oh well. It was awesome. I had dreamed through what I would do if I ever scored, but that all went out the window when it actually happened.
DC: LES has made some significant changes with its seating arrangements--most notably the ROC student section. Have you noticed any differences in the mood of the crowd or the noise level in the stadium?
ME One of the biggest changes has been the Cougar walk, and the fact that the ROC is first-come, first-serve. That means that there are tons of people at the Cougar walk, which is really amazing to have all those fans cheering as we walk into the stadium. And the student section pours in and is all together so early.
They just bring so much excitement to the stadium. Especially at bigger games like the Utah game, and Texas the ROC was packed, loud, and gave us a big advantage. We are on the same side as the ROC, and often I am down on that side and I feel like it is much louder than it used to be. We'd have to bring someone in to gauge decibels though to get a real reading on that.
×
Most recent Utah stories