Estimated read time: 4-5 minutes
This archived news story is available only for your personal, non-commercial use. Information in the story may be outdated or superseded by additional information. Reading or replaying the story in its archived form does not constitute a republication of the story.
OGDEN — In the days and weeks following the Sandy Hook Elementary School shooting, a woman in Newtown, Conn., found peace in a CD of children's songs by the Mormon Tabernacle Choir.
When Robbie and Alissa Parker publicly spoke about the loss of their daughter, Emilie, in the Newton shootings and their faith as part of The Church of Jesus Christ of Latter-day saints, Christian congregations throughout the country and around the world sent letters of condolences and messages of hope to them and their ward.
A year later, Jennifer Willis, a member of that ward, read many of the letters that were sent in December 2012 to the LDS Church she attends. Now Willis feels a sense of urgency to answer the letters.
"That was enough to know that the world was praying for us," Willis said, holding back tears, during a Skype interview from her home in Newtown. "That simple act of kindness was enough."
But Willis said it's time to reply to those 42 letters, which came from various denominations around the world. With the help of her cousin, she plans to send them the same CD that brought her peace a year ago.
Karen Penman, Willis' cousin and a member of the Mormon Tabernacle Choir, began collecting copies of the CD "Teach Me to Walk in the Light."
"I've reached out to my friends in the choir to ask them to help me gather some CDs to send (Willis) so that she can send them back out to these churches," Penman said.
Penman of Ogden, said Willis "listened to (the CD) all the time. She said … the only thing that gave her comfort during that time was listening to that music."
---
Nobody knew what to do because there was such a great outpouring. We were so inundated — in fact, our whole town was.
–Jennifer Willis
---
Willis said there was an overwhelming outpouring of love and support from around the world. She and her husband received hundreds of quilts, teddy bears and jump ropes.
The week after the shooting, the mail carrier began returning letters to senders because there was no physical mailbox for The Church of Jesus Christ of Latter-day Saints congregation to receive all of the mail.
"Thank goodness because my two-car garage would have been filled to the gills and then some," Willis said.
The mail was overwhelming in more ways than one, she said.
"Nobody knew what to do because there was such a great outpouring," Willis said. "We were so inundated — in fact, our whole town was."
The community was trying to cope with the tragedy, and Willis said many suffered and still suffer from post-traumatic stress disorder.
"People don't realize, but it's still traumatizing. I hear a siren during schools and I freeze up," she said.
For Willis, the letters were too difficult to respond to at the time, but she said the thoughts and prayers presenting themselves in the form of a letter are what carried her community through the past year.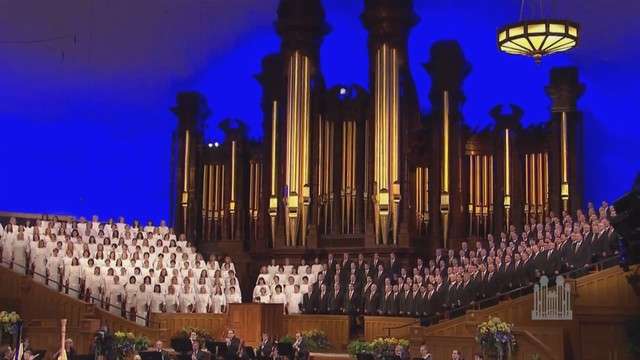 "I've seen miracles," she said.
On January 6, The Mormon Tabernacle Choir dedicated its weekly broadcast, "Music and the Spoken Word," to the Sandy Hook children who died. Associate conductor, Ryan Murphy, attended the school as a child.
But Penman said the mission of the Mormon Tabernacle Choir is bigger than the CD or any performance.
"We never know when that's going to touch someone; when it's going to be the balm that they need for their soul; when it's going to express a grief or a sorrow that they have; when it's going to express some gratitude that they have," she said.
Willis said she plans to send the CDs with a note including some of the miracles she's seen.
"And say thank you for their prayers, how it lifted us up and continues to lift us up," she said.
Willis acknowledged that evil exists in the world, but since the tragedy she has seen less evil and more good.
"There has been a lot more kindness," she said. "I think people do take a little more time now when they ask how you are and someone goes to pieces or a tear rolls down their cheek. It's things like that that kind of make you feel a little better about the world we live in, especially at Newtown."
×
Photos
Related stories
Most recent Utah stories