Estimated read time: 3-4 minutes
This archived news story is available only for your personal, non-commercial use. Information in the story may be outdated or superseded by additional information. Reading or replaying the story in its archived form does not constitute a republication of the story.
SALT LAKE CITY — St. George got a rare glimpse of falling snow Saturday — enough that much of the city has been forced to shut down and wait out the storm.
Snow fell steadily throughout the day in the southern Utah city and surrounding areas.
"I'm pretty sure I went to bed in St. George last night. I have no idea where I woke up," said Donalee Walker. "I've lived here for 20 years, and this is really crazy."
At about 6 p.m., the city "was hit with a heavy wave of snow," according to the St. George Police Department's Facebook page.
Washington County Closures
The St. George Municipal Airport was closed at 6:30 p.m. Saturday after receiving a rare 3 inches of snowfall, airport operations supervisor Brad Kitchen said. The closure affected one flight and was expected to extend through noon Sunday, but that plows were out Saturday night working to get runways cleared.
Those with plans to travel in or out of the airport should contact their airline for updates, Kitchen said.
St. George Police Sgt. Sam Despain said city streets were "packed and covered in slush, ice and snow" and he advised residents to stay home and avoiding driving unless absolutely necessary.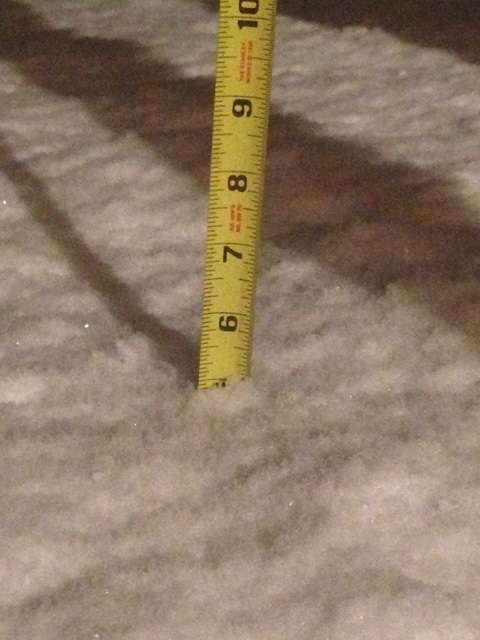 #measure_pic
The police department's Facebook page listed the following areas drivers should avoid completely:
Foremaster Drive
Tonaquit Drive's hill between Bloomington and the Southgate area
Brigham Road
Any other roadway with a steep grade
SunTran bus service was also stopped for the evening and would remain closed indefinitely until the roads could be cleared.
"We had one bus just on a 3 percent grade, and it couldn't go anywhere," said Fred Davis, transit manager for SunTran.
There were also reports that some LDS Church services scheduled for Sunday were cancelled in parts of St. George. Members in the area were advised to check with their church leaders for more information
The southbound lanes of I-15 were also shut down because of a jack-knifed semitrailer in the southbound lanes, near mile marker 33. Utah Highway Patrol Sgt. Lawrence Hooper said no one was injured in the crash, but it closed the freeway for at least two hours.
Snow in Northern Utah
Snow also blanketed the northern part of the state Saturday, causing problem for motorists here as well.
Hopper said that by 7 p.m. there had been 154 crashes causing some kind of property damage in Utah, Davis and Weber counties, as well as in southern Utah. There were 14 crashes that caused injuries.
"The most severe was a broken knee," Hopper said.
He he had not yet received crash numbers from Salt Lake County late Saturday night.
At UDOT's Traffic Operations Center in Salt Lake City, engineers spent the day tracking road conditions with the help of some 900 cameras positioned all across the state.
UDOT spokesman Adan Carrillo said the worst-hit areas, as far as drivers were concerned, included Utah and Weber counties.
While more snow was expected Saturday night, Carrillo said UDOT's main concern was increasingly cold temperatures.
"As temperatures drop, concern for black ice increases," he said. "Whether there's black ice out there or not, we're always recommending drivers to slow down, buckle up, and just be extremely careful."
The following restrictions have been implemented to help drivers stay safe:
Four-wheel drive or chains are required in both Big and Little Cottonwood canyons
Chains are required for semitrailers on I-80 in Parley's Canyon
Chains are required for ALL vehicles on US 189 in Provo Canyon
More information on these closures will be posted as it becomes available.
Contributing: Sandra Yi
Email: jormond@ksl.com
×
Photos
Most recent Utah stories