Estimated read time: 2-3 minutes
This archived news story is available only for your personal, non-commercial use. Information in the story may be outdated or superseded by additional information. Reading or replaying the story in its archived form does not constitute a republication of the story.
SALT LAKE CITY — Saturday's MLS Cup match between Real Salt Lake and Sporting Kansas City has become the hottest ticket the MLS has ever seen.
Instead of David vs. Goliath, this year's MLS Cup can be compared to David vs. another David.
Salt Lake City is the smallest market in the league. Kansas City is the second smallest market in the Eastern Conference. Despite how small these markets are, people are willing to spend more money to see these two teams battle than for any other match in MLS history.
"It's really surprising to see two small market teams, [Sporting] Kansas City and Real Salt Lake, set a new record here." said communications analyst Connor Gregoire.
SeatGeek is an online search engine for second-hand tickets. It searches sites like StubHub, TixCity and eBay for tickets that are being resold. Gregoire said tickets to this game have an average resale price of $211 each. Compare that to the MLS All-Star Game in 2011 in New York, where the average resale price was $208.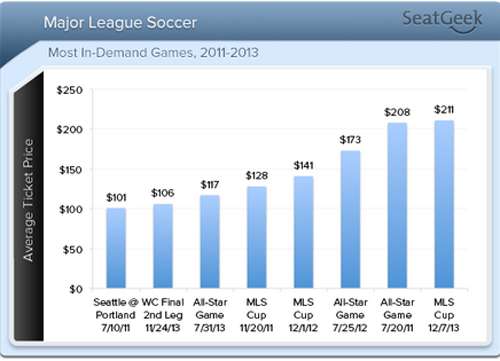 "That was a game played in Harrison, N.J., in Red Bull Arena. So, it was in the New York City market [which is] a great market for soccer fans," he said. "It had international intrigue with the MLS All Stars playing Manchester United."
Last year, tickets for the MLS Cup and the then Home Depot Center in Los Angeles were being resold for an average of $141. The year before that, they went for $128, on average.
Tickets for Saturday's match are actually re-selling at a higher price than tickets for last Sunday's game between the Kansas City Chiefs and the Denver Broncos. But, this is probably largely due to Sporting Park being a much smaller building than Arrowhead Stadium. There are only about 18,500 seats at Sporting Park. Demand wouldn't be nearly so high if the game were being held in Arrowhead.
"Who knows if they would have been able to fill up Arrowhead Stadium, but there is definitely more demand than there is supply," Gregoire said.
More about the tickets
Tickets to Saturday's match originally sold for $30 - $150 at face value
The cheapest tickets available on the resale market are standing room only for just under $100 apiece
The average ticket price for Saturday's match is nearly five times that of an average Sporting Kansas City home game this year
He said if the popularity of championship matches continues to grow, MLS should think about moving the final match to larger stadiums.
Naturally, since the game is being held in Kansas City, it's no surprise that Sporting KC fans are driving most of the demand. Gregoire said 65 percent of the traffic they're seeing is coming from Kansas and Missouri.
"A large majority of fans who are shouting for tickets to this game are within those two states. You can conclude from that that it's really Sporting KC fans that are dying to see this game," he said.
Fifteen percent of traffic is coming from Utah. Some RSL fans have told KSL they feel Sporting KC management tried to squeeze them out of the game. However, officials with Real Salt Lake say SKC won the right to host the game how they see fit, since they had the better regular season record.
×
Related stories
Most recent Utah stories