Estimated read time: 5-6 minutes
This archived news story is available only for your personal, non-commercial use. Information in the story may be outdated or superseded by additional information. Reading or replaying the story in its archived form does not constitute a republication of the story.
PROVO – Leading North Texas by seven points at halftime, BYU (7-2) racked up 16 second-half fast break points, thanks largely to its domination on the glass, en route to a 97-67 victory Tuesday night at the Marriott Center.
"It was a real competitive game in the first half," BYU head coach Dave Rose said. "Our guys did a good job in the second half of taking advantage of opportunities in transition, and that all came from the way we rebounded the basketball."
The Cougars outrebounded the Mean Green, 60-38. It's the first time in their last five games that the Cougars have won the battle on the boards. Junior Nate Austin led the team with 13 rebounds, while freshman Eric Mika had 11 and junior Matt Carlino grabbed a career-high 10.
"In that first half especially they shot a lot of threes, so there was a lot of long rebounds," Austin said. "Matt did a good job of cleaning the rebounds when they were longer, but as well, he came in there and stole a couple of rebounds from me. I wasn't too happy about that, but as long as we get the rebound it doesn't really matter who gets them."
The plus-22 differential on the glass was the largest of the season for BYU. By quickly securing loose balls off the rim, the Cougars were able to race up the floor, finishing with 26 fast-break points. Salt Lake Community College transfer Skyler Halford recorded a good chunk of that total, tallying a career-high 16 points on 5-of-7 shooting, including three 3-pointers.
"Skyler's energy is really good for us," Rose said. "On the offensive end I think guys tend to kind of forget about him. When he really starts to get a little bit more confidence in hitting the three, that's what he does really well. He was a 40 percent 3-point shooter, I think, in junior college. That's a huge lift when you get 16 points off the bench."
Tyler Haws scored 23 points on 9-of-12 shooting (75 percent) to lead all scorers, and he passed his father, Marty Haws, for 20th on the all-time scoring list of players that have donned Cougar blue.
"I wouldn't be the player I am without him," Haws said of his father. "I'm not as fast as he was, but he was great in transition, which is similar to what I like to do."
Likely due to icy road conditions, Haws and BYU faced the uncommon challenge of playing at home without the usual throng of rowdy Marriott Center supporters.
"On nights like this the crowd eventually comes," Rose said. "At tip today there was probably the least amount of (fans) we've had at any tip, even our exhibition games."
Carlino had a unique night of his own. The Cougars point guard matched his career best with 11 assists to go with his 10 boards, yet made only 2-of-11 shots for five points and committed seven turnovers.
---
He (Carlino) understands what the team needs. We're really trying to get the ball inside early in the game, which is a little bit different than the way we started. We kind of wanted to take the pressure off of Eric and Nate and let them work their way into this thing, and mainly put the pressure on the backcourt guys who have experience.
–BYU head coach Dave Rose
---
"What he (Carlino) does really well for us usually is score points," Rose said. "He didn't have his best night offensively, but he had a great floor game. You take a few of those turnovers away and he really led our team."
The BYU floor general flashed his superb court vision with a few full-court threads of the needle, finding streaking teammates on clever lead passes to set them up for easy baskets.
"He understands what the team needs," Rose said. "We're really trying to get the ball inside early in the game, which is a little bit different than the way we started. We kind of wanted to take the pressure off of Eric and Nate and let them work their way into this thing, and mainly put the pressure on the backcourt guys who have experience."
North Texas coaches shouted "wall him up" every time Mika touched the ball anywhere close to the paint in the first half, and continued to double the athletic youngster throughout the game. However, the strategy proved to no avail as Mika finished with 17 points, including a difficult catch that he threw down on an alley-oop.
"Each game it kind of gets a little clearer for him," Rose said of Mika's progression. "I just really like the last two nights out for him. He's just made some really athletic plays for a big guy."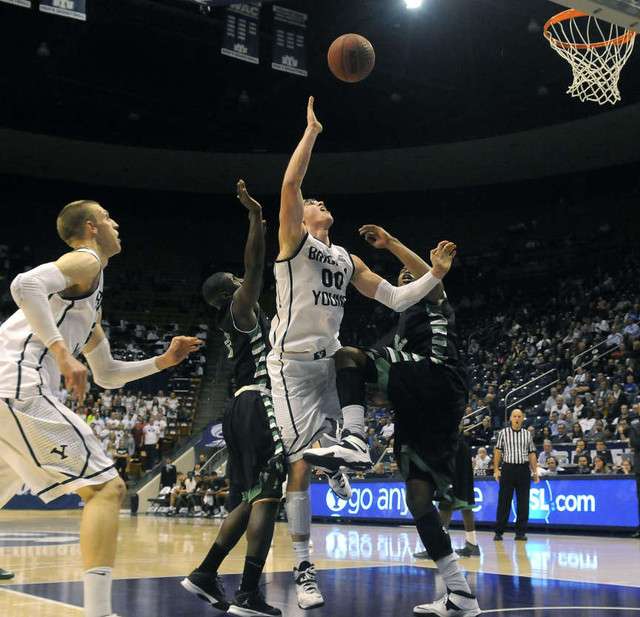 On one of the early BYU pushes in transition, Mika collected a perfect skip pass from Carlino, took two (maybe three) long steps and flushed a two-handed slam. He followed it up by gathering an entry feed with his back to the basket before using picture-perfect footwork to spin between two defenders and finish a lay-up.
Following a stable of Cougars bigs who needed multiple years to develop a consistent move in the paint while overcoming spotty footwork, Mika again showcased his multifaceted game consisting of seal offs and spin moves to create space, and a variation of strong and finesse finishes at the cylinder.
The attention paid to Mika left Austin open to roam near the paint, but the lengthier junior settled for jump shots on his first touches, something he would approach differently later in the contest.
"With Nate in the second half he just did a terrific job of closing down the space instead of spreading and spotting up for a shot," Rose said. "In the second half he just drove it straight to the basket."
Austin's aggressive offensive mentality allowed him to finish with 10 points for BYU's third double-double on the night.
Kyle Collinsworth continued his all-around stellar play with 17 points on 8-of-12 shooting and six assists and five rebounds. The sophomore was surpassed by Austin for the team-lead in rebounds, but still owns the most assists.
Up next for the Cougars is their third nationally ranked undefeated opponent. BYU travels to Springfield, Mass., to take on No. 21 UMass on Saturday at 11:30 a.m. MST. Kyle Spencer is a writer and content manager for ksl.com. He is studying journalism at Utah Valley University and is the sports editor of the UVU Review. Follow him on twitter @kyledspencer.
×
Most recent Sports stories