Estimated read time: 3-4 minutes
This archived news story is available only for your personal, non-commercial use. Information in the story may be outdated or superseded by additional information. Reading or replaying the story in its archived form does not constitute a republication of the story.
La Navidad no va a venir este año a casa el de Edwards.
En lugar de recibir regalos de Navidad por la mañana, los Edwards han optado por interpretar el papel de Santa y entregar suministros y juguetes a una aldea en Guatemala. La familia compuesta por seis miembros, viajará a Guatemala para comprar regalos y llevarlos a un pequeño pueblo en persona.
"Están emocionados", dijo Sam Edwards acerca de sus hijos. "Estamos poniendo literalmente fotos del viaje en sus medias y eso es todo lo que van a obtener. Esta Navidad no estamos recibiendo, sólo estamos dando" .
Misha y Sam Edwards se inspiraron en usar el dinero que suelen gastar en regalos para sus cuatro hijos, de entre 5 y 13 años de edad, para la caridad durante unas vacaciones en Guatemala el pasado febrero. Durante su viaje, se quedaron impresionados con la amabilidad y la humildad de las personas que viven en un pueblo donde se paga para almorzar en la casa de un familiar.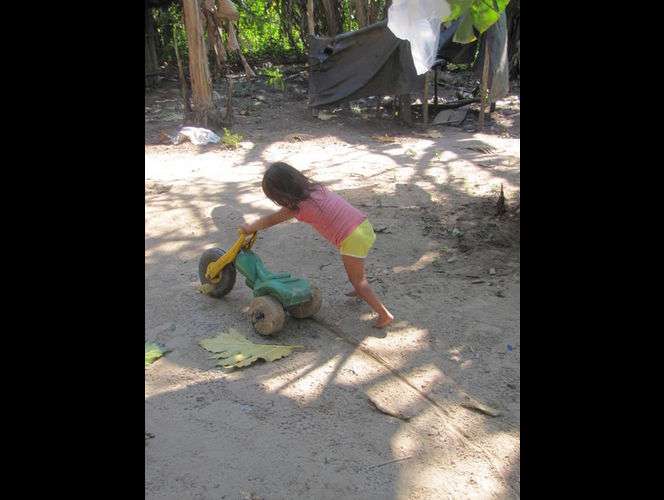 Al ver a una niña luchando para empujar un triciclo roto con ruedas de madera, decidieron que querían dar a sus hijos la oportunidad de dar sus regalos de Navidad a otras personas.
"Mientras la pequeña estaba entreteniéndose a sí misma y divertirtiendose, mi marido dijo: 'Vamos a traer a los niños aquí. Papá Noel no va a venir este año. Nuestros hijos van a darlo todo a estos niños", dijo Misha Edwards.
La compra de los regalos y el llevarlos al pueblo tomará varios días. Ellos planean comprar suministros médicos y escolares, además de los juguetes, en una ciudad más grande antes de tomar un paseo en barco por la selva y luego ir de excursión 2 millas hasta llegar a la aldea. Una vez allí, nos dijeron que esperan que sus hijos serán capaces de hacer algún servicio al recoger la basura o ayudar a construir un techo para aprender más sobre la cultura.
Los niños están entusiasmados, y su hijo de 12 años de edad, les dijo que siempre ha querido hacer algo como esto. Y aunque los Edwards están un poco preocupados por su niña de 5 años, ya que no saben como reaccionara en la mañana de Navidad cuando vea que Santa Claus no pasó por su casa esta vez. Pero se sienten confidentes en que será una buena manera para aprender.
"Creo que a la larga ella recordará el haber dado algo a aquella niña con un triciclo, en vez de haber recibido la muñeca Barbie que ella quería", dijo Misha Edwards.
Sin duda, la Navidad es una fiesta de carácter único y con una 'magia' que influye directamente en el corazón de las personas. Y aunque no solo los niños, sino también los adultos, esperamos a Papá Noel cada año, el verdadero espíritu de la Navidad esta en jugar a ser Papá Noel.
El viajar a un lugar donde hay mas necesidad, no esta al alcance de todos, pero el poder dar o ayudar a alguien que necesita y que esta alrededor nuestro, es una posibilidad que siempre esta disponible a la vuelta de la mayoría de las esquinas del mundo. Mariel Reimann is the Media Manager at KSLespanol. She's studied law at the National University of Cordoba, currently resides in Salt Lake City, Utah. Email: mreimann@ksl.com
×
Most recent News stories