Estimated read time: 3-4 minutes
This archived news story is available only for your personal, non-commercial use. Information in the story may be outdated or superseded by additional information. Reading or replaying the story in its archived form does not constitute a republication of the story.
SALT LAKE CITY — Scores of families converged on the Gallivan Center and Temple Square Friday to watch the holiday lights illuminate downtown Salt Lake City.
For some families, the celebration was put into perspective by children fighting serious health issues.
A special night at the Gallivan Center
To watch Benjamin McKenna, 15, maneuver around the Gallivan Center ice rink, you might never guess that he had a kidney transplant just seven months ago. Born with spina bifida — a permanently disabling birth defect — the Copper Hills High School sophomore was truly excited to race on the ice in his wheelchair "like a dog on linoleum."
"I had quite a blast!" he exclaimed. "The whole rush of it was a lot of fun!"
McKenna was one of a number of children who were allowed to "skate" on the rink in their wheelchairs, either alone or with the help of a family member for those with exceptionally limited mobility.
I'm very proud of him," his mother Kellie said. "He's had a hell of a couple of years."
They were all among the scores of children and families taking part in the annual Gallivan Center holiday lighting celebration in conjunction with the Make-A-Wish Foundation of Utah — the non-profit organization that grants wishes of children diagnosed with a life-threatening medical conditions.
This was the first year the charity has partnered with the Gallivan Center for its holiday season kick-off celebration.
The ceremony culminated with the illumination of more than 350,000 lights, including a 60-foot Christmas tree. The event also included performances by David Osmond and the One Voice Choir, a non-profit organization consisting of 140 children ages 5 through 18, as well as the jolly old elf himself and even appearances by Chewbacca and a few Stars Wars stormtroopers.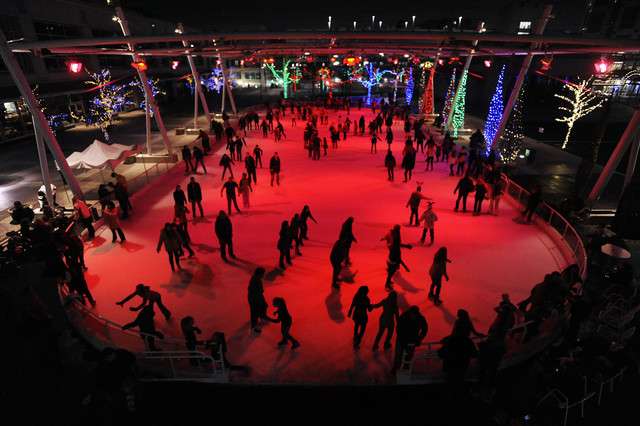 The celebration drew about 200 families, according to Paula Axelrod, director of development for Make-A-Wish Utah.
For the Make-A-Wish families, the holiday season has been put into perspective as their children have waged prolonged life-threatening health battles.
April Fitzgerald traveled down from Morgan to participate with her 6-year old daughter Zoe, who was born with a brain tumor. After nearly three years of cancer treatments, the family has come to value life more than ever.
"It definitely makes you appreciate your time and the simple stuff," Fitzgerald explained. "Things that maybe were a big deal before are not a big deal anymore."
Salt Lake area teens Madi Olson, Marie Johnson and Corey Miller were involved in an effort to raise money to help grant wishes for "wish kids." They said the project has aided them in learning just how many people are not as fortunate and need help from those around them.
"I see how many people need more than I do, so when I help someone else and see the joy they get from it, it makes me happier than if I were to receive something myself," Olson said.
"I've been very blessed in my life," Johnson added. "Some people don't always get dealt the best cards in life and knowing that you can give back and give them a good card makes you feel good."
"It's pretty satisfying," Miller said. "It's so easy to help someone who needs it."
Lights on at Temple Square
Down the street about three blocks, even more holiday festivities were taking place as hundreds more families watched as the lights of Temple Square were illuminated at the same time as those of the Gallivan Center.
Everyone had their own reason for witnessing the first light display at Temple Square. For many families it's a tradition; for most it's the excitement of seeing their favorite holiday site once again.
Many Temple Square visitors shared the fun of the Christmas lighting with KSL's Devon Dolan. Click the play button above to watch her report.
The lights at Temple Square will run from Nov. 23 until Jan 1. For a list of events on Temple Square, visit lds.org.
Contributing: Devon Dolan
E-mail: jlee@ksl.com
×
Photos
Related links
Most recent Utah stories