Estimated read time: 2-3 minutes
This archived news story is available only for your personal, non-commercial use. Information in the story may be outdated or superseded by additional information. Reading or replaying the story in its archived form does not constitute a republication of the story.
PROVO — Elder Austin Evans used to work at a pizza place, checking the clock constantly to see how much time had passed.
On Thanksgiving Day, thousands of miles away from his family amid people he's just barely getting to know, Evans said he had no idea how long he'd spent packing lentils into a bag to turn into a stranger's lunch or dinner.
"When you start serving the Lord, you don't think about time," he said. "When you are serving others, serving God, the time just goes by."
Just 19, Evans and about 1,800 young men and women just like him at the Missionary Training Center learned first hand the lesson of faith, charity and giving on Thanksgiving Day by packing up lentils, rice and other hearty ingredients into 350,000 individual meals that will make their way to the Utah Food Bank.
Lon Nally, president of the MTC, said outside of natural disasters, the holiday efforts at the MTC represented The Church of Jesus Christ of Latter-day Saints' largest humanitarian endeavor undertaken.
"It's an incredible thing," he said, as the first "shift" of 900 missionaries assembled the meals.
The "casseroles in a bag" will be distributed through the Utah Food Bank's BackPack Program in which packages of nutritious, non-perishable food are provided to Utah schools and then sent home on the weekend to feed disadvantaged families.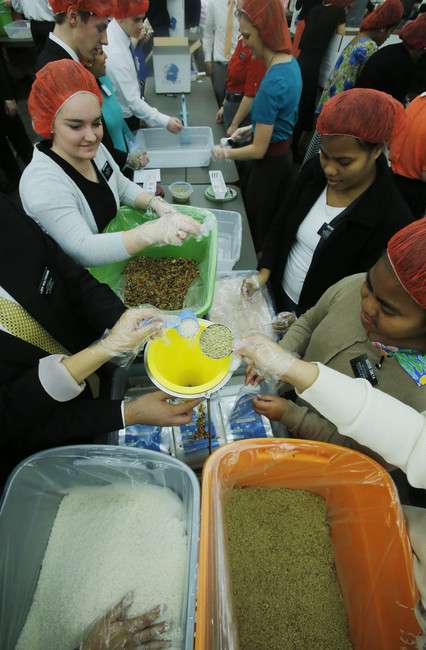 Lest the idea of lentils leaves one wondering about taste, Rick Foster said the blend of high fiber, high protein lentils, rice and dried vegetables is a nutritious and tasty meal he tested on his own family.
"They loved them," he said.
Foster, who is manager of the church's North American Humanitarian Services, said the Thanksgiving Day service project for the training center's missionaries represents an effort by the church to build "giving" around community.
"We're encouraging them to serve within their community, to identify needs and come together with community partners to meet those needs," he said.
For Sister Jennifer Bement— destined for England — the time spent packing the meals provided an opportunity to help someone else and forget about any homesickness she might be feeling.
"We are meeting new people, we are forgetting about ourselves and just going to work," she said. "And on Thanksgiving when we might be a little homesick, that has been really nice to just forget about ourselves and get into the work and start helping other people." Email: amyjoi@deseretnews.com Twitter: amyjoi16
×
Photos
Related links
Most recent Utah stories