Estimated read time: 4-5 minutes
This archived news story is available only for your personal, non-commercial use. Information in the story may be outdated or superseded by additional information. Reading or replaying the story in its archived form does not constitute a republication of the story.
SALT LAKE CITY — Walter Padilla has his own Thanksgiving tradition, and it has to do with spending lots and lots of money.
But this year, as Black Friday creeped with its retail frenzy further into Thursday, Padilla said he'll actually get to enjoy his family's usual Friday turkey meal when it is served, instead of getting the leftovers after a tiring day of shopping.
"There's a limited quantity of the best deals," he said. "That's why you have to get here early."
The 24-year-old, of Bountiful, has been in line at Best Buy in Salt Lake City since Tuesday, hoping to snag one of the store's 30 vouchers that would let him purchase a couple of very large flat-screen TVs for his family.
"I think it is exciting to sit outside a store in order to get a good deal," Padilla said. He was joined by several hundred other people before the store opened Thursday at 6 p.m., each of them seeking their own good deals.
Jason Montierth, 20, was first in line at the Centerville Super Target on Thursday. He sat, bundled in layers of clothing and blankets, watching movies on a small tablet computer from 11:30 a.m. until the store opened its doors at 8 p.m. He was also hoping for a good price on a big-screen TV.
"I need a TV and we might as well not pay hundreds more for one when there is a deal like this," he said. Family members kindly brought his favorite Thanksgiving food – leftover mashed potatoes – for him to eat in the cold.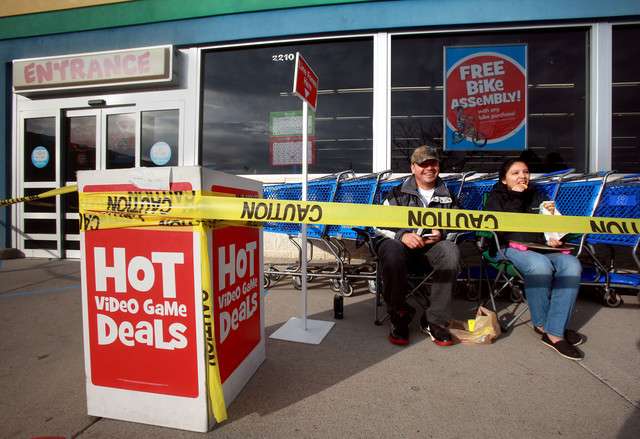 Others behind him in line also enjoyed their own turkey, mashed potatoes and stuffing, some of which was eaten out of plastic storage containers rather than their mother's fine china that was set for them at home.
"I'm a college student and I'm already away from home. The only thing I'm really missing right now is warmth," said Eric Selfridge of California, who was also in line at Target. He said standing out in the cold "doesn't necessarily take away the reasons I'm thankful or the reason for the season."
Selfridge, 22, and his 19-year-old fiancé, Olivia Hubbard, were also looking to add a new TV to their personal asset collection.
And while the majority of people started lining up at stores across the Wasatch Front as the sun was going down, the "gray" Thursday, pre-Black Friday trend among national retailers mostly refused to take hold in Utah.
Stores remained dark and parking lots were empty through much of the day, except for random grocery stores and gas stations that typically stay open through the holidays.
Barricades lined the sidewalks at many retail locations, which indicated that the late-night crowds would be handled with as much order as possible. And, for the most part, the crowds were friendly toward each other.
Padilla said he even recognized a few people from Black Friday shopping excursions years earlier.
Related:
And the camraderie is one thing Christy Burningham of Woods Cross enjoys about getting up early to get good Christmas deals. She arrived at the Bountiful Kmart at 6:15 a.m. Thursday, yet the best deal she was seeking was already out of stock.
Lucky for Burningham, and a few other early morning shoppers, the store manager granted the low price for future purchases.
Saving as much money as possible is important for the mother of four young kids and she said it is nice to get the shopping out of the way early in the season so she can enjoy other festivities with her children.
"I like the excitement of being here with other customers because we all have the same Christmas spirit," Burningham said, adding that the crowd was unexpectedly small. She said she overheard some store employees say they had planned on larger crowds for the Thanksgiving Day opening.
In all, Burningham said she saved about $150 by shopping the deals on Thursday. And because she got the shopping out of the way early, she was also able to complete her assignment to bring bread stuffing to her family's Thanksgiving dinner in Riverton later in the day.
Selfridge said the deals this year were less than impressive, and they get worse every year. Although he was swayed by the low-priced televisions, he believes much of the Black Friday hype is just that, a marketing ploy to get more people into stores.
However, stores were offering all kinds of incentives to get people through their doors. Cabela's, in Lehi, was promising its first 600 patrons a chance at winning free rifles, video cameras, gift cards and other sporting goods accessories when it opens early Friday morning.
More than 35 million shoppers shopped on Thanksgiving Day in 2012, according to the National Retail Federation and the most popular items proved to be the same thing that most shoppers were hoping for on Thanksgiving this year — big screen TVs. During just the first day of Black Friday deals in 2012, Walmart sold 1.3 million televisions, as well as hundreds of thousands of other electronics nationwide.
"I'm already off work for Thanksgiving, so I might as well spend it shopping for the things I need," Montierth said. Email: wleonard@deseretnews.com Twitter: wendyleonards
×
Photos
Related stories
Most recent Utah stories