Estimated read time: 7-8 minutes
This archived news story is available only for your personal, non-commercial use. Information in the story may be outdated or superseded by additional information. Reading or replaying the story in its archived form does not constitute a republication of the story.
PROVO — After 12 quick weeks, Wednesday night marked the final "BYU Football with Coach Mendenhall" radio show of the 2013 season.
It was a season that began full of promise and opportunity -- returning stars, a new up-tempo offense, and the proclaimed toughest schedule in program history -- and as with any year, 2013 had its share of both ups and downs.
There were difficult loses at Virginia and against Utah (again), blow-out victories over Texas and Boise State, bowl qualification for the ninth-straight season, and a five-game winning streak rolling into the month of November.
That momentum put the Cougars on the cusp of the top-25 rankings with golden opportunities to still play powerhouse programs Wisconsin and Notre Dame and the chance to further increase national exposure and attention only to suffer narrow loses in both games.
Despite the deflating defeats, head coach Bronco Mendenhall feels BYU was right in both games and still fully capable of competing with and beating college football's top teams.
"It's hard, said Mendenhall while discussing how BYU measured up against the two big teams. "I really expected to go not only to Wisconsin, but to Notre Dame and win. After playing both teams, I absolutely felt it was possible."
Mendenhall says the Cougars are very close to winning high-profile games but singles-out poor efficiency in blue-zone scoring as the glaring weakness holding the team back -- especially when playing away from home.
"In those games, against good teams on the road, you have to play really, really well, and when you get close to the goal line, you need touchdowns," said Mendenhall when addressing BYU's blue-zone issues. "So really, Notre Dame was better at scoring one more touchdown in the blue zone and kicking one more field goal. We're close. I had that mindset going in, and I'll just have to bide my time until we get another chance."
Another problem in both the Notre Dame and Wisconsin loses was BYU's inability to stop the run, something Mendenhall attributes to missed assignments and execution -- not a lack of physicality.
"Did [Notre Dame] score enough points to really generate something that would be a dynamic victory? The answer to that is no, and neither did Wisconsin," said Mendenhall. "When it came down to it, I think the number-one thing was yes, those teams were physical, but however, when we are assignment-sound, the ball can only be run if someone is not in their gap, and that's assignment football.
*****
Despite leaving South Bend empty handed, the season is not yet over for BYU; the team still has two more chances to right the ship and finish another successful season.
The Cougars already accepted an invitation to play in the Fight Hunger Bowl on December 27th at AT&T Park in San Francisco, and there's still the regular-season finale against the University of Nevada, Reno, this Saturday at Mackay Stadium.
The Wolfpack program (4-7) has slipped a bit since the last time it played and defeated BYU 27-13 in Provo in 2010, but Mendenhall says the matchup still presents a difficult offense to defend -- one very similar to what BYU puts on the field each week.
"The system is really difficult [to defend]," said Mendenhall when discussing the Wolfpack attack. "Really, as you watch the film, there's probably 80% of Nevada's offense that's not only the same but identical to what we do, and I think it's going to be quite a challenge."
Even though UNR will not be bowling this postseason, Saturday will be the team's senior day, something Mendenhall says will serve as a great motivator for the Wolfpack to come out and play well Saturday.
"I think what they're considering is that there's a lot to play for, a great chance to beat a good opponent on senior day, and a chance to establish something special going into next season," said Mendenhall.
*****
Saturday's game won't only be special for Nevada's senior class; it's also the final regular season game for BYU's 21 current seniors, a group that wants to finish strong the last two games of its final season wearing the white and blue.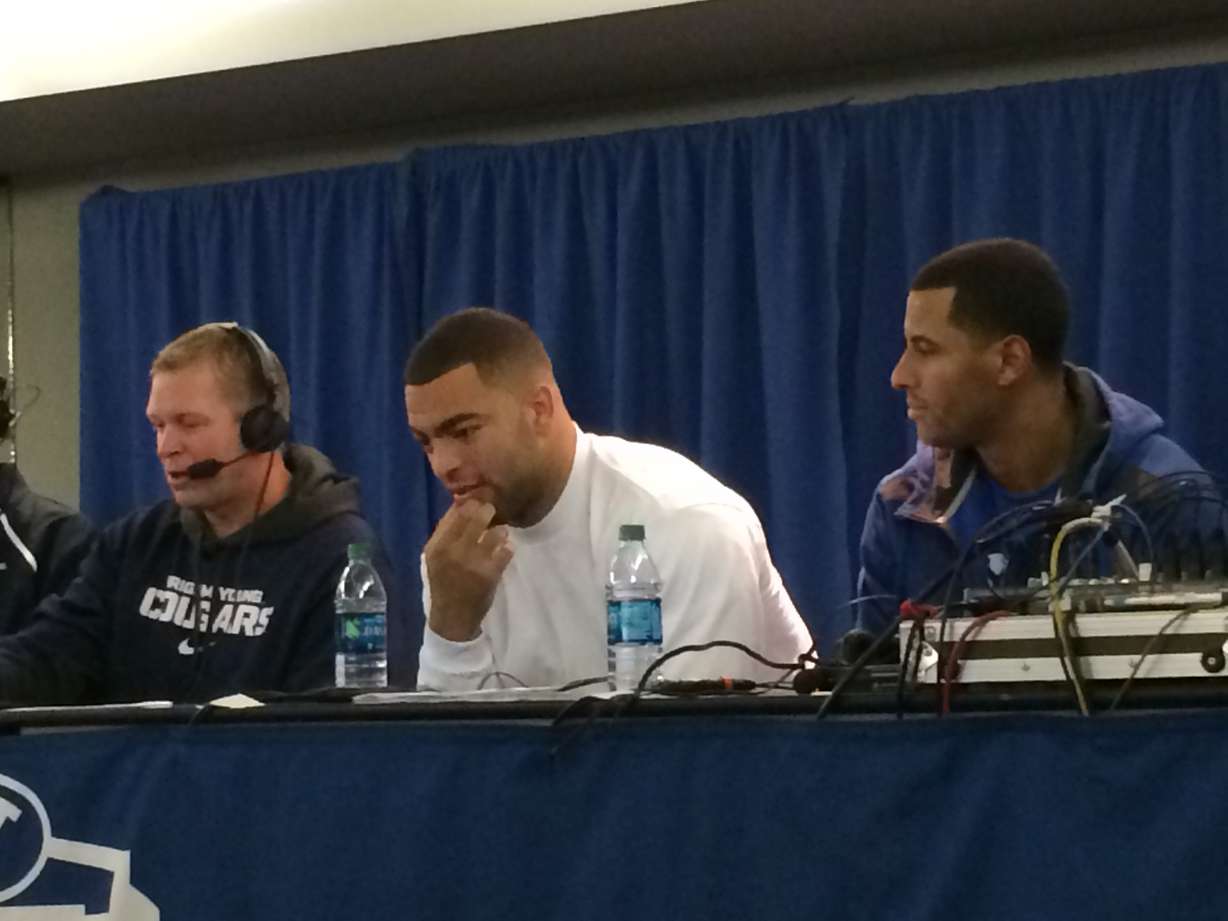 Two of those seniors, receiver Cody Hoffman and linebacker Kyle Van Noy, say the Cougars must practice hard this week for what will be a motivated Nevada squad.
"We just have to come out strong," said Hoffman about BYU's mindset for Saturday's game. "We know that this is their senior day, their last game since they're not going to a bowl game, and they're going to come out with no regards. We're going to have to practice hard, give it our all, and not take it easy on these guys."
"For me, the emotion of last game was pretty draining," said Van Noy when describing the transition from the Notre Dame loss to preparing for Nevada. "To build up the emotional factor all week again, it's been difficult, but I think the guys are over the loss, and we are on to Nevada and winning the game. Everybody's mentality is to win the game."
For Van Noy, the Nevada game will be extra special; it serves as a homecoming of sorts for his final regular-season game as a Cougar since he grew up in Reno, a coincidence of which he says he's excited to take advantage.
"It is crazy," said Van Noy. "It's like a dream come true almost. Playing your last game ever as a Cougar in a regular season there is cool.
"I have a lot of good memories there. I remember the state championship there like it was yesterday, but that's all in the past, and I'm actually ready to make another memory there."
*****
BYU will sorely miss both superstar seniors after they play their final game in a Cougar uniform at the end of this season.
Both Van Noy and Hoffman rewrote the school's record books at each of their respective positions through spectacular plays and late-game heroics that will continue to live on in BYU football lore.
In addition to personal achievements, coach Mendenhall says both players played a large role in elevating the program to the level where it stands today.
"Both Kyle and Cody are two of the best players to ever play at BYU, and I've been fortunate that they trusted me enough to come here," said Mendenhall when describing the impact both players had on the program. "They've worked really, really hard, and they've helped our program get to the point where we do expect to win every game. We don't play anyone where we don't think we're going to win, and both these players and young men believe that."
*****
After his amazing performance in BYU's 23-6 victory over San Diego State in last year's Poinsettia Bowl, Van Noy surprised many when he announced he would forgo the NFL draft to play his senior season at BYU -- a decision he says he's glad he made.
Hoffman says the greatest thing he will miss after finishing his career at BYU will be coach Mendenhall's support and motivation in helping him become a better person both on and off the field.
"I'm just going to miss Coach Mendenhall being on my back and being consistent about everything," said Hoffman. "Whether it's going to class, getting good grades just his persistence in not only wanting me to be a better player on the field but a better person."
Mendenhall says he will miss both players too, and that it's because of people like them that BYU is able to grow and prosper as a football program
"I'm just lucky," said Mendenhall about the players he gets to coach. "Our program continues to improve, and grow, and build in prominence, but that only happens if the right young men choose BYU. Both of these guys tried really hard to make it at BYU ... and both have done well."
******
Jason Ludlow is a KSL Newsradio BYU intern
×
Most recent Sports stories