Estimated read time: 3-4 minutes
This archived news story is available only for your personal, non-commercial use. Information in the story may be outdated or superseded by additional information. Reading or replaying the story in its archived form does not constitute a republication of the story.
LOGAN — Two senior linebackers from BYU and Utah garnered most of the plaudits this season, and deservedly so, but any discussion of the state's great players in that category is incomplete without including an Aggie in the conversation.
Jake Doughty belongs next to BYU's Kyle Van Noy and Utah's Trevor Reilly. The kid nobody wanted has turned into somebody.
At least Reilly was rated as a two-star prospect coming out of high school. Doughty had as many stars next to his name as he did scholarship offers, which in both cases wasn't many.
And yet, five years later, Doughty is wrapping up a stellar career at Utah State. As outlandish as it sounds, nobody in school history has gotten more out of his athletic ability than Doughty has done.
"Everything that kid has done since he's been in the program is classic Utah State," said coach Matt Wells. "He epitomizes our program. From a work-ethic standpoint, he's smart, he goes to class (and) does a great job in the classroom."
In the interest of full disclosure, I have known Doughty for a decade, having coached him in youth baseball. The time we shared provided an insight to know Utah State was getting a winner from the time he decided to go from Juan Diego High to Logan, Utah.
Talent isn't what separated him from his peers. It was the old-fashioned stuff, the likes of toughness and determination. As often the case, those qualities were evident most all of his life. Two small examples at age 12 illustrate the point.
During a baseball game, Doughty was in the outfield when he dove for the ball, crashing hard to the ground. Lying there for a minute or so, he immediately jumped up when the coach came running out to check on him. As he approached the scene, the coach was waved off and glared at when he reached Doughty.
Another time, in a national tournament, when three others wanted no part of replacing the pitcher mid-game against a powerful California team, Doughty took off the catcher's gear and demanded the baseball. It didn't matter that he had pitched a complete game against the same team earlier in the day.
That same kind of fierce competitiveness shadowed him as he matured.
Doughty had an in with Utah State coming out of high school, being a teammate of then coach Gary Andersen's son. With the chance to be a walk-on, he bypassed an opportunity to attend the Naval Academy as a student only to chase the dream of playing college football.
After redshirting in 2009, Doughty played as a reserve his first two seasons. Both years, as a mechanical engineering major, he earned all-academic honors in the Western Athletic Conference.
With Bobby Wagner heading off to play for the Seattle Seahawks, Doughty assumed a starting position as a junior. Again being named to the all-academic team as a junior, he ranked second in the WAC in tackles with 109.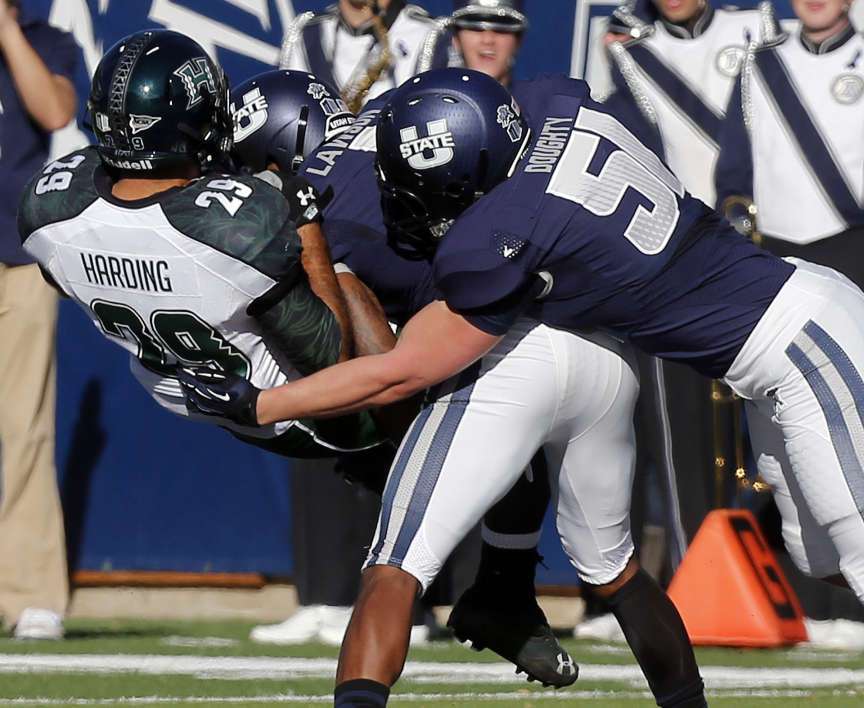 The transition to the Mountain West Conference this season has been much of the same in the classroom and on the field. He leads the team in tackles with 120 and is tied for seventh in the nation with an average of 10.9 per game.
"The guy makes a tremendous amount of plays, but he does every single week," Wells said. "I love Jake Doughty."
Same here. Even if he's not perfect.
Doughty has made a few mistakes in college, mostly along the lines of youthful indiscretions. Last spring his name made the news for being involved with supplying alcohol to two minors.
Having learned of the details, I was willing to vouch for Doughty's character with the authorities. Even in this situation he earned respect by immediately accepting responsibility.
"I promise you that I will not let you down," he said in a letter to me.
No problem, Jake, you never have.
×
Most recent Utah stories