Estimated read time: 3-4 minutes
This archived news story is available only for your personal, non-commercial use. Information in the story may be outdated or superseded by additional information. Reading or replaying the story in its archived form does not constitute a republication of the story.
Gene Kennedy and Randall Jeppesen ReportingPresident Fox's day began with a lavish breakfast at Rico Mexican market.
With nearly 100 people attending, the Mexican president touched on issues affecting Mexicans in Utah and what everyone is talking about: immigration.
He spoke on helping Mexican Immigrants here with education and immigration reform.
"Providing more scholarships to Mexicans that are coming," says one group member.
"Make a better economy in Mexico, so Mexicans don't come illegally," says another group member.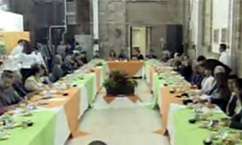 "He says to have confidence that things will go well and to support those who are the weakest," says yet another group on-looker.
Only one protester was outside the event.
"I didn't want to miss the one opportunity to express my opinion on this to Mr. Fox," says the protestor.
He stressed that Mexico can not simply deal with the problem alone; that the United States bears some of the burden too.
The comments struck a chord for people on both sides of the issue, including the man who owns Rico Market. He's a successful businessman who wants to see life in Mexico get better.
Jorge Fierro, Owner, Rico Market: "The President started by shaking everyone's hands, recognizing everybody for the work they are doing here. Not only that, but after he was done giving us his message, he was able to come over to our kitchen and thank my employees for serving the breakfast, and getting up early to help them out."
Paying respects to a business built by a man who left Mexico for better economic opportunities.
Jorge Fierro, Owner, "Rico Market": "He said he was impressed with what we're doing here."
After that exchange, a welcoming.
"Buenos Dias Presidente Fox..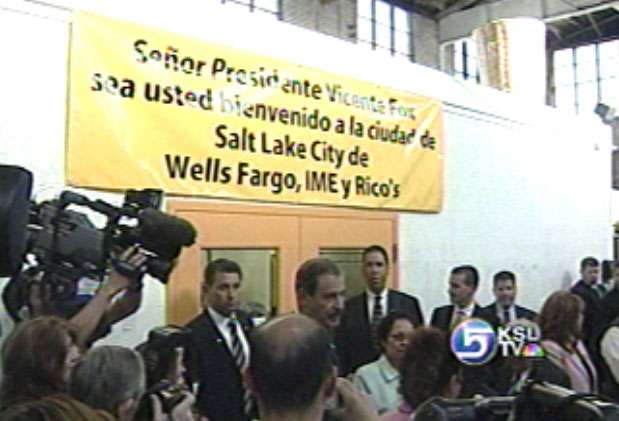 Fox enjoyed breakfast with members of IME, the Institute for Mexicans of the Exterior.
"Mexicana en esta parte...companado."
They are representatives from Idaho, Utah, and Wyoming and counsel the Mexican president on issues abroad.
During table discussions, Fox commented about illegal immigration indirectly, reiterating that a massive fence won't solve the problem.
Luz Robles, IME local president: "I think he was talking about having the United States and Mexico work as partners on this issue."
To the lone protestor outside the breakfast, it sounded like soft rhetoric.
"Jeff", Fox Protestor: "It's gotten worse, not better. He could have done more. He doesn't want anything the House of Representatives is proposing."
But Fox's supporters say he is striving for more economic development in Mexico, which hits the heart of the illegal immigration debate.
Jorge Fierro, Owner, "Rico Market": "He assured us he is working towards a better future, so less of us would have to come to the states."
Despite Fierro's optimism about Fox's trip to Utah, nearly half of KSL viewers who were polled do not believe this visit will stimulate better economic and commercial relations with Mexico.
How serious a problem do you believe illegal immigration is in Utah?
55% Very
35% Somewhat
5% Not Very
3% Not Serious
1% Not Sure
An exclusive Survey USA poll for KSL-TV shows 55 percent of Utahns believe illegal immigration is a very serious problem.
Does welcoming President Fox to Utah show the state does not treat the issue of illegal immigration seriously enough?
37% agree
56% disagree
7% not sure
37- percent say welcoming President Fox to Utah shows the state does not treat the issue of illegal immigration seriously enough. 56 percent disagree with that.
When asked questions by reporters, Fox just smiled then walked away.
×
Related links
Most recent Utah stories