Estimated read time: 3-4 minutes
This archived news story is available only for your personal, non-commercial use. Information in the story may be outdated or superseded by additional information. Reading or replaying the story in its archived form does not constitute a republication of the story.
WEST JORDAN — Packing up to head out on another deployment is "almost second nature" to Kayce Lowry, a chief warrant officer with the Utah Army National Guard's 2nd Battalion, 211th Aviation unit.
Saturday began her fourth tour of duty, following two to Kuwait and one in Iraq that ended in 2010. She said departure is "bittersweet."
"I'm excited," Lowry said, as her 13 nieces and nephews lined up for farewell hugs. "It's an opportunity to do a lot of good. But I'm going to miss these guys."
Lowry, a pilot for the unit's UH-60 Black Hawk helicopters, was one of nine Utah soldiers to fly out on two of the state's birds Saturday. They'll be joined by another 49 soldiers on Sunday, who will be taking commercial flights from Utah to Ft. Hood, Texas.
The group will be joined by dozens of other soldiers from other states for several weeks of training, before heading to Kosovo in January, where they'll lead a peacekeeping mission for about a year, providing safety and security services, according to their commander, Lt. Col. George Leonard Barton.
Barton said Kosovo — still a relatively new country, having declared independence in 2008 — has some unrest, but, for the most part, "the people there treat us very special."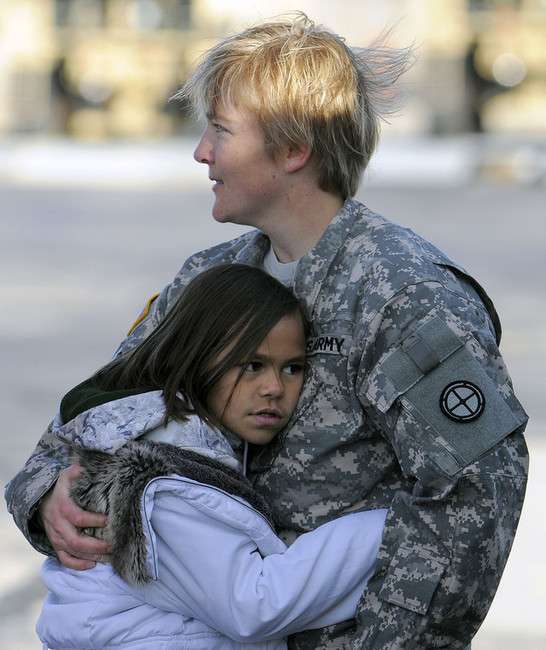 Islamic extremists have been responsible for recurrent terrorism in and outside of the southeastern Eurpoean country. Such acts, however, are rare and Barton said the government there is still learning.
"The leaders recognize we are there doing good," he said. "Everybody is really kind and most appreciate that we are there."
The mission includes assisting NATO forces in air and on the ground, as well as serving with soldiers from Albania, France, Germany, Morocco, Poland, Turkey and Ukraine as they conduct security patrols and work with Kosovo's security forces.
The soldiers will be heading into a similar climate as Utah, albeit a bit colder, said Barton, who recently returned from a reconnaissance mission to Kosovo. Aviation soldiers are deployed quite often, he said, as they are vital to many missions, providing air evacuation options for medical situations as well as resources for air patrol and attack operations, among other functions.
While many of the soldiers deployed for this round have been sent away before, it was the first overseas assignment for 1st Lt. Brad Ellertson of Riverton. The airman, called into active duty for the mission, is leaving his family, including four children, and a job at eBay.
"It's exciting that he gets this experience, but it is hard to have him gone for a year," said his father, Dan Ellertson of Provo.
The two are close and spend a lot of time together, Dan Ellertson said, recalling their last round of golf played on Tuesday.
"It'll be OK," he said.
The family is relieved that the mission is to a fairly safe region of the world, but Dan Ellertson said, "there have to be issues over there or they wouldn't be going."
"There are always risks in life," he said, adding that he is proud of his son's dedication. "You just can't worry."
The 58 Utah soldiers will miss the opportunity to share Thanksgiving dinner with their families, but they are scheduled to return for six days of leave at Christmastime.
The helicopters will also spend just a couple weeks in Texas, so soldiers can train with familiar aircraft, but Barton said they'll return to Utah, to be available as the governor sees fit. Many of the unit's Black Hawks assisted in fighting wildfires throughout the state this past summer.
×
Photos