Estimated read time: 6-7 minutes
This archived news story is available only for your personal, non-commercial use. Information in the story may be outdated or superseded by additional information. Reading or replaying the story in its archived form does not constitute a republication of the story.
PROVO — A report released Friday says ex-attorney general John Swallow violated Utah election law on at least five different occasions. The report are the findings of a special counsel in the Lieutenant Governor's Office, which was hired to investigate Swallow's campaign disclosure forms.
The report shows Swallow failed to report about $58,000 of income and didn't disclose leadership roles in companies who donated to his campaign. It also suggests Swallow tried to hide those facts and didn't fully cooperate with the investigation.
The maximum penalty for these civil violations is removal from office, according to Mark Thomas, election director in the Lieutenant Governor's Office.
Thomas said Lt. Spencer Cox will take a look at the situation to determine how to proceed, since Swallow has already resigned.
Swallow resignation 'no cause for jubilation', governor says
Gov. Gary Hebert, who has been out of town since Wednesday, also reacted Friday to Swallows resignation for the first time.
Herbert said while "there's no cause for jubilation" over John Swallow's resignation, the attorney general made the right decision to leave office.
"I wish him well. I'm sure it's a tough decision for him to make. But I think it is the right thing to do," the governor told reporters after a ribbon-cutting ceremony at Utah Valley Regional Medical Center.
Herbert said the attorney general, whose last day is Dec. 2, told him privately that he "was sorry for all the trouble that he had caused, that he didn't mean it to be a problem and it was just time for him to step aside."
In that meeting, which the attorney general said took place Wednesday evening, the governor said Swallow "recognized he'd become a distraction that was making it difficult for his own office to function as well as it could function."
Herbert, who was out of town when Swallow announced his resignation Thursday, said again the attorney general would have been let go had he worked in the governor's office for violating the office's ethical standards.
His becoming "dysfunctional and a distraction" also would have been a problem, Herbert said. "But you know, the legal issues and the investigations, that's something else entirely and something he had to weigh and decide on his own."
The governor had little to say about the report released Friday by the lieutenant governor's office citing five election law violations by Swallow that could be referred to a court.
"I've purposely stayed out of any investigation," Herbert said. "So I really don't know what's in there. I've heard what's been rumored about."
He said there were "no deals" made in exchange for Swallow's resignation.
Swallow said Friday before the report was made public that he complied with state election laws during his 2012 campaign and is ready to defend himself in court.
But now that he has resigned, he said he believes the case will go away.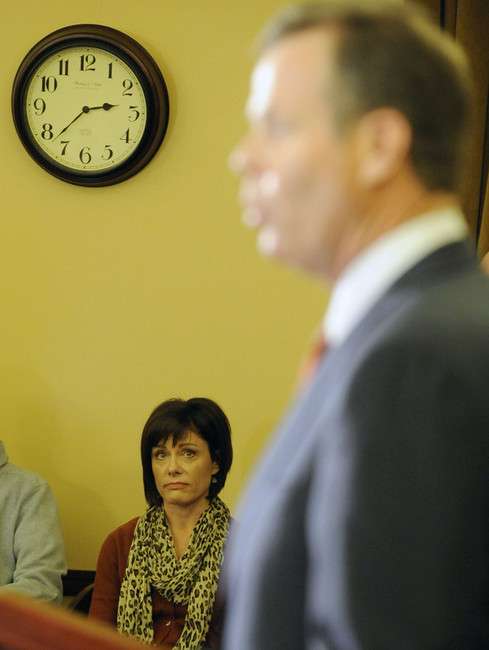 Swallow acknowledged that the lieutenant governor's office could refer the findings of its investigation to a county attorney for possible criminal charges, which he referred to as class B or class C misdemeanors.
"If it's recommended to be looked at by a county attorney, that doesn't mean it's a charge," he said on KSL Newsradio's "The Doug Wright Show."
"Yes, they may think John Swallow is a jaywalker," he said.
Swallow say he did everything right on his campaign finance and conflict of interest forms when he filed to run for attorney general in 2012.
"If they disagree, that's something we're going to talk about in court," he said.
Swallow said he's frustrated that people think he resigned because he "was somehow afraid of something."
He said he told Herbert and the governor's chief of staff, Derek Miller, in a meeting Wednesday night that he planned to step down. He said the governor told him it was Swallow's decision.
"No one high up in the government, no one in the (Republican) party ever asked me to resign," Swallow said.
During his hourlong interview with Wright, Swallow said many of the same things he told reporters at a news conference announcing his departure Thursday. He said he stepped down due to the strain that the ongoing investigations were having on him, his family and his finances. He also again proclaimed his innocence.
Swallow said he and his wife, Suzanne, talked about how much money they were spending to defend him. "We looked at each other and said, 'This is insane.'"
He took particular aim at the Utah House special investigative committee. He said he couldn't match its $3 million budget and that it wanted him out of office because he was "damaged goods."
"I can't believe for a moment that I am the worst public official ever in Utah. I am completely innocent. I can't believe they thought that," he said.
Swallow, who is expected to leave on a vacation Saturday, said he believes the House investigation should go away because he's no longer going to be the attorney general.
The governor, however, suggested the House's special investigative committee still has work to do.
"That's a decision they need to make," Herbert said. "I know the intent was to find out if there is any truth to the allegations and to clear the air and to regain the public's confidence. I think that is still an appropriate goal."
---
I can't believe for a moment that I am the worst public official ever in Utah. I am completely innocent. I can't believe they thought that.
–Utah Attorney General John Swallow
---
The chairman of the committee, Rep. Jim Dunnigan, R-Taylorsville, said he will meet with the special counsel hired to assist in the investigation into Swallow within a week to decide what's next.
Senate President Wayne Niederhauser, R-Sandy, said with impeachment off the table, the House needs a good reason to continue to spend money on the investigation. To date, the price tag is $1.5 million.
"I think the public is going to want to have answers," Niederhauser said. "We're not trying to get in their business, but I guarantee the question is going to be raised."
Sean Reyes, who lost to Swallow in the 2012 Republican primary, announced Friday he will file with the state party to be one of the three names submitted to the governor as replacements for Swallow. Herbert will make the final choice.
"The (attorney general's) office is the law firm for the people. Utah needs an office run efficiently and effectively that is beyond reproach," Reyes said in a statement. "There is a reason I ran before."
Sen. John Valentine, R-Orem, who considered a run for attorney general in 2012, said he will decide over the weekend whether to submit his candidacy. He said Reyes' announcement has no impact on his decision.
"If he's in, that's fine," Valentine said.
The GOP state Central Committee will meet Dec. 14 to choose the three names that will go to the governor. Herbert said it's time for the attorney general's office to move forward.
"It's a day we can start to rebuild the trust in the attorney general's office," the governor said. "I look to a new beginning, and I look forward to moving forward."
Contributing: Lisa Riley Roche
×
Photos
Related stories
Most recent Utah stories