This archived news story is available only for your personal, non-commercial use. Information in the story may be outdated or superseded by additional information. Reading or replaying the story in its archived form does not constitute a republication of the story.
SALT LAKE CITY — A best-selling book that claims former Utah Gov. Jon Huntsman Jr.'s advisers in the 2012 presidential race dismissed him as "a lazy, whiny wuss" may not bode well for his political future.
"You're not going to come away from this book saying, 'That's a guy I'd like to give my time, talent and treasure to,' " said Matthew Wilson, a political science professor at Southern Methodist University in Dallas.
Readers of "Double Down" by Mark Halperin and John Heilemann likely follow politics closely and already have an interest in Huntsman despite the Republican's poor showing in the 2012 race.
But the book's tone toward Huntsmas was "fairly dismissive and disparaging. It doesn't make him look good at all," Wilson said. "I think that he didn't have much prospect for an elected future before. This only makes it more unlikely."
University of Iowa political science professor Tim Hagle, an active Republican, said the book's portrayal of Huntsman just reinforces the image he has in Iowa after skipping campaigning in the early election state.
"He just gave that impression he was not that strong of a candidate. I can't say I'm surprised people suggest he's a wuss. Maybe that's an unfair thing," Hagle said. But voters "like people who are fighters," he said.
A new Utah Policy pollof political insiders found that only 21 percent of Republicans believe Huntsman will overcome the revelations in the book and be a significant political player.
Fifty-eight percent of the GOP insiders polled said they think Huntsman will continue in politics, but no one will take him seriously. A majority of Democratic insiders, however, see a political future for Huntsman.
---
You're not going to come away from this book saying, 'That's a guy I'd like to give my time, talent and treasure to.'
–Matthew Wilson, SMU political science professor
---
The latest book from the authors of the popular "Game Change" analysis of the 2008 presidential race that was made into a cable TV movie devotes an entire chapter to Huntsman titled "The Test Tube Candidate."
His campaign, kicked off after he returned in 2011 from serving as President Barack Obama's ambassador to China, reached a point where "Huntsman's advisers finally, fully came to dismiss their candidate as a lazy, whiny wuss," according to the book.
He barely registered in the polls and fought with his advisers over debate preparation, seeing himself as "too good" for it, and his preference for talking to "Manhattan glossies" over the conservative press, the book said.
Money was also an issue, with Huntsman repeatedly insisting he and his wealthy father, Jon Huntsman Sr., would not cover the cost of the campaign despite what the book called a "Cadillac" level of spending.
And while Huntsman had an "almost pathological refusal to criticize his opponents," the book blames his campaign for leaking information on other candidates, including sexual harassment claims against Herman Cain.
Huntsman even considered leaving the GOP to run as an independent, frustrated after the tea party debate in Tampa, Fla., that left his wife in tears and his daughter Abby "shocked and offended," the book said.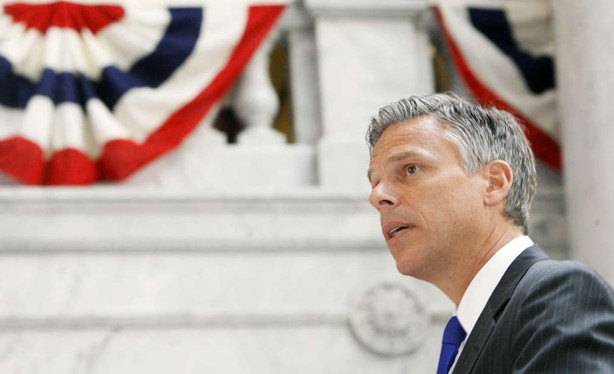 His father labeled "supermarket tabloid trash" a claim in the book that he told Senate Majority Leader Harry Reid, D-Nev., that the Republican nominee, Mitt Romney, didn't pay taxes for a decade.
And Abby Huntsman said earlier this month on her MSNBC show, "The Cycle," that there was "very little based in reality" in the book, saying it reminded her "more of high school gossip than actual serious investigative reporting."
"With every failed campaign, you expect a fair share of criticism, but with this book, everyone walked out of their headquarters and turned on the fire hose," she said.
Joe Kildea, a spokesman for Red Rock, Huntsman's post-election political action committee based in Utah, had no comment on the book or its impact on Huntsman's political future.
Huntsman has not ruled out another run for the White House in 2016, but he told a conference in September after giving "the best years of our lives to politics," it's time "to reconnect with private life, to recharge and see where things go."
Peter Spaulding, a New Hampshire county commission chairman who helped Huntsman put together his Granite State team, didn't recognize the candidate's description in the book.
"He worked very hard," Spaulding said of Huntsman, who focused his entire campaign on the New Hampshire primary after money problems forced the closure of his national headquarters in Florida.
---
With every failed campaign, you expect a fair share of criticism, but with this book, everyone walked out of their headquarters and turned on the fire hose.
–Abby Huntsman
---
Even though Huntsman finished a disappointing third in the primary and dropped out of the race shortly after, Spaulding said his New Hampshire team remains loyal.
"I am absolutely positive not one of them would have had that opinion of him," he said. The same may not be true of the national campaign staff that had to relocate from Florida in the winter, Spaulding said.
"They were not happy about moving," he said. "It was a significant amount of grumbling from the people who moved up here. Some of them might have said something like that."
New Hampshire voters would give Huntsman another chance, Spaulding said.
"New Hampshire voters make up their mind on what they hear from the candidate," he said. "They're certainly not going to base their opinion on a book."
Hagle, the Iowa political science professor, said he didn't expect the book to cause lasting damage to Huntsman's standing with voters or even political insiders.
"It's not like there's any major revelations about bad behavior," he said. "It's still pretty small potatoes."
×
Related Links
Related Stories