Estimated read time: 3-4 minutes
This archived news story is available only for your personal, non-commercial use. Information in the story may be outdated or superseded by additional information. Reading or replaying the story in its archived form does not constitute a republication of the story.
DENVER — New Obamacare ads in Colorado produced by a liberal group and health initiative are causing a lot of controversy as people around the country are calling the ads sexist and demeaning.
Liberal-leaning ProgressNow Colorado and the non-profit Colorado Consumer Health Initiative teamed up to make ads promoting Obamacare for Colorado. They made a website, Doyougotinsurance.com, which features over 20 ads aimed more at shock and awe than information on the Affordable Care Act.
Got insurance? The first ad titled "Let's Get Physical" shows a woman, "Susie," clutching her new birth control while a man "Nate," is grabbing her close by the waist.
"OMG, he's hot! Let's hope he's as easy to get as this birth control," reads the risque ad. "My health insurance covers the pill, which means all I have to worry about is getting him between the covers."
And yet another ad targets women and birth control. It copies the popular "Hey Girl" meme with Ryan Gosling. This ad shows a woman happily holding her birth control while standing next to a life-size cardboard cutout of Gosling.
"Hey girl, you're excited about easy access to birth control and I'm excited about getting to know you. She got insurance. Now you can too. Thanks Obamacare!" the ad reads.
Another ad titled "Uniform Coverage" shows two young girls who apparently play a particularly violent game of soccer. They smile at the camera, arm in arm, showing bloodied faces and injured limbs.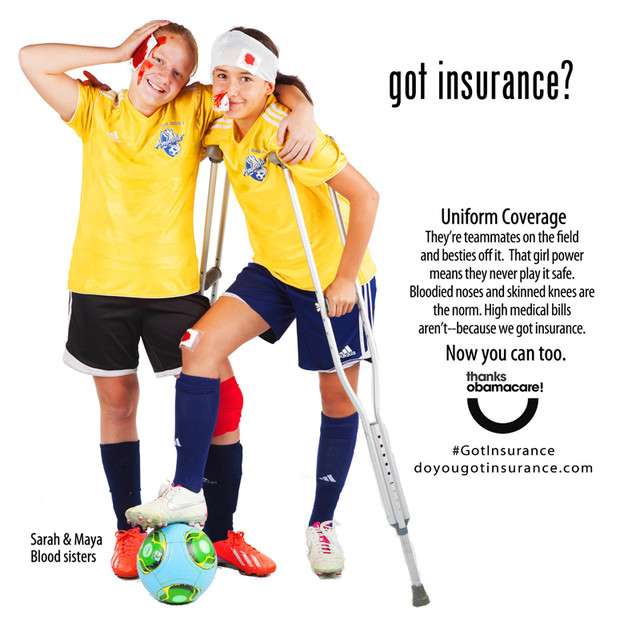 "They're teammates on the field and besties off of it," the ad reads. "That girl power means they never platy it safe. Bloodied noses and skinned knees are the norm. High medical bills aren't — because we got insurance."
The makers of the ad claim their main goal is to educate Coloradans about the benefits of Obamacare. The executive director of ProgressNow Colorado, Amy Runyon-Harms, stands by their decision to run the ads.
"The whole intention of these ads is to raise awareness, and that's what we're doing. It's great that more and more people are talking about it," Runyon-Harms told the Denver Post. She also told the Post that the ads are for social media only and will not be going up as posters or billboards.
Republican strategist and executive director of the conservative Compass Colorado, Kelly Maher, said the ads are offensive.
"This ad campaign is desperately trying to distract from the fact that exchange sign-ups have essentially ground to a halt. While nearly a quarter of a million Coloradans have had their plans canceled, ProgressNow Colorado and Colorado Consumer Health Initiative are demeaning and belittling women with shallow sexual caricatures and making light of serious women's health issues," Maher said.
Harsha Gangadharbatla told the Post she thought the ads were a joke from Republicans at first.
#poll
"I think it's a strategic mistake," Gangadharbatla, an associate professor of advertising at the University of Colorado at Boulder, said. "Consumers could see it as a joke, making it appear not to be a serious issue. And the issue of healthcare is clearly a serious issue in the United States. There's already so many negative headlines and problematic issues out there with rollout of Obamacare, so why add fuel with ads like these, if the true intent is to enroll more young people."
Runyon-Harms said she does not think the ads, especially the ones with women and birth control, are harmful or demeaning.
"We think this ad is really about healthy relationships and that people are taking control of their lives with health care," she said. "People get upset when you portray women as independent."
×
Photos
Related links
Most recent U.S. stories