SALT LAKE CITY — The unique date 11/12/13 no doubt prompted a series of celebrations and ceremonies around the world. But for some Utahns, the special date wasn't enough. They made sure times of births, wedding ceremonies and even the number of party supplies were just right.
Baby born at 9:10 11/12/13
More than 10 babies at Intermountain Medical Center were born Tuesday with the memorable birth date 11/12/13. But only one was born with an unforgettable time.
Doctors told Carissa Holzer she would give birth at the end of November, but her husband wasn't surprised when she started having contractions at City Creek Monday night. The one problem: it was only the 11th.
"When we were laboring last night, he was like, 'Let's hold of. Let's hold off,'" Carissa said.
"I was like, 'Not yet, because it's only the 11th.' And I knew we were going to have the baby on the 12th," said Troy Holzer, Carissa's husband.
---
I was like, 'Not yet, because it's only the 11th.' And I knew we were going to have the baby on the 12th.
–Troy Holzer, baby Takena's father
---
Carissa waited until 2:30 the following morning to go to Intermountain Medical Center. The Holzers decided they wanted to add more numbers to mark the baby's arrival, and hoped Carissa would to give birth at 8:09 a.m. But the time quickly passed.
"I just wasn't to that point," Carissa said.
Then a text message sent to Troy by his sister-in-law gave him the idea the baby should then be born at 9:10 a.m. Carissa and Troy worked with their doctor to give birth at the exact planned time.
"He was holding me back and telling me when to push just so we could get it at that right moment," Carissa said.
Carissa was never induced. At 9:10 a.m., Takena, named after her grandfather, was born, weighing 7 pounds and measuring 19.5 inches long. Takena was born two and a half weeks early at 9:10 a.m. on 11/12/13.
"Now my husband has something to hold over my head," Carissa said.
Friends celebrate 14 on 11/12/13
Further north in Bountiful, three friends shared a memorable day: each turned 14 on 11/12/13.
Isabella Wilcox, Bryan Nielsen and C.J. King were surprised by their families with a big birthday celebration during lunch at Bountiful Junior High School on Tuesday.
To celebrate the fact that on 11/12/13 they turned 14, their parents brought 15 dozen doughnuts to share with the other students, 16 slices of pizza and 17 pieces of crazy bread.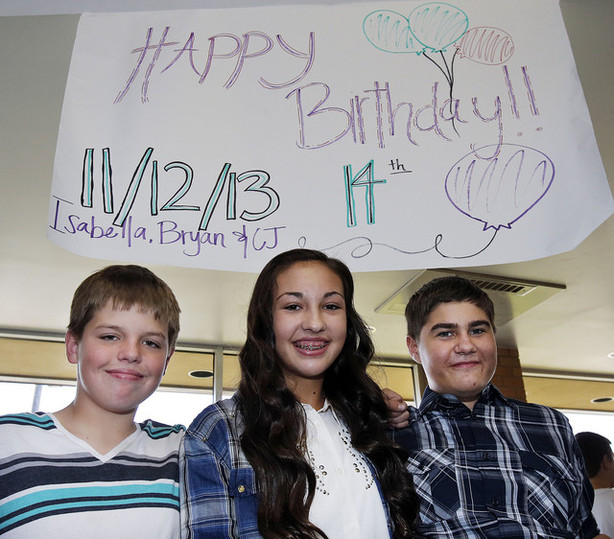 Isabella was the first to arrive and walked into the cafeteria saying, "Is this for my birthday? Just for me?" She was quickly joined by Bryan and C.J., who were also surprised to see the posters and doughnuts and family members.
"I was awestruck," Bryan said. "I was amazed. I thought I was just going to get pizza; that was all I knew. I think it's awesome."
Isabella thought she was going to be checked out of school to go to lunch with her sister and niece.
"It's really cool. I wish every birthday was like this," she said, adding that she's been looking forward to the celebration for six months.
After an enthusiastic and echoey rendition of "Happy Birthday," fellow students snatched up the 15 dozen doughnuts in just 1 minute and 46 seconds, according to C.J.'s father who timed the spectacle.
C.J. was sporting a new shirt he had just received for his birthday. He couldn't say that he'd ever had a more special birthday.
"This is a nice birthday!" he said with a mouthful of pizza. "I'm really shocked with it, very shocked. I knew my mom was going to bring pizza today … but I didn't plan on this."
The three eighth-graders sat at a table together eating pizza while many of their classmates crowded around. They have attended classes together and have always been the "triplets," C.J. said.
"We've gone to every school together, so I've known them since kindergarten," Isabella said. "So we've had the same birthday forever, so it's been way fun."
---
He woke up this morning and all he could talk about was the significance of 11/12/13, 14 (years old). He wanted everyone in the house to know that.
–Lon King, C.J. King's father
---
The idea to make this birthday extra special came to Jenn Nielsen and Lisa Wilcox while they were talking at work one night a few weeks ago. It dawned on them it would be a special date for their children, so they called Amy King up and started planning.
Isabella, Bryan and C.J. said they've been thinking about the importance of this birthday for a while. C.J. seemed to be the most jazzed about it.
"He woke up this morning and all he could talk about was the significance of 11/12/13, 14 (years old)," said his father, Lon King. "He wanted everyone in the house to know that. He went from room to room, 'Do you know what's cool about today?'"
He and Bryan are in orchestra together and have been on the same basketball team multiple times.
"Bryan is the youngest of the three of them," Jenn Nielsen said. "They're all born within four hours of each other. So C.J.'s the oldest, around the 11 o'clock hour, Bella was around 1:30-2 p.m. and Bryan was at 3:30 p.m., so they're all very similar in a lot of ways."
Bryan and Isabella live in the same neighborhood, and Jenn Nielsen said their families are all interconnected through school and church.
Related:
Wedding bells at 11/12/13 14:15
In Hyrum, a unique wedding was held Tuesday — and it was all for good luck.
Tiffany Mitton and Ryan Lind, both from Nevada, got married in an LDS church building at 11/12/13 at 14:15 military time.
The two said they hope getting married on this date and time will bring them a lifetime of happiness.
It's also an anniversary that the newlyweds will never forget.
Email: madbrown@desnews.com
×
Photos