This archived news story is available only for your personal, non-commercial use. Information in the story may be outdated or superseded by additional information. Reading or replaying the story in its archived form does not constitute a republication of the story.
PROVO — A new "smart" football helmet could tell coaches on the sidelines how much impact their players are taking in real-time.
In a time when the negative effects of football-related concussions are gaining national attention, Brigham Young University graduate student Jake Merrell is hoping his new foam nanotechnology can change the game.
"When you see all of these players getting concussions you feel bad for them and you hope that they can get better," Merrell said. "But a lot of times all of the players have the play go and then only when the players are clearing do you notice someone's been hurt and you don't know how hard they've been hit. This will give us a true understanding of each impact the players are receiving and it would be in real time, so as the players disperse you would know exactly what happened to each player."
Merrell was able to create the smart helmet by adding nanoparticles, which are 1/100 the size of a human hair, into the foam of a helmet with a microcontroller. The nanoparticles enable the foam to become an electric sensor, so whenever the helmet is hit, a signal is sent to a tablet on the sidelines.
The technology was named XOnano because the prefix "exo" refers to protection or an outer shell, and the letters "X" and "O" are often used to indicate plays for sports, he said.
"It's a very unique thing," said Merrell, an Orem native and big BYU football fan. "We have a provisional patent on it (and) from the very beginning were working on various applications."
The technology could have a huge influence on football and other impact sports, he said. Merrell can envision a future when athletes from peewee football all the way up to the NFL would wear smart helmets, which would give an understanding of how many impacts they have experienced.
"There might come a time when we know how much someone can take before they have to stop playing, before the permanent damage is too large," Merrell said.
He plans to submit a proposal for the helmet to the Head Health Challenge sponsored by GE, the NFL and Under Armour, which is offering $20 million in its second round to better understand players' impacts in real time. His helmet already took first place in student hardware at an American Society of Mechanical Engineers conference at Snowbird.
Related Story
Merrell's special foam could help with other sports and activities as well. His team is looking into utilizing the foam in shoes and adding the sensors to show how many calories someone has burned or even help train someone to run more effectively or avoid injury.
"We were just thinking of different ways we could utilize this technology we created, and I just wanted to see if we could get it into a foam because compression is a very valuable measurement we don't have very good sensors in currently," he said.
A lot of different experiences led to working on this project, he said. As an undergraduate student he worked with rubber band sensors that can sense how long they are stretched, but Merrell wanted to work with foam he had first played with at his father's urethane manufacturing facility.
"I started adding these same particles into the foam and started to find this new phenomena we weren't expecting," Merrell said.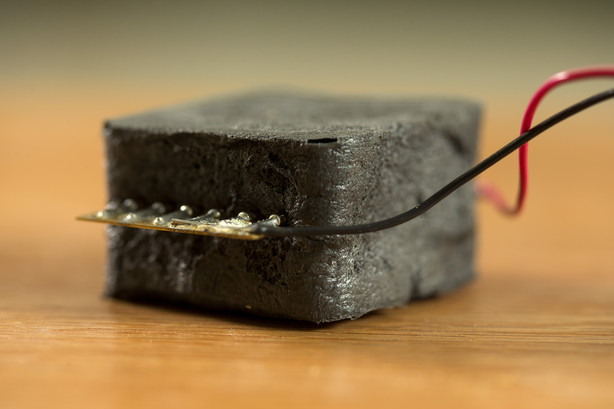 He said it has been a lot of fun to work on a project that doesn't just count towards his thesis, but also presents a business opportunity.
In a way, business is what led Merrell to mechanical engineering. Before coming to graduate school, he owned an excavation company with his father. When the economy slowed, they started to look into mining gold instead of doing excavations and he decided to try developing a new mobile gold processing unit with CAD software.
"I went on vacation halfway through it, and the whole entire vacation I couldn't stop thinking about getting back and finishing up that CAD model, and at that point in time I decided I wanted to sell the business and go back to school to become an engineer," he said.
When he came back from the vacation they went to work selling the equipment for the company and Merrell went back to school in 2010. He's been going full blast ever since then, he said.
×
Photos
Related Stories