This archived news story is available only for your personal, non-commercial use. Information in the story may be outdated or superseded by additional information. Reading or replaying the story in its archived form does not constitute a republication of the story.
PROVO — The woman who prosecutors say was the motive for a murder plot told jurors Tuesday she texted suggestive photographs of herself to Martin MacNeill on the day after his wife's death.
The two later used the date of the funeral — April 14, 2007 — as their fake wedding date.
Gypsy Willis said one of the pictures shows her lying on a bed. Another reveals her unclothed back and a portion of her buttocks. A third, taken of her shoulder area, also suggests she is naked, although Willis only coyly admitted to the suggestive nature of the pictures.
Details of Wills' testimony
Willis, 37, was on the stand in 4th District Court for the second time Tuesday in the MacNeill trial. Prosecutors have accused the former osteopathic physician and attorney with murder, a first-degree felony, and obstruction of justice, a second-degree felony, in his wife's death.
Michele MacNeill, 50, was found unconscious and submerged in a bathtub at the couple's Pleasant Grove home on April 11, 2007. Prosecutors contend MacNeill gave his wife a combination of painkillers to render her listless and then drowned her in the tub. They say MacNeill used his skills as a physician to make the death look accidental and that he wanted his wife out of the way so he be with Willis.
Willis, who became sexually involved with MacNeill in early 2006, is testifying against him as part of plea deal. In 2011, she pleaded guilty to identity fraud and other charges connected to stealing the identity of one of MacNeill's adopted daughters. Prosecutors agreed not to seek more prison time in exchange for her honest testimony against MacNeill. She previously spent 21 months in a federal prison for aggravated identity theft.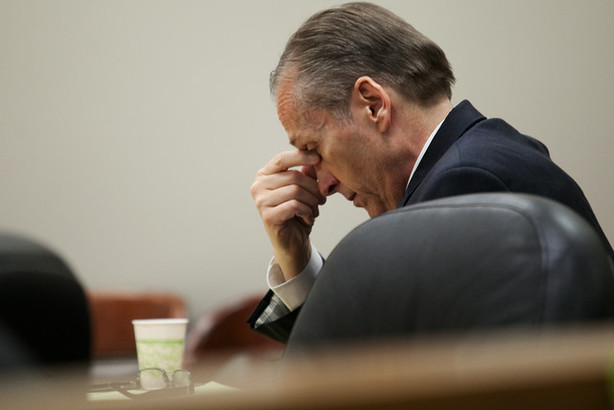 But before court began Tuesday, deputy Utah County attorney Sam Pead told Judge Derek P. Pullan that prosecutors consider Willis a "hostile" witness. "She's out to protect him as much as she can," he said.
Under cross-examination, however, Willis told defense attorney Susanne Gustin she was giving "honest" answers to questions from both sides in order avoid a three-year prison term.
She also said MacNeill never spoke about making plans to leave his wife, despite the fact that the lovers' relationship had escalated in the months before his wife's death. MacNeill was supporting Willis financially with a home and a debit card. She said the two were having sexual encounters more often and sometimes sending text messages to each other two dozen times each day. That includes the day of Michele MacNeill's funeral — when Willis and MacNeill exchanged some 22 texts, she testified earlier — although defense attorneys later noted the number is only a fraction of the nearly 3,000 texts Willis sometimes sent in a month.
Willis also testified that she and MacNeill used the funeral date as a fake date for their own marriage when they forged a military identification card for her. MacNeill filled out the paperwork, listing her as Jillian MacNeill, even though that was not her real name, nor were they married, Willis said.
Prosecutors also asked Willis about a marriage proposal from MacNeill. Willis had trouble remembering the date of the proposal but said MacNeill asked her while the pair was in a Wyoming restaurant and that he gave her a large ring.
---
Willis also testified that she and MacNeill used the funeral date as a fake date for their own marriage when they forged a military identification card for her.
---
"It was four and half carats," she said, noting the stone's value was about $7,000.
Willis said she and MacNeill discussed getting married in an LDS temple and that she believed they were serious, even though they never made it to the altar.
Finally, Willis said that before Michele MacNeill's death she had heard about plans for the woman to have surgery and knew that it had occurred. She also said she had overheard MacNeill talking about how his wife needed to get a blood pressure problem resolved before going under the knife, but she said she didn't know anything about her death.
"Are you telling us you don't know any more about Michele's death?" Pead asked.
"That's correct," Willis replied.
Willis' mother takes the witness stand
Willis' mother, Vicki, also testified Tuesday, telling jurors her family was "giddy" over her daughter's July engagement to MacNeill, calling his handsome good looks and credentials as both a doctor and lawyer "impressive."
"We were pleased, of course. Who wouldn't be?" she said.
The elder Willis also said MacNeill had told her that he had loved his wife, but "like a sister, not like he loved Gypsy."
Gypsy Willis and MacNeill are no longer involved and haven't had any contact in more than three years, defense attorneys later said. As part of a three-year probation sentence that began in May 2011, Willis was ordered to have no contact with MacNeill or his extended family.
Friends of Michele MacNeil testify
Also testifying for prosecutors on Tuesday were a trio of Michele MacNeill's former friends, who said Martin MacNeill didn't seem sad on the day of her death and made a point of showing off remodeling work he'd done to the family home when they came there to express their condolences.
Linda Cluff, Michele's younger sister, told the jury she was offended that MacNeill could be seen laughing with friends at a post-funeral luncheon.
---
He was joking, saying he would have to get used to living the life of a bachelor.
–Linda Cluff, Michelle MacNeill's sister
---
"He was joking, saying he would have to get used to living the life of a bachelor," she testified.
On cross-examination, defense attorney Randall Spencer queried Cluff about a website she created — martinmacneill.info — that chronicles dozens of news stories about Michele's death and the investigation into her husband.
Cluff said she launched the site for several reasons, including to gather information "in case there were more victims of any other crime" that her brother-in-law may have perpetrated.
"The investigation was slowing down," a clearly uncomfortable Cluff tried to explain to deputy Utah County attorney Chad Grunander. "I wanted to have more coverage and to have information out there. It was a tool to get more information."
2008 interview with 6-year-old daughter played for jury
At the end of the day, jurors watched a 52-minute recording of Ada MacNeill's 2008 interview with a detective at the Utah County Children's Justice Center. On the recording, a young Ada described coming home from kindergarten that day and calling out to her mother, before running to the bathroom where she found her in the tub.
"She was just laying down," Ada said on the tape, twisting a Rubik's Cube as she was questioned.
In a voice just above a whisper, the blond-haired girl said she recalled seeing her mother dressed in a blue jacket and pants and that the water in the tub was "brown."
"He was screaming, 'Quick, help. Go next door and get somebody,'" Ada said of her father.
Defense attorneys had sought to prevent the jury from hearing any live testimony from the girl, claiming her account of events has so altered over time that they believe she had been coached by her older sister, Alexis, who is now her guardian.
Pullan agreed, but allowed the 2008 interview and ruled that the youngest MacNeill child, who was 6 when she discovered her mother dead, could be cross-examined by the defense.
Spencer declined to question the girl on Tuesday.
"She doesn't have a credible memory to question," he told reporters after the hearing. "It's pointless to try."
Video Contributing: Sam Penrod
×
Photos
Related Stories