MAGNA — Two people were arrested by police Monday for allegedly ramming one vehicle and leading officers on a short chase.
About 9:45 a.m., a man who recently had his car stolen out of Sandy happened to spot his vehicle while driving around Magna, said Unified Police Lt. Justin Hoyal. The owner began following the stolen car.
The male and female in the stolen vehicle got on state Route 201, got off at 5600 West and later stopped at a red light. By that point, officers were moving into position, Hoyal said.
"As they are pulling into position to initiate a stop, the suspect becomes suspicious and puts it in reverse, steps on the gas, backs up and rams the car behind him," he said.
The car behind him was being driven by the owner of the stolen vehicle. The suspects made a right turn and tried to ram a police car but missed and hit a pole, causing serious damage to the vehicle, Hoyal said.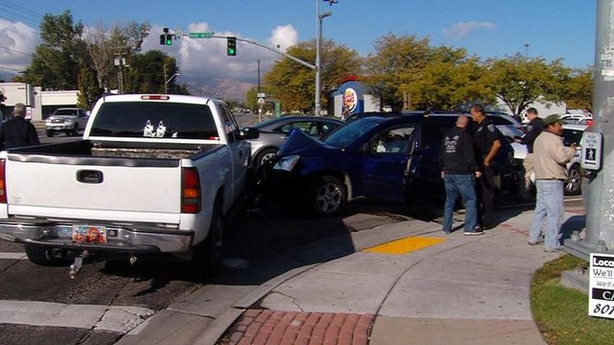 The suspects were still able to drive off and cut across a dirt field to get to southbound 5600 West. It was at that point that Unified police began their official pursuit, Hoyal said.
Police chased the vehicle until it T-boned into the side of a pickup truck near 3500 South. Both the man and woman got out of the vehicle and ran.
The woman was caught a short distance later after officers used a Taser to bring her under compliance, Hoyal said. The man was eventually caught farther down the road and was taken to Pioneer Valley Hospital to be treated for minor head injuries.
Tyler Eyre, 19, and Shelby Hansen, 21, were arrested for investigation of possession of a stolen vehicle, failing to stop at the command of an officer, and fleeing.
Eyre also has a case currently pending out of Midvale Justice Court for a misdemeanor drug possession charge.
He also pleaded guilty in January to dealing in harmful materials to a minor, a class A misdemeanor, for showing a 17-year-old high school student a video of Eyre and another student having sex in an attempt to get back at her for breaking up with him, according to court records. He was sentenced to 60 days in jail and ordered to complete sex offender treatment while on probation.
Eyre was convicted of simple assault in 2007 and unlawful possession of alcohol by a minor in another 2007 case.
Contributing: Sandra Yi
---
×
Photos
Related Stories