PROVO — The BYU Cougars rolled over the Georgia Tech Yellow Jackets in their homecoming game Saturday night and both the offense and the defense looked strong in the 38-20 win.
Kyle Van Noy had another solid night with three tackles for loss and two, arguably three, sacks. Along with Van Noy fellow linebacker Alani Fua played a great game that included a pick six for 51 yards.
On the offensive side Taysom Hill continues to improve and ended the night with 244 yards and one TD through the air along with 87 yards and one TD on the ground.
With all the offensive and defensive output the night belonged to linebacker Spencer Hadley.
Hadley missed three games, Utah, Middle Tennessee and Utah State due to honor code violations. Originally Hadley was not supposed to return until the Boise State game on October 25. The university, however, felt Hadley had met the requirements necessary to rejoin his team.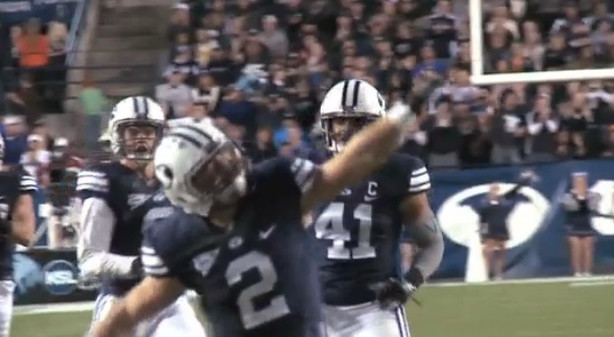 "It was so great to have a phone call Wednesday from our athletic director and the university saying he's met all of his obligations and they've lifted their suspension early," Hadley's coach, Bronco Mendenhall, said after the game. "It was a celebration and a tribute to him."
It's been a rough month for Hadley that he has admitted he brought upon himself, but it has also been a testament to his character considering he stood tall and humbly accepted his consequences.
Hadley had no real expectation of having his suspension lifted early and knew that returning for Boise State was no guarantee. All he knew was that he had to make things right as best he could and that's exactly what he did. He did not abandon his team nor did he turn his back on his university, rather he owned up to his poor judgment and decided to move forward and accept the punishment handed to him.
The excitement surrounding Hadley's return was tangible in the stadium and when he recorded a sack in the Cougars win the crowd exploded and the hairs on your arm literally stood on end.
It's a story of redemption. We should not laude Hadley as a hero and I believe he would say as much. His violation of an honor code he signed and agreed to live by while at BYU should not be condoned or given a free pass. However, his determination to change and the responsibility he took for his actions should be applauded.
Along with that, the support of Cougar nation should be applauded as well.
It would be easy for fans to be bitter with Hadley who's choices forced him to miss an emotional game with in-state rival Utah. While others stepped up in that game his leadership and experience were sorely missed and the Cougars fell to the Utes yet again 20-13.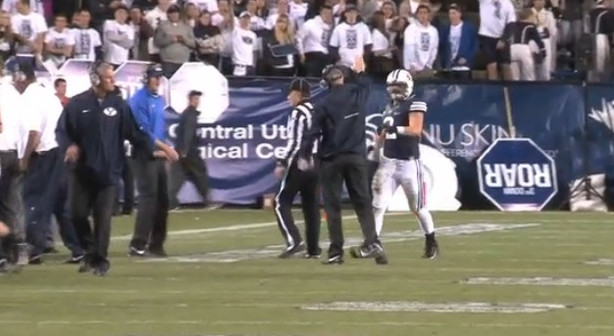 Instead of holding his suspension against him, Cougar Nation opened their arms and welcomed him back and gave him the support he needed to move forward.
"That just felt great. It felt amazing to be out there with the guys," Hadley said after the Georgia Tech game. "To be able to contribute in anyway possible, man, we had a good night as a defense and it's a lot of fun to be out there with the guys and to play like that. It's just good to be back. It's just good to be back."
It's good to have you back Hadley. Not just for the presence and power you add to the defense, but by the example of making wrongs rights and owning up to your mistakes.
"He's experienced, he's tough, he's a good leader, he's athletic and he cares a lot," Mendenhall said of Hadley. "He plays with his heart."
×
Related Stories