Estimated read time: 5-6 minutes
This archived news story is available only for your personal, non-commercial use. Information in the story may be outdated or superseded by additional information. Reading or replaying the story in its archived form does not constitute a republication of the story.
SALT LAKE CITY — Bart Combe doesn't look sick. He hardly even looks his age.
But Combe, 53, is sick enough that he lost his job as an industrial electrician due to an inability to work. And since losing his job, he's also lost his South Ogden home and his health insurance.
A kind friend has taken him in, but Combe has yet to find a way to cover necessary medical expenses for the progressing multiple sclerosis he suffers.
"The state has no option for single men without insurance," Combe said Thursday. "There's no program for us."
Similarly, Sherilyn Horrocks is looking for a way to cover doctor visits and medication that could prolong her life.
Horrocks, 61, is in the end stages of liver failure, which stemmed from a hereditary autoimmune disease that ultimately killed her younger brother when he was 36.
She works with a couple of doctors who have agreed to treat her over the phone, negating fees for office visits, and she shares medication with a family member who has the beginning symptoms of systemic sclerosis.
"I used to have good coverage through my husband's work, but he is no longer working. He's disabled. He and I are in a race to the end, I suppose," Horrocks said.
She jokes about moving to a country that offers socialized medicine just so she can live longer.
---
I want to reform Medicaid, not perpetuate its current failures.
–Gov. Gary Herbert
---
Combe and Horrocks are two of more than 120,000 Utahns hanging in the balance as state policymakers prolong a decision on Medicaid expansion.
Gov. Gary Herbert said he is still "weighing the options" to come up with "a Utah solution," which he said is unique because of Utah's younger demographic among other unique circumstances.
During his annual Health Summit on Thursday, Herbert praised Utahns for a lower-than-national-average tobacco use and adult-onset diabetes rates, as well as the lowest health care costs and some of the healthiest people in the nation.
But, he said, "too many Utahns lack access to affordable health care."
More than 370,000 Utahns are uninsured, and about 123,000 would be eligible for state and federally funded Medicaid programs under a full expansion of the program, which is an option under the Affordable Care Act.
The federal government has said it will fully fund the initial phase of the expansion beginning Jan. 1 for states that have already opted in. Reimbursement rates would lessen over time.
In addition to an economic analysis of a potential expansion — which projects enhanced revenues, more local jobs and a decrease in uncompensated care — Herbert has convened a legislative task force and a workgroup made up of various stakeholders and community advocates to study all available options when it comes to the possibility of expanding the state's Medicaid program.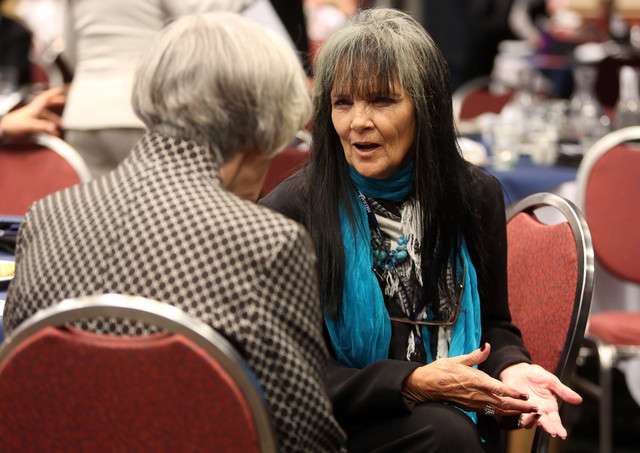 He said the process has been deliberate, and a "ready, shoot, aim approach" would be dangerous. A decision has been delayed time and time again for more than a year, but Herbert said he wants to "do it right."
"When we make this decision, it will be well thought out, all ramifications will be understood and it will include as many points of view as possible," he said.
Still there are Utahns who would have benefited from expanded eligibility.
Emily Young, 44, always had a job. She not only expected to cover her own needs, but also care for her aging parents. That was until recurrent breast cancer took her off course and crippled her finances.
Because she was uninsured, Young opted for a less expensive lumpectomy and didn't receive radiation or chemotherapy. She lobbied state leaders for Medicaid expansion during the 2012 Health Summit, and unfortunately took a turn for the worse and now relies on oxygen to get through the day.
Young tires more quickly and can't do many things she wants to do, including work. As she's become more debilitated over the past year, she has qualified for disability insurance and is now able to receive limited care.
"But it is almost too late," she said.
Young tries to remain optimistic, but still pulls for others who were in similar circumstances as she was a year ago.
"I think we all understand things can happen outside people's control that put them in a position of needing some assistance, but that assistance is meant to be a temporary bridge to self-sufficiency, not a hammock for permanent dependency on government," Herbert said. "I want to reform Medicaid, not perpetuate its current failures."
Republican leaders in the state are against the option to expand beyond what is mandatory, as federal funding promised to help pay for an expansion is believed to be unsustainable.
---
As of last week, 29 states were moving forward with some model of expansion, 15 were not, and seven, including Utah, remained undecided.
---
Herbert said any money used, whether state or federal dollars, comes from taxpayers.
"Far from a gift horse, I worry what Washington may be offering is something more like a Trojan horse, and we all know how that turned out," he said.
"The fact is, every state dollar given to Medicaid is a dollar taken away from education, transportation, public safety and other health and human service needs," the governor said. "Even so, I recognize that Medicaid is an important part of our safety net system. It has helped thousands of Utahns avoid financial ruin and overcome significant health challenges."
Herbert said he is "close" to deciding whether Utah will expand Medicaid to cover more of the state's uninsured population, but he would not say when a decision can be expected.
Several Medicaid expansion options studied by the Utah workgroup were presented during Thursday's meeting, ranging from full expansion to formalizing charity care as a safety net in Utah. Lawmakers will also have a chance to weigh in on the final decision, as they hold the purse strings to implement any of the governor's decisions.
As of last week, 29 states were moving forward with some model of expansion, 15 were not, and seven, including Utah, remained undecided.
"I try to stay active and exercise. I'm not the typical MS patient," Combe said. "This came at me like I was smacked upside the head with a 2-by-4. People need to understand that it can happen to anybody."
Video Contributing: Peter Rosen
×
Photos
Related Links
Related Stories