Estimated read time: 2-3 minutes
This archived news story is available only for your personal, non-commercial use. Information in the story may be outdated or superseded by additional information. Reading or replaying the story in its archived form does not constitute a republication of the story.
Sandra Yi ReportingGabriel Castaneda: "It's happening everywhere, it's easily accessible."
He's talking about alcohol, and as students celebrate the end of the school year, some will choose to do it by drinking. This is the time of year when underage drinking goes up, but one city is trying to put a stop to it.
All parents of 9th to 12th grade students in Salt Lake City will be getting a copy of a letter. The idea is to keep kids sober and their celebrations alcohol free.
Abbie Vianes: "It happens a lot more than parents realize."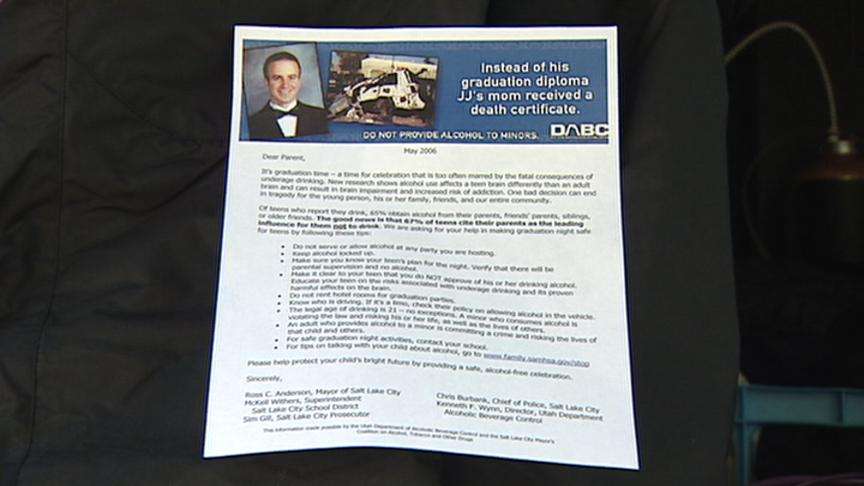 It's prom and graduation season and some teens will honestly tell you, alcohol is easily available.
Jonathan Craner, High School Student: "You'll always hear that, like in classes and stuff."
Gabriel Castaneda, High School Student: "Kids know how to hide it. Parents think their kids are the greatest thing in the world, but no, it's not true."
That's what prompted city leaders to endorse a letter to parents, urging them to monitor their kids' activities. It bears the picture of a Utah teen who was killed after he got behind the wheel of a car, drunk.
Abbie Vianes, SLC Mayor's Coalition on Alcohol, Tobacco and Other Drugs: "Find out the parties they're attending. Are they going to be alcohol free? Will there be adult supervision? That's a normal part of parenting that's important."
Half of all high school seniors in Utah say they've sampled alcohol sometime in their lives. Studies show kids who begin drinking before the age of 15 have a 40 percent chance of becoming alcohol dependent. The percentage drops drastically for those who wait until the legal age of 21.
Abbie Vianes: "I believe there's a community belief system. It's a rite of passage for youth to drink and we'd prefer him to drink alcohol than use hard drugs."
But, she says, alcohol is just as dangerous and potent. She says this letter reminds parents they can influence their kids. Teens say it's a start.
Gabriel Castaneda: "It could help in some way. You never know, anything helps."
The letter is going out to parents now. It includes tips and a website with conversation starters for talking to kids about alcohol.
×
Related links
Most recent Utah stories