This archived news story is available only for your personal, non-commercial use. Information in the story may be outdated or superseded by additional information. Reading or replaying the story in its archived form does not constitute a republication of the story.
SALT LAKE CITY — The inaugural installment of the Salt Lake Comic Con was, by the numbers, a huge success. So much so, in fact, that event organizers had to declare the event sold out around 3 p.m. Saturday.
A line beginning at the Salt Palace Convention Center wrapped around South Temple and extended almost to 200 West when the announcement was made. Many a sad stormtrooper had to wait until the fire marshals allowed more in after other conference goers cleared out.
By Thursday's opening day, over 30,000 tickets had been sold. On Saturday alone, over 40,000 visitors made their way to the convention.
However, those that were able to attend before the event was sold out, seemed to agree that Comic Con was a success for viewers and businesses a like.
Wes "Maverick" Roberts is one of the leaders of The Ghostbusters of Salt Lake. The group attended Comic Con dressed in the most authentic Ghostbusters get-ups out there. Roberts said their main goal was to have fun and raise money for local charities. By Saturday afternoon, they has raised over $1,000 for the Utah Food Bank.
"We were at the big San Diego Comic Con in 2008," Roberts said. "This one is a lot busier."
The Fear Factory, a local Halloween haunted entertainment venue, was at the convention in force. Employee Mindy Hardy said they were amazed by how many people stopped by their zombie bus.
"We've seen a lot more people than expected," Hardy said. "It has been incredible to be here."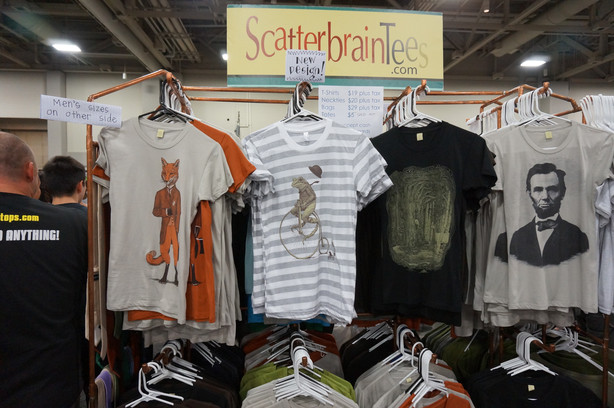 For most vendors, the larger-than-expected crowds were a big boost for business. Anne Nichols with Scatterbrained Tees, a t-shirt company based out of Orem, said they ran out of some of their top-selling merchandise early on.
The sentiment was the same for Malissa Gero and Yvon Smith, representatives from Discover Financial. They had been handing out thousands of tubes of chapstick printed with the company's name and were running low by the end of Saturday.
"It's been very busy but I've been so excited to be here and see all the costumes," Gero said. "People really go all out."
Comic Con attendee Robert Burbidge was decked out as an amazingly authentic Jack Sparrow. He was heading into the third and last day of the convention, ready for a day of picture posing.
"I love being here," Burbidge said.
His daughter Jesica came along, dressed up in similarly impressive pirate gear.
"I've having a hard time making it into the hall," Burbidge said. "Every time I move someone stops me for a photo. It's been awesome."
The convention wrapped up Saturday night with a visit from Marvel Comics creator Stan Lee. While the center was packed to capacity and some were turned away, most in attendance agreed they would most definitely be back next year.
×
Photos
Related Stories