This archived news story is available only for your personal, non-commercial use. Information in the story may be outdated or superseded by additional information. Reading or replaying the story in its archived form does not constitute a republication of the story.
SALT LAKE CITY — The University of Utah celebrated its grand opening of a new football facility Thursday afternoon with a ribbon-cutting ceremony.
The $32 million, 150,000-square foot Spence and Cleone Eccles Football Center is the newest addition to the university's athletics complex, which features state-of-the-art technology and equipment.
"I'm so excited about this building," Utah head coach Kyle Whittingham said. "I can't tell you how long I've been waiting for this."
From a decked out game room to an underwater treadmill, the facility has it all - benefiting not only existing athletes, but is also a critical recruiting tool in the battle for the nation's elite players.
"We are now competing with the biggest of bigs," University of Utah athletics director Dr. Chris Hill said. "You're going to find out that we are going to get there, and this building today means a lot towards that success."
"We already had some recruits here this week and they were all in awe of what we have here as far as the facility," Whittingham added.
The facility features a 19,000-square foot Alex Smith Strength & Conditioning Center and a 17,000-square-foot sports medicine complex and hydrotherapy center. The complex also houses a 6,500-square-foot locker room with custom lockers for the players and a player's lounge featuring TV's, a theater, video games and areas to study.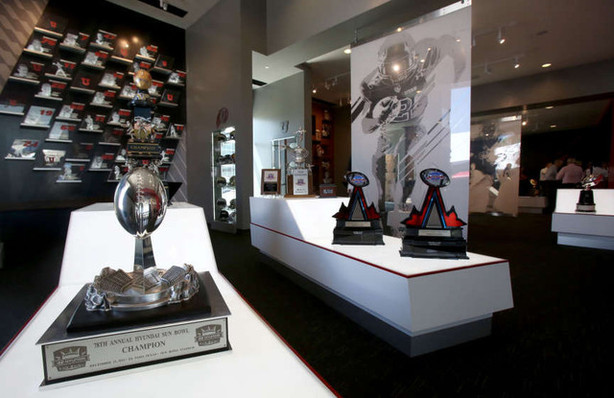 "One of the things that sticks out to me is there's already a difference from this year and last year is the team camaraderie," Utah defensive end Trevor Reilly said. "I think this facility has a lot to do with that. Most of these guys don't want to leave the place. They've got video games, they've got TV's, they've got food in here — this place is unbelievable."
In attendance was the Eccles family, who along with other donors, supplied the funds to make the state-of-the-art athletics complex possible. The Utes also received support from former players, including NFL greats Eric Weddle, Jordan Gross, Steve Smith and Paul Soliai.
"I really think this facility is going to have an impact on wins and losses," Reilly said. "The training room alone is unbelievable. We're going to be more healthy than we've ever been this year. Wait till you see the underwater treadmills. We have everything."
The Utes kick off the 2013 season in two short weeks against Utah State at Rice-Eccles Stadium.
×
Photos