Estimated read time: 2-3 minutes
This archived news story is available only for your personal, non-commercial use. Information in the story may be outdated or superseded by additional information. Reading or replaying the story in its archived form does not constitute a republication of the story.
John Hollenhorst ReportingA trip to the zoo is a chance to get an up-close look at some of the animals in their cages, but at Hogle Zoo today, one of them got out. A grey wolf jumped over the barbed wire fence around its enclosure and was on the run for more than an hour.
The wolf was caught and is in a secure area of the zoo tonight. Zoo officials claim the public was never in danger, but the wolf was loose in visitor areas, and she caused quite a commotion.
Witness: "I saw these people running up the hill with sticks trying to catch the female wolf. It got out of its cage."
Misty Gonzales, Witness: "I guess he was kind of scared of them trying to catch it because as soon as they reached up, that's when he just jumped. And that's when everybody started running after him again."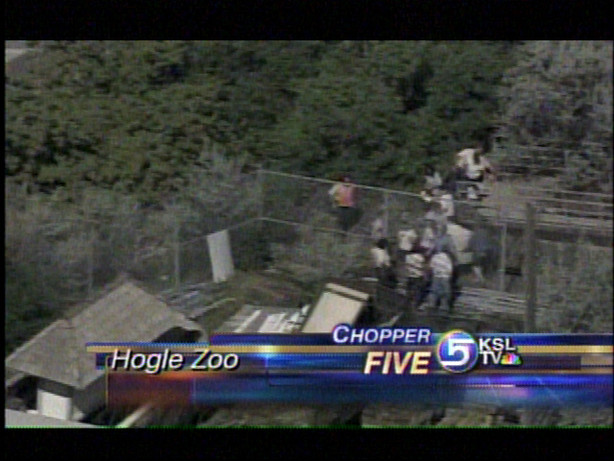 Quite a day at the zoo! 4,500 visitors were spending the day enjoying the exhibits, then, about 3:00, zoo employees told everyone to move outside the gates. For some reason, an eight-year old female grey wolf named "Maddi" decided to take a leap over an eight-foot fence.
Kimberly Davidson, Asst. Director, Hogle Zoo: "She tries to stay away from people, so it's surprising that she would try to go into the visitor area. But something either startled her or she had incentive to go over that fence."
With the visitors safely outside the gates, zoo employees then fanned out, communicating with each other on two-way radios as the wolf sneaked around. Although Maddi escaped her living space, she remained inside the zoo boundaries.
Kimberly Davidson, Asst. Dir. Hogle Zoo: "It took us about an hour and a half to track her. We never lost track of her, but we did have to keep on top of her. She kept moving along the fence line."
Eventually, the wolf went under a bridge, where employees were able to anesthetize her and put her into a cage. She was later examined and is fine.
Zoo officials expect to renovate or redesign the wolf exhibit. Since they had to close the zoo for the rest of the day, visitors got refunds or rain checks. And they had an experience at the zoo they'll be telling their grandkids about.
×